Miniatures airbrush varnish (Guide+Best 7)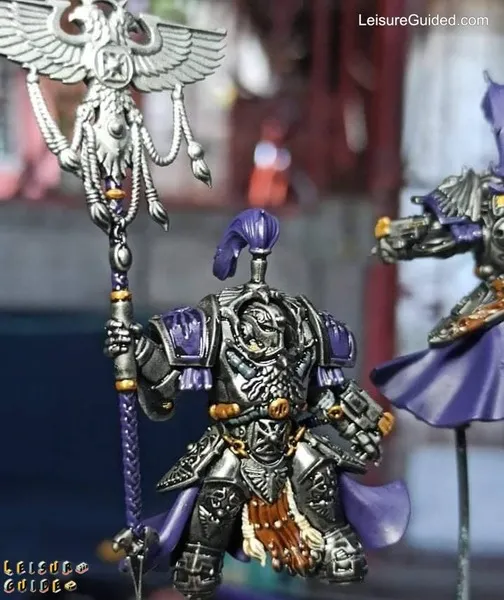 Have you ever wondered why some painted minis look better than others? It's all thanks to the protective varnish applied. 
Varnishing miniatures protect the painted mini model, but many models have been ruined due to a wrong choice of spray varnish or brush-on varnish. 
If you're considering an airbrush varnish for your minis, choose only the best varnish for your needs. 
What types of varnishes are there for airbrush
An airbrush is a delicate tool, thanks to its multiple parts, from the needle to the trigger. 
Still, the best part of using an airbrush for varnishing is that it works well with gloss, satin, and matte varnish. An airbrush has the ability to brush the thinnest layers while still making it consistent.
These varnishes make it possible to attain a shiny, dull, and slightly flat finish. 
What is the ideal way to apply varnish with an airbrush
Applying varnish with an airbrush is easy. Just follow this guide below:
Don't airbrush too close or far from the piece
Spray varnish in thin even coats.
Shake the varnish well before use, especially when using the matte. Matte varnish comes out looking glossy if it is not mixed well.
Ensure that your paint is dry before using varnish, or it could remove some of your paint.
Give the varnish about 3-4 hours between coats to dry before applying another coat.
Keep the coast between two to three layers.
Avoid using lacquer thinners in an airbrush as it may damage the O rings in the airbrush. Instead, use soap and water.
Don't vanish on humid days, as it may cause the varnish to appear fuzzy
If it appears fuzzy, brush it off with warm water
Sometimes, airbrush varnish may appear pebbly or grainy. This is because you are spraying from too far or didn't thin it well. So, thin before use and spray not too far or close to the miniature. 
Do I need to thin varnish for the airbrush?
If you are applying varnish with an airbrush, thinning is essential. 
Most varnishes have thick pigments like paints. When used in an airbrush without thinning, they clog the airbrush. 
Always thin it down with water to give it a milk consistency suitable for airbrush use. 
Why should you varnish a miniature?
Varnishing miniatures will protect paints on miniatures. 
Sometimes, even the most detailed work will leave scratches and small imperfections that make the paint job look terrible. A varnish helps you remove mistakes on your painted model so it looks smooth, even, and flawless. 
7 Best airbrush varnish for miniatures
1. AK Interactive Ultra Matte airbrush varnish
Ak interactive is a Spanish-based company that makes one of the best matte airbrush varnishes for miniatures. However, their ultra matte is a must-have.
While it is a little more expensive than their standard airbrush matte varnish, the "ultra" matte finish you get from this varnish will be worth it. 
The only drawback to using this varnish is that it may reduce the contrast a bit, so the color looks extremely flattened and dull. 
Most people add a thin layer of gloss varnish on some areas over the ultra matte to reduce the dull finish. But, applying this varnish with an airbrush may reduce the dullness to some extent. 
Pros – AK Interactive Ultra Matte 
It gives the miniature a more realistic finish 
It makes miniatures look detailed when photographed
The painted figure looks smoother due to its "ultra" finish
The varnish applies well in all environments
Cons – AK Interactive Ultra Matte
It can reduce contrast and dull colors used excessively
It may leave unwanted texture if not mixed well
More expensive than regular matte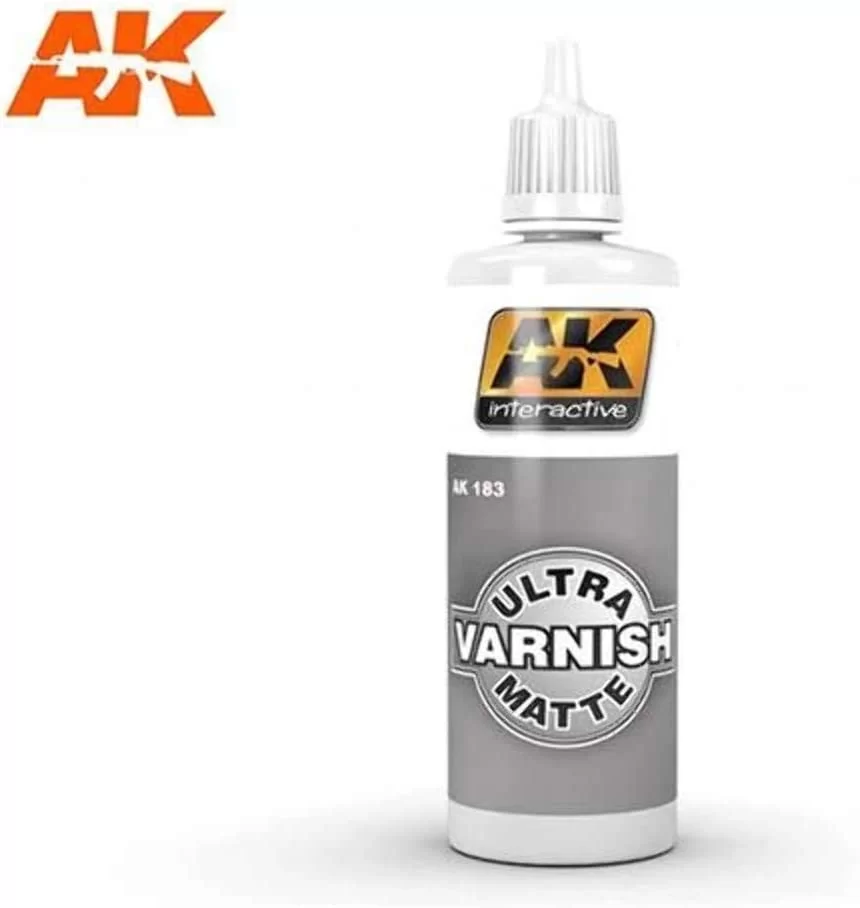 AK Interactive's 3rd generation matt differs entirely from the regular and ultra matte. 
How? First, its newly improved bottle and cap design keep the varnish long-lasting. Unlike other mattes I have used, this one makes details pop without much effort while making them look realistic. 
Nevertheless, the matte doesn't seem matte enough. When I tried it, there was still a slight sheen on the models that I was not expecting. 
AK Interactive Matt 3rd Gen varnish for airbrush Pros
Perfect grip on surfaces
Ultra-high coverage
It retains details well
AK Interactive Matt 3rd Gen varnish for airbrush Cons
It may run well through an airbrush without thinning
It may leave a slight sheen on the mini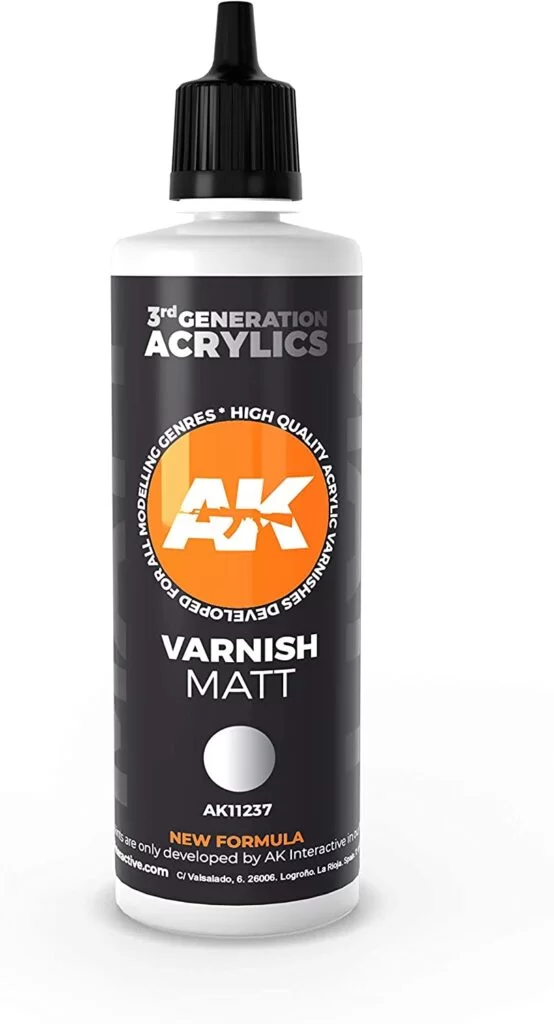 Every painter loves Vallejo's products because they are high-end quality. 
However, the reason this Vallejo varnish for airbrushes tops our list is due to its polyurethane medium. Unlike the acrylic polymers in most matte varnish, this gloss varnish has polyurethane medium mixed in it to offer more resistance during handling. 
Overall, this varnish works great. But, it comes in a small bottle. 
Pros – Vallejo's polyurethane gloss airbrush varnish for miniatures
More durable
Dries quicker
It gives your project a nice shine
It is easy to clean with soap and water
Con – Vallejo's polyurethane gloss airbrush varnish for miniatures
It requires thinning for use in an airbrush
It does not thin well with water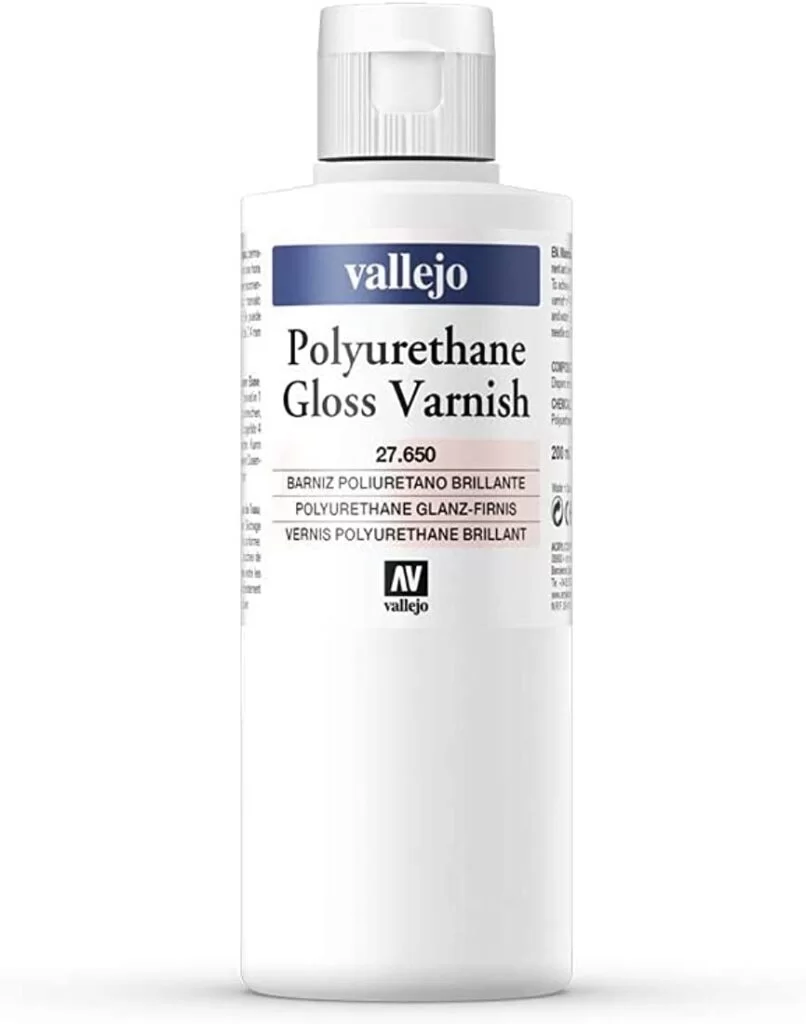 Vallejo's polyurethane gloss varnish may be good stuff. Still, their mecha matt is exceptional. 
This is one of my favorite airbrush varnishes because it really does offer a "TRUE MATTE" finish. 
I used it on my old Grex airbrush, and it worked great. It covers well, dries nicely, and cleans pretty easily as well. It goes into my airbrush fine out of the bottle, although you may have to use some thinner to make it stick well. 
Vallejo Mecha Matt Varnish Pros
it leaves a nice matte finish
Easy to clean
It dries into a hard-dull finish like a gloss varnish
Vallejo Mecha Matt Varnish Con
It may leave a shiny finish on metallic paints

For new painters, Liquitex matte vanishes may be a favorite. 
I used this matte varnish on my gaming miniatures as a beginner painter, and I really love them. 
They keep true to the color, mix well, and protect the paint against chips when dropped. The best part is they are almost perfect milky consistency without thinning and allows use in an airbrush without any thinning.
Liquitex matte airbrush varnish Pros
Dries quickly, but not too fast
Allows for use right through the airbrush without thining
It is easy to use
Retains perfect details in the figure
Liquitex matte airbrush varnish Con
It does not work well over oil paint

If you need a good varnish for your D & D minis, this Army Painter's anti-shine varnish will be great. 
This is one of my favorites because it gives you the option of a spray can or one in a dropper bottle which works well for airbrushing. And like its name, the anti-shine qualities mean your paint color can retain its regular color without any reflective sheen like gloss varnishes. 
However, one downside of using this paint is that it is quite expensive for its small size. 
Army painter's anti-shine varnish Pros
It maintains the painted color well 
It works well in all environments
It dries to a smooth, even finish
Army painter's anti-shine varnish Con
It comes in a small can
Shake the paint before using so the matting agents mix well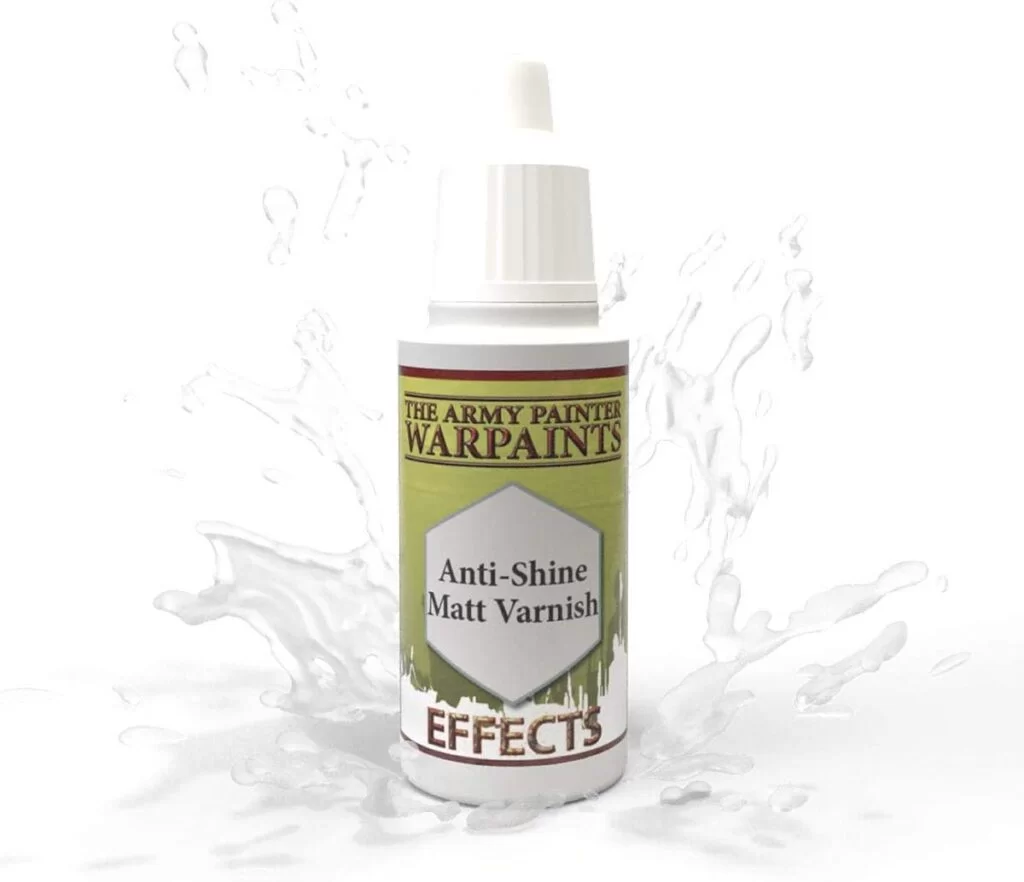 If you've used any Tamiya product, you know how straightforward and effortless they make painting miniatures. This water-based gloss varnish from Tamiya is no exception. 
It works well on high-gloss lacquered, shiny surfaces and clear-glass parts. However, it gives a darker depth to your painted color.
Tamiya gloss airbrush varnish Pros
It marks small imperfections on miniatures well
It gives your color more depth
Durable
Dries well
Tamiya gloss airbrush varnish Cons
The glossy finish may make your color look unreal
It comes in a small bottle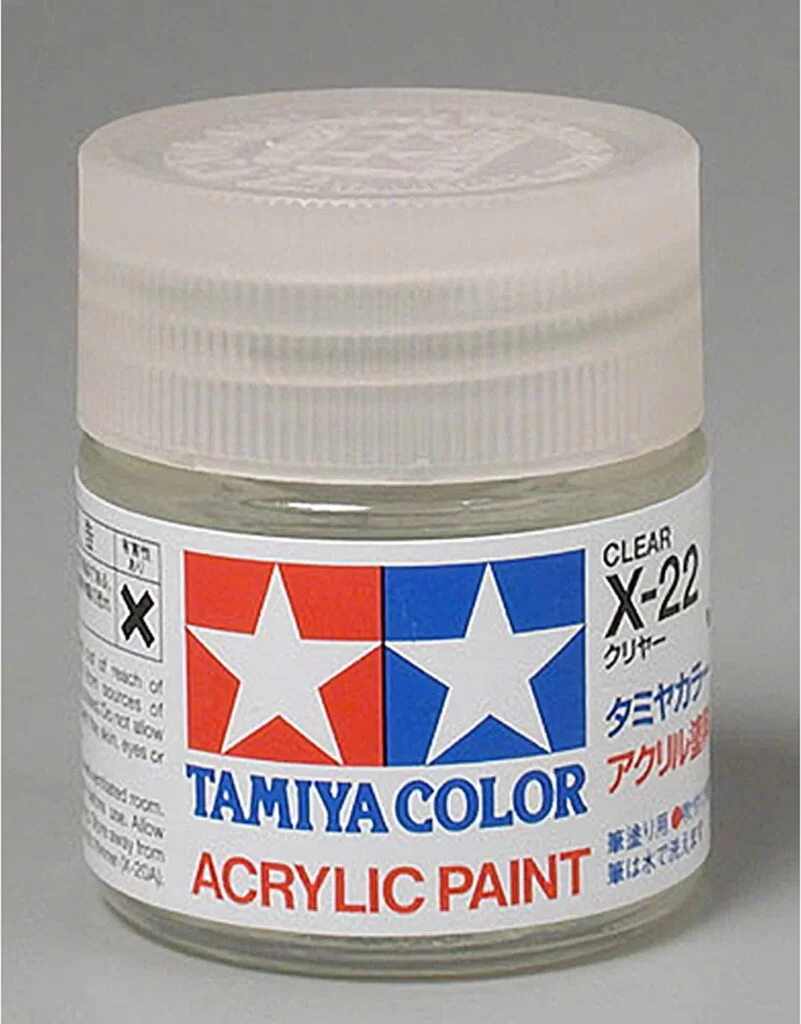 Conclusion 
When it comes to varnishing with an airbrush, matte, gloss, or satin varnishes work well. However, you want to make sure you get the best ones for your small figures. Airbrushing a varnish gives the painted miniatures an even, smooth, and clean finish that makes your figures stand out.