Best spray can varnish for miniatures (+Best Tips)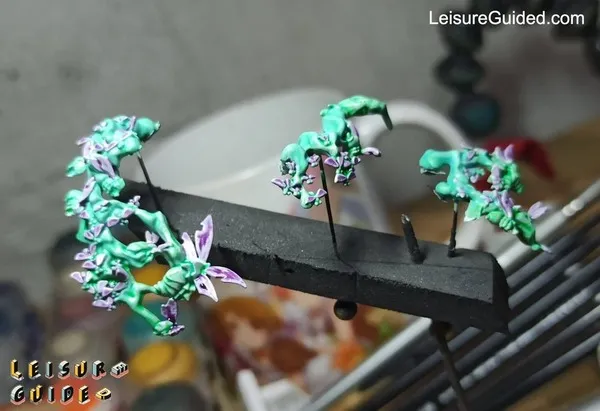 Varnishing your plastic and metal miniatures ensures the paint lasts longer and doesn't chip easily. However, every varnish won't work the same. 
The best varnish for miniatures, whether for gaming or display, will be easy to use, retain the color of the paintwork, and smooth imperfections that can distort the fine finish of paints. 
How should you apply spray varnish On Miniatures?
How you use spray varnish differs from brush-on and airbrush varnishes. Here are some quick tricks to help you spray varnish your miniatures easily. 
Tips for Varnishing with a spray can varnish
Always mount the miniatures on a stand before spraying so that the varnish does not stain other kits. 
Shake the spray can in a clockwise or counter-clockwise motion for 1 min
Spray varnish 10" away from the miniature
Don't use spray varnish in humidity greater than 50%, as the varnish may frost
Always use spray varnish in a well-ventilated area, preferably outdoors, to avoid health and safety risks
Always spray off the model, over it, and past it to avoid a build-up of color on one spot.
Important things to know when using a spray varnish 
Before spraying, be sure the paint is totally dry so the paint won't get mixed with the varnish and won't change color. 
If you spray matte over gloss varnish, wait for the glossy varnish to dry before applying the matte. Mixing both can make the paint look too shiny.
When spraying varnish, ensure it applies evenly everywhere and doesn't pool in recesses so that it does not cover the details or transparency. If it does pool, spread it with a wet brush or remove the excess with a dry brush. 
Don't spray on hot or humid days so the varnish won't be too temperamental. Else, it will leave a frosted film on your figure. 
If the varnish comes off frosty when dried, varnish again. This additional layer of varnish will melt the solid frost vanish. Most times, it will dry again without frosting.
Always place the spray can upside down after each use, away from direct sunlight and at room temperature.
These Are The Best Spray Can Varnish For Miniatures:
If you're considering getting a spray varnish for miniatures, here are some of the best to consider. 
One of my favorite varnishes for miniatures is this varnish from AK interactive. 
It really gives a dead flat finish on miniatures, but it looks amazing for sealing stone, sand, or other dry textures.
The only drawback is that it will dull out any metal you spray it on, and you may need to shake the spray well (for at least a minute) to ensure the matting pigment mixes well.  
AK Interactive spray varnish Pros
It has excellent coverage
Does not yellow
Dries fast
AK Interactive spray varnish Con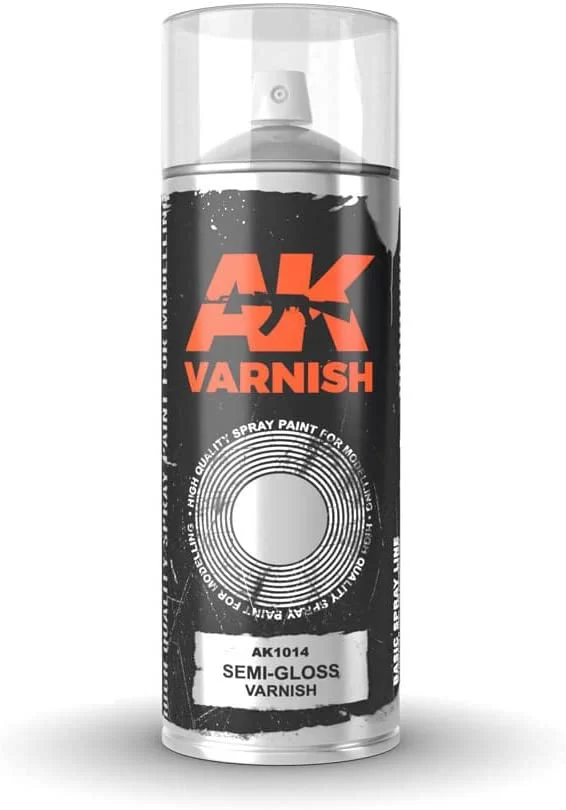 This Testors spray varnish is probably the best spray-on enamel varnish for sealing miniatures. 
I don't like that it comes in a small can, but it does last long. I've covered over a hundred 28mm figures with a single can.
What I do like about this varnish is that the varnish retains the overall color saturation while offering a non-reflective finish for miniatures. 
Testors Dullcote Lacquer Pros
Paint colors retain their colors and contrast
It dries fast 
The varnish lasts long
Testors Dullcote Lacquer Cons
It does not work well on metallics
It comes in a small can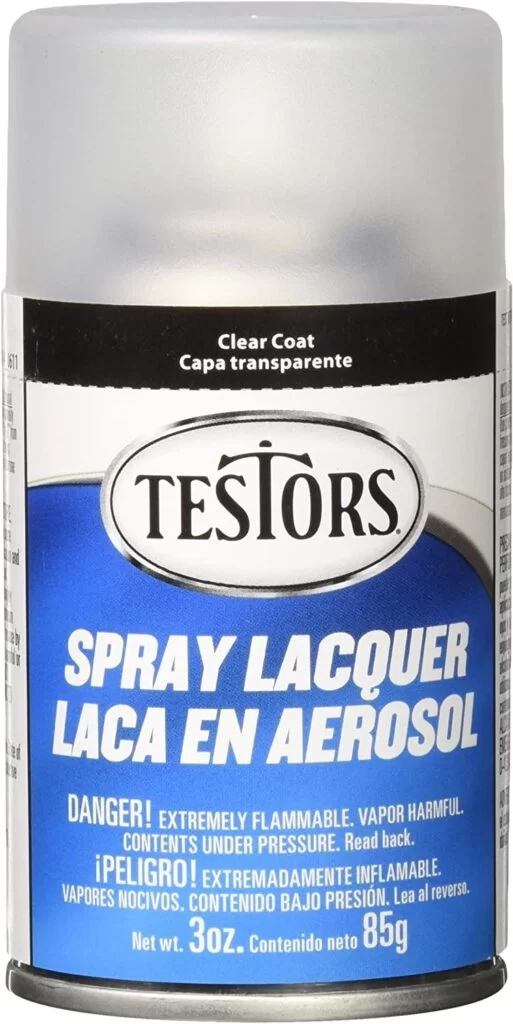 Army painter is well known for its satin Aegis Suit spray varnish, but their anti-shine spray varnish is exceptional. 
I love Army painter's spray varnish, but the problem with this spray varnish is that it makes metal look really dull. Then again, the result you're supposed to get with this varnish is a flat, dull finish. However, I love that it comes in a large 400ml spray can, so while priced as low as $11, the varnish is worth it. 
The Army Painter rattle can Spray Varnish Pros
It comes in a large bottle
Reasonably priced
Effective in keeping off glossy sheens
It does not frost easily
The Army Painter rattle can Spray Varnish Con
It will make your metal paints look dull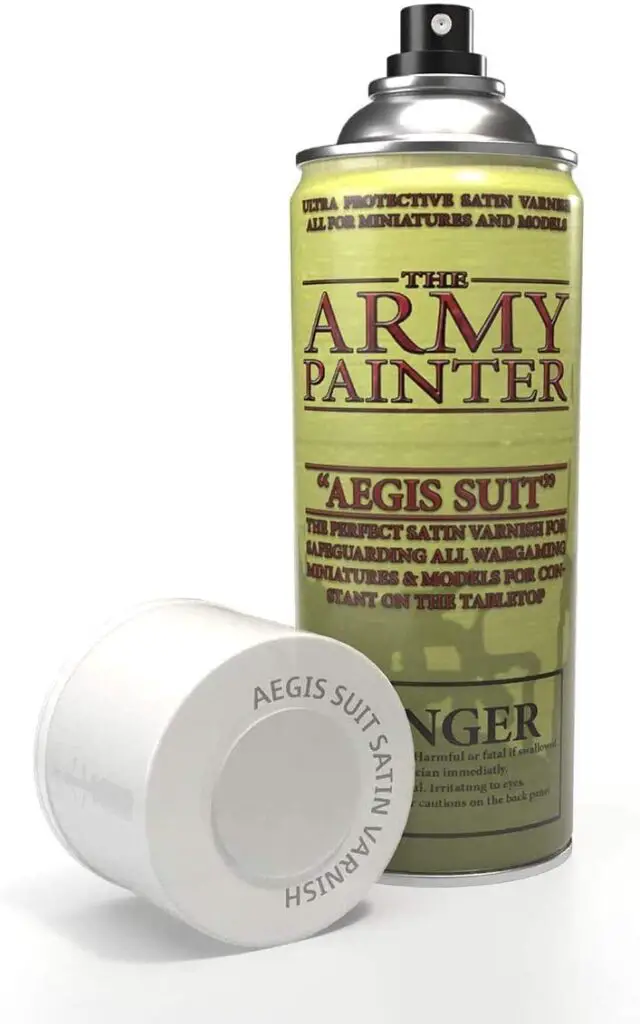 After Games Workshop's Purity Seal spray varnish, most Citadel fans thought they might have to switch brands. Yet, this Munitorum varnish has fans hooked. 
It gives your figures a semi-matt or satin finish, so the finish looks very much like the natural paint. For their price, most people will think they are expensive, but they are definitely worth it since they come in a 400ml bottle. 
Then again, like most spray varnish, it may frost. A good trick to remove frost is to rub olive oil. 
Citadel Spray can Munitorum Varnish Pros
Available in every hobby store that sells Games Workshop products
It only has a slight effect on the paint's color 
It comes in a large bottle
Citadel Spray can Munitorum Varnish Con
It may frost on miniatures

Vallejo makes one of the best matte varnishes, whether for airbrush, brush-on, or spray. But, their spray varnish wins it all. 
This Vallejo spray varnish is gorgeous, has a lovely texture, doesn't smell terribly like most spray varnishes, and dries completely clear. It is also much better value for money, as it comes in a large 400ml can. The only downside is that when using this varnish, it may frost.  
Vallejo rattle can spray varnish Pros
It dries strong
It covers well
Easy to use and clean
Vallejo spray can varnish Cons
It might spray uneven and leave frosty spots 
It may take a little while to dry

If you need a varnish that offers extremely fine texture when sprayed, it is this Winsor and Newton Matter varnish. 
One reason I love this varnish is it leaves a strong, durable finish that is strong enough, so you need to deliberately scratch it, maybe half a dozen hard scratches before it fails. 
Besides this, they dry slowly. 
Winsor and newton matte spray varnish Pros
It dries to a smooth, rough texture
It holds up well even on gaming pieces 
It keeps details, so they look realistic, even photographed
Winsor and newton matte spray varnish Con

One of the biggest advantages of Krylon's Kamar spray varnish is that it is more readily available online and in local hardware stores. 
On the other hand, it is thin, flat, and more or less invisible. Hence, it will look nice on small figures. I also love this spray varnish because it works perfectly for sealing water decals and is cheap. 
Krylon Kamar Spray Varnish Pros
It makes the color point out well
Reasonably priced
It does not yellow 
It provides long-lasting protection for both oil and water-based paints
Krylon Kamar Spray Varnish Con
It smells and won't work well in a room with poor ventilation

Varnish types (matte, gloss, satin)
Consider what type of varnish you are planing to use for your project.
You can choose gloss varnish, satin, or matte. each one will give you different results, and it is mostly recommended to use satin or matte varnish.
Is spray varnish the best option to apply varnish on miniatures?
Spraying a varnish is one of the best ways to evenly coat miniatures with varnish.
Spray varnish enhances contrast and protects the surface details of the miniature. 
However, when spraying varnish, ensure that you spray in a low-humidity environment and hold the can upside down after each application to discharge gas for some seconds. It ensures that the varnish does not frost and the can does not clog. 
Is it common to get 'frosting' when using a spray can varnish?
Frosting occurs when tiny particles remain visible on the varnish. 
With spray varnish, this is often common, especially when spraying in a high-humidity environment and without shaking the varnish before use. 
Spraying under ambient temperatures and not too close or far from the figures will prevent frosting. 
gloss varnishes decrease the level of texture on your model and it is best used in specific areas and not on the entire model.
Conclusion 
Brush-on and airbrush varnishes are great for varnishing miniatures, but when you don't want any of these, a spray varnish is a go-to choice. 
Overall, the best spray varnish for miniatures will make it easy to spray even layers of varnish on small figures, so it enhances contrast on paint and protects surface detail with ease.