RC scale sizes Guide [all sizes and weights by scales]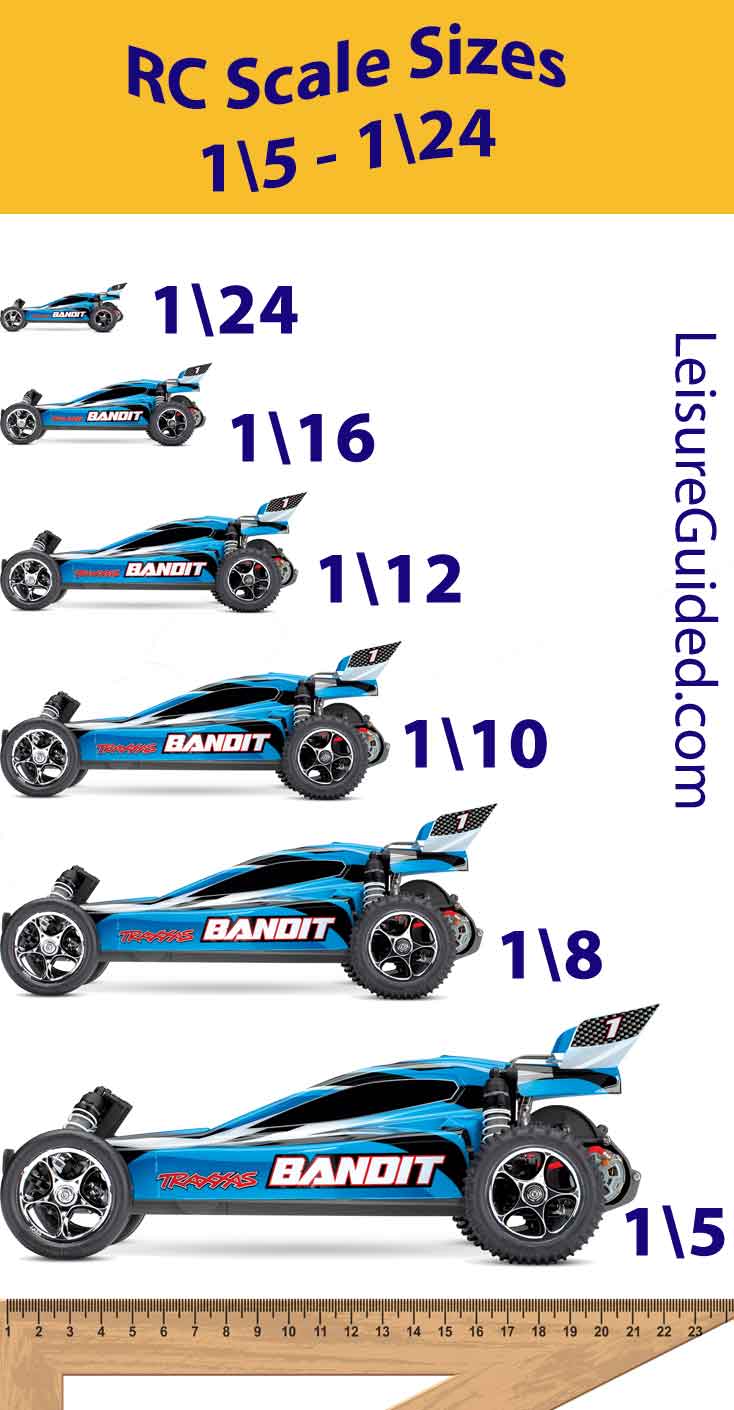 Here is a chart with different RC scale sizes:
scale | 
Measurement
1/28
1/16
1/12
1/10
1/8
1/5
Weight 
1 to 1.98 pounds
5.4 – 10lbs
2.8 – 3.3lbs
3.2 – 11.2lbs
5.4 to 10lbs
60 – 80lbs
Length 
3 – 7" |
7.62- 17.78cm
10 – 14" |
25.4- 35.56cm
14 – 16" |
35.56- 40.64cm
17.5 – 21.6" |
44.45- 54.86cm
18. -23.43" |
45.72- 59.5cm
30 – 40" |
76.2- 101.6cm
Width 
3.46" |
8.87cm
3.5 – 6.5" |
8.9- 16.5cm
7 – 7.3" |
17.78- 18.54cm
7.8 – 14.4" |
19.8- 36.5cm
10.4 – 16.6" |
26.4- 42.1cm
28 – 32" |
71.1- 81.3cm
Height 
4.65" |
11.8cm
2.5 to 3.9″ |
6.35- 9.9cm
4 – 4.92" |
10.16- 12.5cm
4.2 – 9.1" |
10.6- 23.1cm
3.9 – 9.8" |
9.9- 24.9cm
16 – 24" |
40.6- 61cm
RC Cars' Scale Sizes – Comparison Table By Different Scales and sizes
RC Scale sizes Explained easy
In RC, scale is listed as a ratio or fraction such as 1:10 or 1/10. The scale describes how big or small your RC car is compared to real-life full-sized automobiles. 
The higher the scale; the smaller the size of your RC, the bigger the scale; the smaller the size.
To explain this best, an RC car the size of an actual car will be a 1/1 scale. As the size of the RC car gets smaller, the scale gets bigger – a 1/64 scale RC car is some of the smallest RC cars.
With time, RC scales and the actual size, or dimensions, of RC cars got mixed together, and when people refer to a car's scale, most of the time they also refer to the size of their RC car. most different scales have average dimensions that will apply to most RC cars of the same scale.
For example, the 1\10 Arrma Granite has similar dimensions to the 1\10 Traxxas Stampede and the 1\10 Redcat Volcano. The Team Associated SC10 will be slightly bigger, but still within the range of a 1\10 scale size RC car.
RC cars range in different scales, from 1/5 to 1/6, 1/8, 1/10, 1/12, 1/18, and 1/24. You can also get mini-sized RC car models with a scale size between 1/28 and 1/64.
RC size by scale
a 1/24-scale RC car sizes

Models with a 1:24 ratio can be considered small as they usually have a small size and dimension.

A 1/24 RC car will have measurements like:

Weight: 1 to 1.98 pounds
length: 3 to 7inches
width: 3.46inches
height: 4.65inches

a 1/16 RC car scale size

RC 1:16 scale dimensions vary mainly because of the different models produced by different manufacturers. Some light models have smaller dimensions, while larger styles like the monster truck come larger.

A 1/16 RC car dimensions will vary between:

Weight:  2.45 to 4.54 kg (2.8 to 3.3lbs)
Length: 10 to 14inches (272 – 356mm)
width: 3.5 to 6.5inches
height: 2.5 to 3.9inches

a 1/12 RC scale dimensions

1/12 RC cars are twelve times smaller than real cars. For this reason, they will have these dimensions: 

Weight: 5.4 to 10pounds
length: 14 to 16 inches (36 – 38cm)
Width: 7 to 7.3inches (178 – 185mm)
Height: 4 to 4.92inches (102 – 125mm)

How big is a 1/10 scale RC car

There are different 1/10 scale RC vehicles, from monster trucks to on-road cars. However, their measurement differs.

Typically, 1/10 scale RC cars have dimensions as:

Weight: 3.2 and 11.2 pounds
Length: 17.5 inches to 21.6 inches
Width: 7.8 inches to 14.4 inches.
Height: 4.2 inches to 9.1 inches

How big is a 1/8 scale RC car

1/8 scale RC cars are the most common among seasoned RC enthusiasts due to their large size. However, even when they come large, how big they vary with the type of models produced by manufacturers.

An average 1:8 scale RC car will have dimensions like:

Weight: 2.45 – 4.54kg (5.4 to 20 pounds)
Length: 470 – 595mm (18.5 to 23.43inches)
Width: 265 – 422 mm (10.4 to 16.6inches)
Height: 100 – 250 mm (3.9 to 9.8inches) 

a 1/5 scale RC car is the biggest size

Compared to actual cars, 1/5 scale RC cars are five times smaller. However, it is probably one of the largest scales you'll find in the RC industry.

An RC car with a 1/5 scale will have dimensions as:

Weight: 60 to 80pounds
length: 30 to 40inches
width: 28 to 32inches
height:  16 to 24inches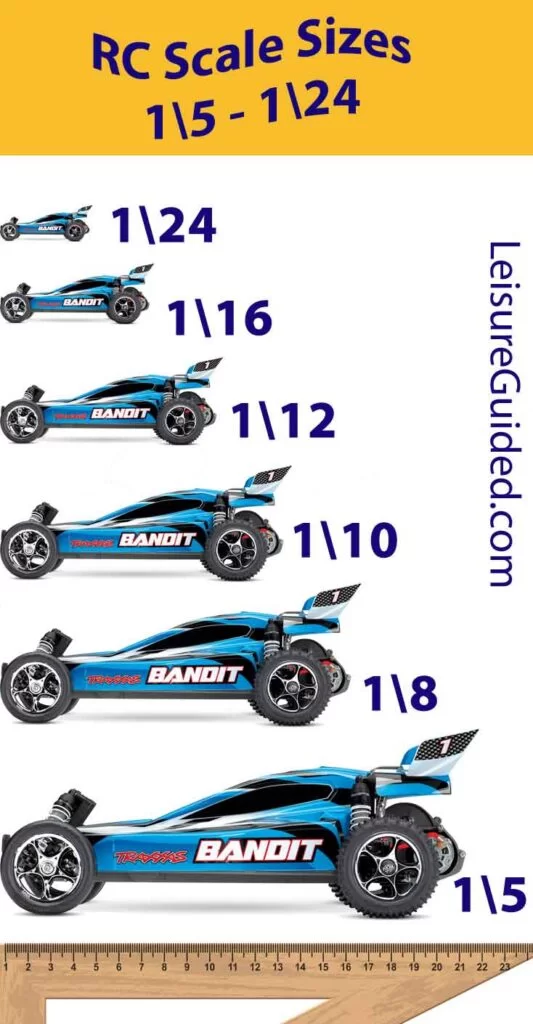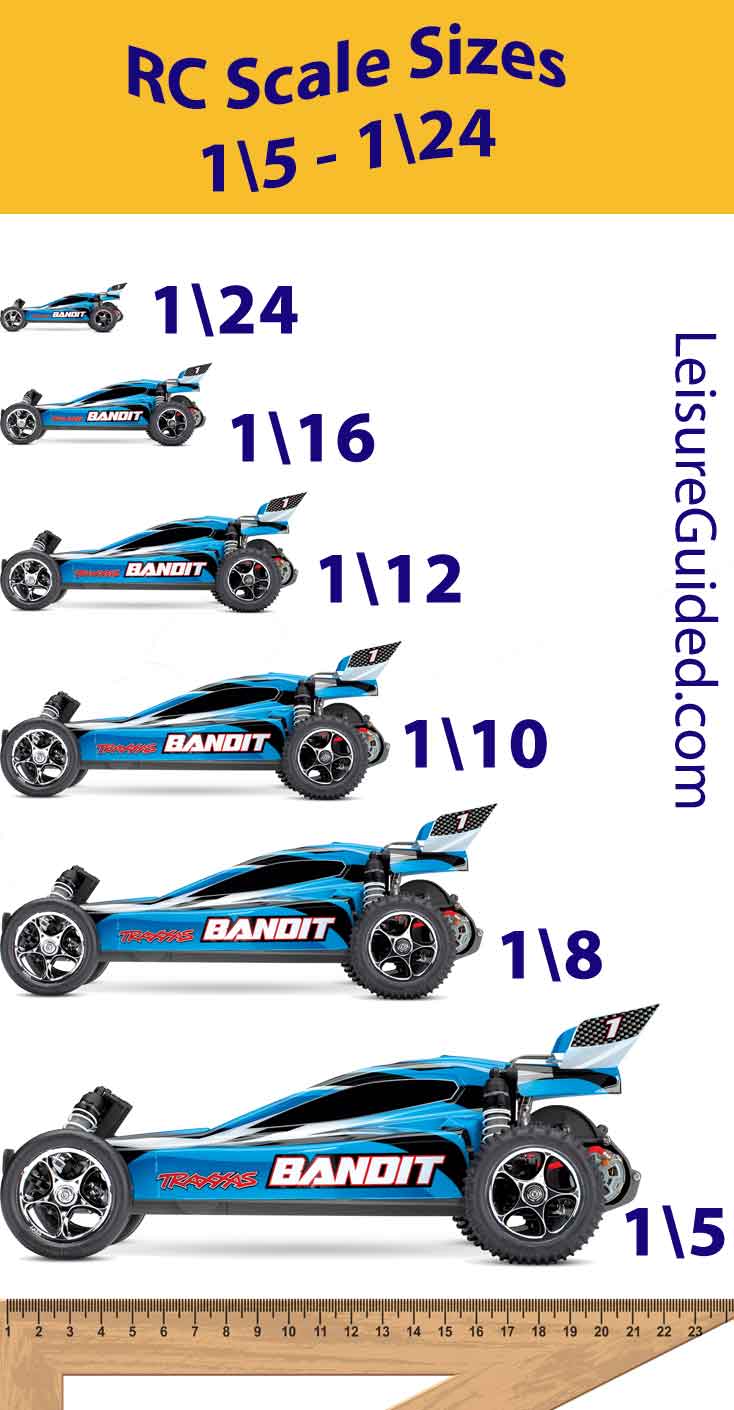 RC cars' scale size range
Size and scales are often confused because each scale has its typical dimensions, and those dimensions are a range of measurements and not one specific number.
The size of an RC car describes its dimension. Hence, when considering the size of your RC car, you have to think about its measurement, and not just its scale:
Weight: the total mass of the RC car
length: measures from the front to the back of the car
width: measures how wide the vehicle is at the side
Height: measures how high the car is from the ground to the highest part of the RC car
However, you need to understand that each type of RC car will have a different scale size. A 1\10 RC buggy will have smaller dimensions than a 1\10 monster truck. So the range of scale sizes will also vary with the type of RC car you choose.
RC cars with the same scale Don't necessarily have the same size
Each RC cars differ in size even if they have the same scale. 
When it comes to scale, its important to understand that the scale is relative to the actual car's size. A monster truck is bigger in size then a truck, and then a car, and when you scale down a car to an RC car, you take the whole size and shrink it.
Therefore, a monster truck on a scale of 1\10 will be bigger in size than a 1\10 RC drift car.
Another example, If you have a 1/10 monster truck, you will observe that dimension varies with the length of the Monster Truck being 21.6inches long, the width 14.5inches, the height 9.12inches, and the maximum weight will be 4.4kg (9.7lbs) without battery and 4.86kg (10lbs) with battery.
If you have a 1/10 drift car, it may weigh 4kg, 18 inches long, 13 inches wide, and 8.5 inches high. 
| | | |
| --- | --- | --- |
| Size | 1\10 RC Drift Car | 1\10 RC Truck |
| Length | 18 Inches | 21.6 Inches |
| Width | 13 Inches | 14.5 Inches |
| Height | 8.5 Inches | 9.12 Inches |
Comparison Chart | Different scale sizes for different types of RC cars. A 1\10 RC drift car will have a smaller size than a 1\10 RC truck.
the most common RC scale
While RC cars come in different scales such as 1:6, 1:8, 1:10, 1:12, and more, the most common size is the 1:10 or 1/10 scale. 
Which RC car is the biggest
The biggest RC car in the world is the 1:3 scale Mammuth Rewarron RC car.
It is three times smaller than the full-sized vehicle and the only 1:3 scale RC car globally. This RC model weighs 176 pounds, 72 inches long, 35 inches wide, and 29 inches tall. 
it's one-third the size of a real auto, it's powered by a 200 or 250cc 4-stroke engine, giving it a top speed of over 40 mph.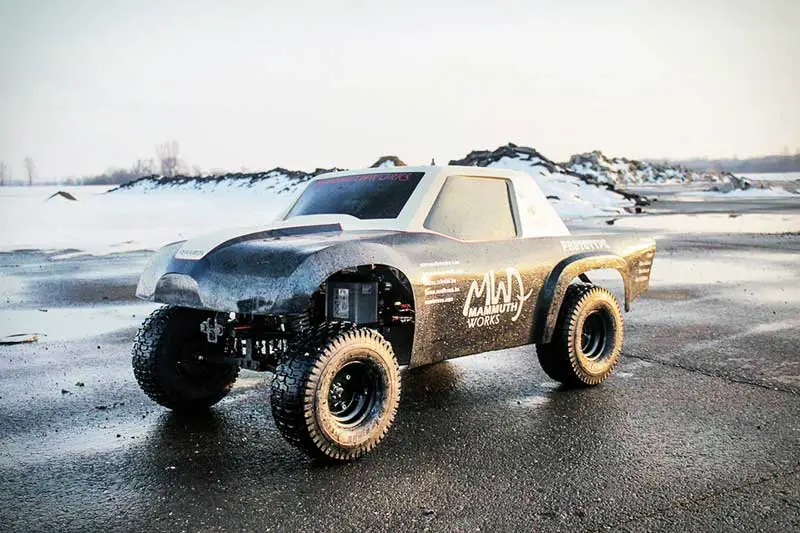 What is the biggest-scale RC truck
The biggest scale RC truck is the 1/5 RAMINATOR Monster Truck.
This model weighs 80pounds, is 32 inches wide, 40 inches long, and has a height as high as 24inches. 
What is the smallest RC car
The smallest RC car is the Mercedes Benz Smart car developed by Michihiro Hino, Tokyo, Japan, in 2002.
This RC car has a 1/90 scale(!), a 25mm length, 7mm width, weight lesser than 1pounds, and height between 3 to 5mm. 
This car holds the Guinness World Record for the smallest radio-controlled car
Conclusion
Knowing the scale and size of your RC car is essential when choosing your preferred RC model.
The scale size will determine where you can drive your RC car and how you use them.
Seasoned racers will love bigger RC cars with a 1/5 scale since they have a larger dimension. On the other hand, 1/8 0r 1/10 RC cars can suffice for any purpose. 
Sources used for this article
http://www.axialracing.com/blog_posts/1073910474
https://en.wikipedia.org/wiki/1:12_scale
https://www.quora.com/What-is-the-meaning-of-the-ratios-written-on-RC-toys-eg-1-14-1-24