Best airbrush for citadel paints (The Best 6 To Consider)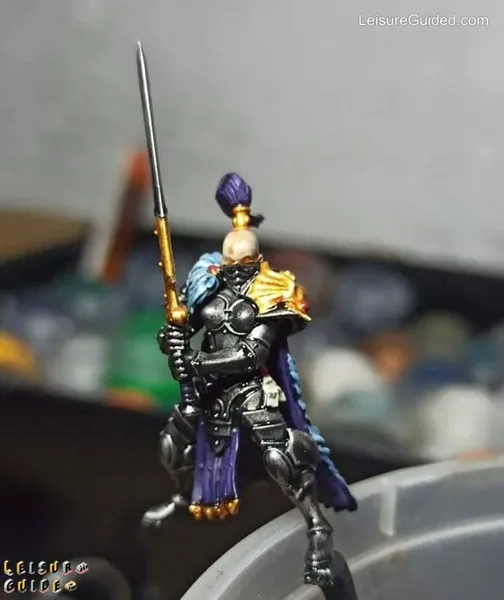 Did you know that how good an airbrush paint job looks also depends on the paint's compatibility with the airbrush?
Citadel paints are great for painting minis, models, and Gunpla kits. They're a favorite of many painters due to their high quality. But, they're also quite selective with an airbrush gun since not all Citadel paint range is designed for airbrushing. 
If you're a fan of Citadel paints and want to airbrush your model, here are some airbrush models to consider.
After years of professionally painting my minis, I can say that the Badger Sotar is one of my favorite airbrushes for Citadel paints. 
It helps you easily spray a thin line of paint, so it layers into thick coatings. What I really love about this airbrush is that unlike most Badger airbrushes with large paint cups that hinder visibility and cast shadows when airbrushing, it has a small paint cup size that does not comprise visibility. 
The Badger Sotar airbrush also allows you to paint large models for a long without having to reload paint in a short time. 
Nonetheless, like most Badger airbrushes, it has a hefty build and an exposed needle that may damage easily. 
Pros
It helps you create a fine spray
Good visibility control when airbrushing
The exposed needle design makes the needle easy to clean without disassembly
Inexpensive
Con
The needle might damage easily, due to its exposed frame
If you're painting a smaller number of models with your Citadel paints, this airbrush is a must-have. 
It helps with the first base coating and highlight. But, the most significant benefit it brings to the table is that it allows you to switch cup sizes depending on the paint quantity you need at a time. 
The only drawback to this model is that it is quite expensive.
Pros
Perfect for experienced painters
Allows you to switch cup sizes
It has an adjustable trigger pull
Easy to maintain
solid build
Con
While Badger has some good airbrushes like the Patriot 105, this airbrush is unique. 
It combines features of the Renegade Velocity and Patriot 105 airbrushes. 
From a set screw that helps you control overspray to a plastic grip under the trigger, the Badger Renegade Krome is excellent quality. But, unlike the Renegade, it has a softer trigger that helps you control Citadel paints so that they spray well.  
Pros
Perfect for painting models and minis
Easy to use
Access to replacement parts
Decently priced
Con
It weighs over 10ounce, which is considered quite heavy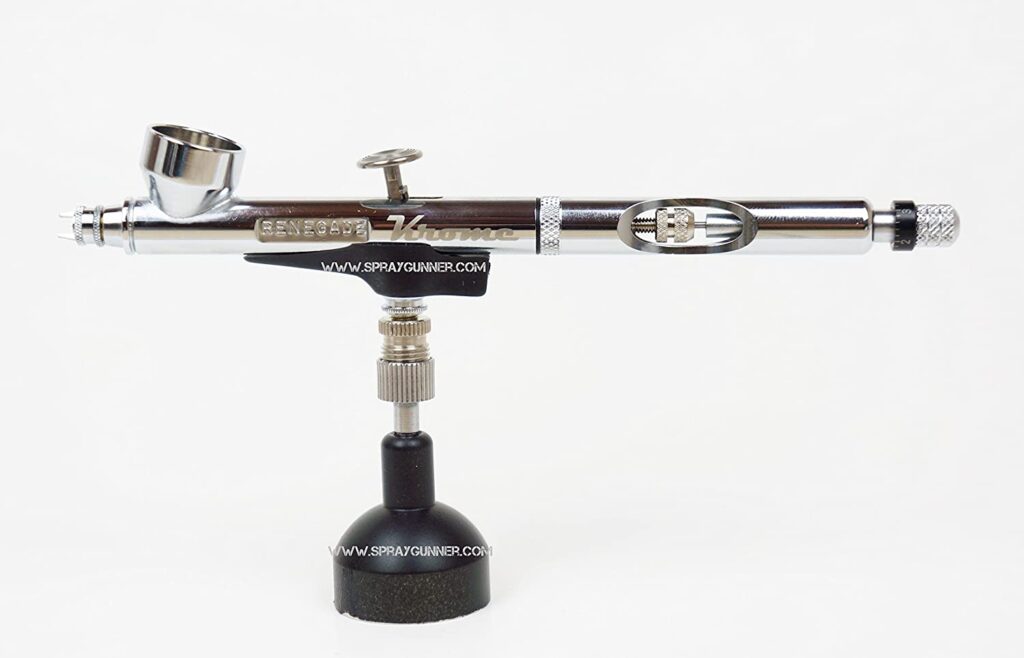 If there's any airbrush I would love to stock at home for my next painting job, it'd be this German-engineered Harder and Steenbeck's Evolution. 
It has a unique build with a removable paint cup that allows you to switch paint cup sizes. However, when switching to a small cup size, it gives a back-weighted feel that makes handling the airbrush a tad bit difficult. 
Regardless, this feature also impacts maintenance as it makes it easy to clean the airbrush. 
So, whether you are priming, base coating, or painting detailed parts of your large vehicles and terrains, Citadel paint will work well for it. 
Pros
Easy to clean
Reasonably priced
Offers smooth details
Con
It may feel twitchy when you change to a small paint cup
5. Cult of paint – Infinity – Another Godd Airbrush For Citadel Paint
Aside from the Harder and Steenbeck airbrush models, the Cult of Paint Infinity airbrush is another good German airbrush you can use with your Citadel paints. 
Three features make this airbrush, a needle design that offers pinpoint accuracy, a quick-release adjustable trigger that makes smooth control possible, and an aluminum body that weighs little to nothing so that handling is effortless.
Pros
Low cost
Adjustable trigger
Straightforward design
Excellent control
Con
Paint may stick consistently on the needle 
Unlike most airbrushes here, this one from Iwata stands out due to its gravity-feed design. 
What I love about this Iwata Medea airbrush is that apart from being compatible with Citadel paints, it works well for spraying primers, no matter how thick they may be. 
It also has a large nozzle size of 0.3mm, which gives a lot of space for thickly pigmented paints to flow and spray freely so that the airbrush doesn't clog. 
Pros
Large nozzle size perfect for Citadel paints
it does not clog easily
Great for beginners
Low priced
Con
Its ability to spray fine paint is a bit low
Which citadel paint collection is best for airbrush?
The best Citadel paint collection that works well in an airbrush is the Contrast paints. 
They're pre-thinned and used in an airbrush, which will be perfect for base coating, highlighting, and shades. 
Make sure you get the right thinner and thin correctly for airbrush use
Citadel paints are highly concentrated. So, using them in the airbrush without thinning means you might clog your airbrush, damage it or even damage the paint you've spent time spraying. At the end of the day, you spend time figuring out what went wrong. 
On the other hand, paints are pretty selective, especially with thinners. 
For Citadel paints, make sure you use the right thinner (water-based thinners) and thin correctly a 4:1 (four paint drops and one drop of thinner) to get a fine and superior spray pattern. 
Some paints are pre-thinned for airbrush use, but you might still want to check their consistency to ensure they don't clog, damage your airbrush or damage your hard work. 
How to choose a good airbrush for Citadel Paints
To choose an airbrush, the most important factor you'll need to consider is the ease of use. How easy an airbrush is to use will depend on components like the feed and trigger.  
Gravity feed Vs. pressure feed
A good airbrush won't make loading paint a pain and offer excellent control. Between gravity and pressure-freed airbrush, gravity feed models offer this advantage.
Gravity-feed airbrushes allow you to spray thick paints with less air pressure. Plus, it doesn't require so much paint to get precise details on your model. One of the best airbrushes for citadel paints, the Iwata HP-CS employs a gravity feed. 
Pressure feed can hold a good amount of mount and eliminates the need for frequent breaks to refill the airbrush gun. However, cleaning them can be difficult and time-tasking. 
In an airbrush, there's always a trigger that makes spraying possible. However, each trigger operates differently. 
Every painter wants an airbrush with this type of trigger because it ensures fine control of paint and air mixture even at low air pressure. 
The trigger is the most significant component of a dual-action airbrush. Unlike single-action airbrushes, which perform painting functions passively and in a single direction, dual action trigger helps you create finely detailed coatings on your model in a push and pull action that controls the air and paint. 
The importance of getting a good compressor and a good airbrush
An airbrush does the mechanical job of painting your minis and models. With a simple push and release function, it mixes compressed air and paints to help you achieve fine atomization and create accurate color patterns on your model's surface. 
Added to this, it helps you control how much paint you lay on your minis surface while allowing you to create several effects. 
But, no matter how good an airbrush is, it relies on an air compressor or other compressed air source to mix paint and ensure good spray application. 
What does this mean? Without a compressor to create air pressure, spraying paint out of the airbrush gun won't be possible. 
Conclusion
Citadel paints are some of the best water-based acrylic paints for painting large-scale models and miniatures but once used in an airbrush, they stand out completely. Just choose one of these paints to make your model look brilliant when displayed. 
Sources