7 Best airbrush for Tamiya paints | (A Secret List)
Tamiya paints are unlike typical hobby-grade acrylic paints. Hence, you'll need to thin them with lacquer-based thinners to get milk consistency suitable for airbrush use. 
When thinned, they make little details pop. However, most airbrushes won't be able to handle their lacquer base form. 
Best airbrush to use with Tamiya paints
If you're considering airbrushing your Tamiya paints, in this guide, we discuss some good airbrushes that work well with Tamiya paints.  
If there's ever a legendary airbrush, it would be this Badger 200 model. 
I consider it legendary because it combines the unique features of the Badger 100 and 150 airbrushes (two of the most sought-after airbrushes by old, experienced modelers). Add the fact that it has an ultralight frame at 61 grams, unlike most Badger airbrushes that weigh 78grm and you'll know why it ranks first on my list. 
While it is a single-action airbrush, I also love that it can change spray patterns with ease. 
Pros
It gives very fine control
Lightweight
Good visibility without shadows
Con
Cleaning the nozzle might be challenging 

Badger airbrushes are high quality and reliable. This is why my second favorite airbrush for airbrushing models is this Badger Patriot 105. 
The biggest advantage of this airbrush is its reliability. I've tried airbrushing my models with this Badger Patriot 105 airbrush and it gave exceptional results. 
It didn't clog, especially with a 0.5mm nozzle size. Plus, it offered ultra-fine details. 
I also love that you can easily get replacement parts for it in case of damage. 
Pros
Inexpensive
Great value for beginners
It sprays acrylics and Tamiya primers
Easy to get replacement parts
Easy to use and clean
Con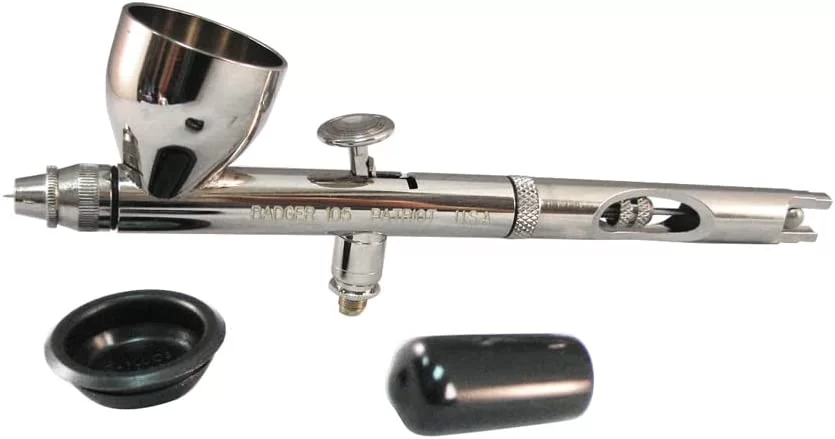 One thing I love about this airbrush is that it allows lacquer-based paint, primers, and automotive paints. Plus, it is compatible with any compressor.
Additionally, it weighs only 40.76 grams, far lesser than the badger airbrushes on this list, and allows for use of three different nozzles, 0.2mm, 0.3mm, and 0.5mm nozzle sizes. 
The only drawback to this airbrush is the machine swirls at the bottom of the paint cup. It might catch paint when airbrushing, making it difficult to clean. 
Overall, this airbrush is high-quality and works efficiently for atomizing paints. 
Pros
Works effectively for lacquer-based paints
Allows the easy switch to different nozzles
High-quality build
Ideal for pro painters
Con
It might be difficult to clean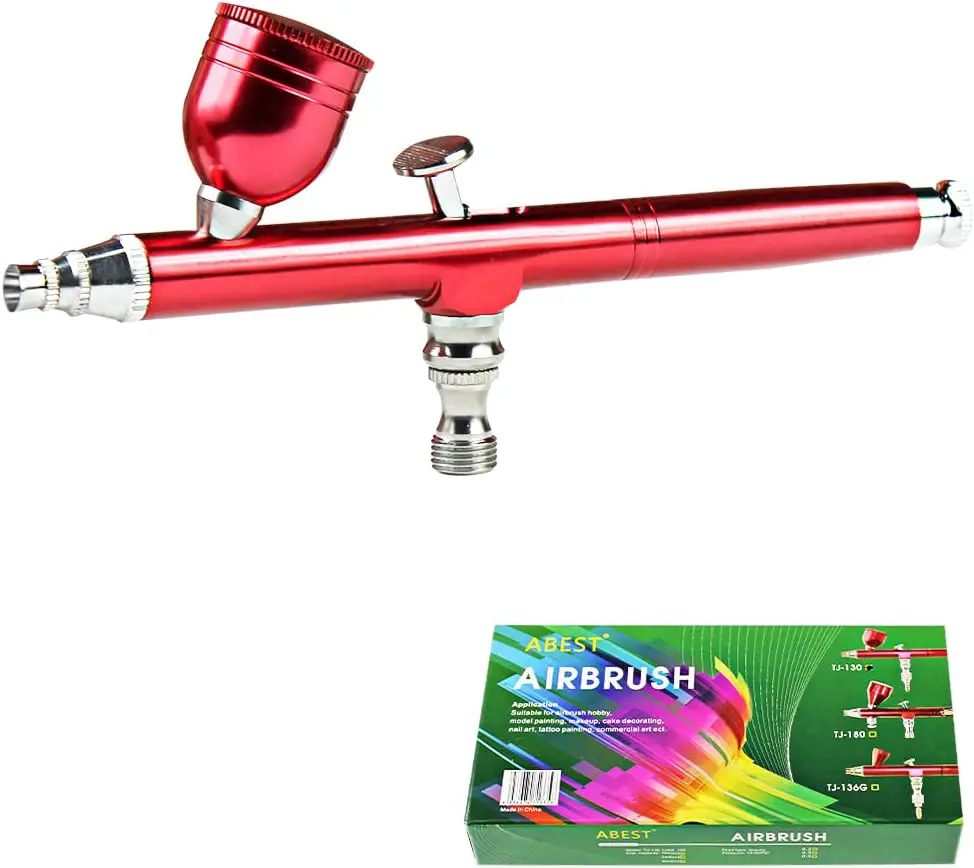 Iwata is a brand popular for its high-quality airbrushes designed specifically for lacquer paints. It's why the Iwata Neo airbrush will be compatible with Tamiya paints. This airbrush was designed for entry-level airbrush painters.
The fact that it can spray both paints and primers makes it remarkable. With this airbrush, beginners can spray paint at low air pressure thanks to its gravity-feed design. 
The only drawback to using this airbrush is that getting replacement parts might be difficult when damaged. 
Pros
Effortless coverage
Total control
Easy to use
Precise details
Con
It is difficult to get spares when damaged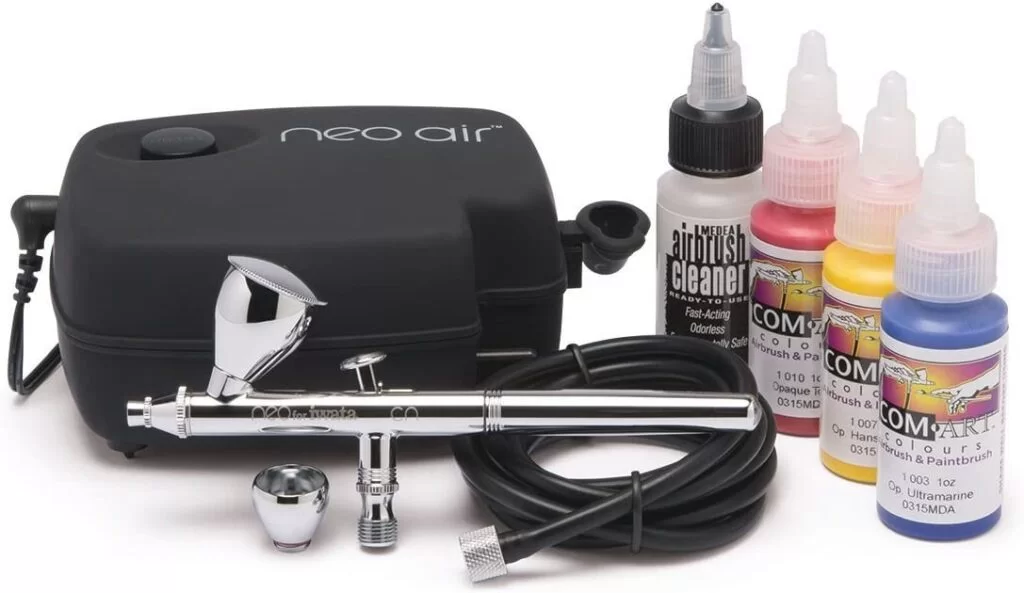 Beginner painters will love this Iwata Eclipse airbrush gun, especially when using Tamiya paints. 
This airbrush employs a double-action gravity feed design that helps you spray paint well, no matter the texture or detail you aim for. 
It also has a generous 1/3ounce cup that makes cleaning the airbrush easy. 
Pros
Decently priced
Easy to clean
Sprays paint accurately
Easy access to replacement parts
Con
It does not have a cleaning set like the Iwata Eclipse HP-CS value set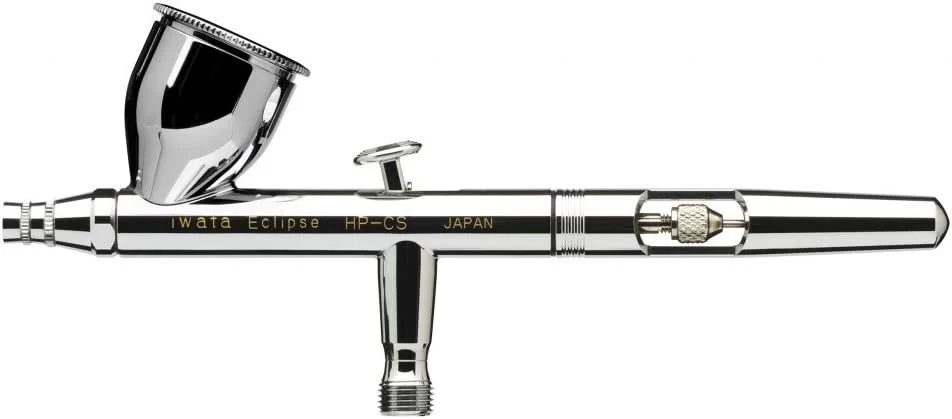 When it comes to pricing, this airbrush offers great value at $69.99, which is half the fraction you'll pay for most airbrushes.
Besides this, I love that it comes with a 0.3mm nozzle and a 1/3-ounce cup. This means that you'll easily create realistic details when shading and layering with Tamiya paint without bothering about a clogged nozzle. It also comes with a compressor capable of 25Psi air pressure. 
Overall, it is a great entry-level airbrush for beginners and people in the hobby for a short time. 
Pros
Easy to use
Responsive trigger
Easy to clean
Ideal for entry-level painters
Con
The nozzle wrench may not fit well.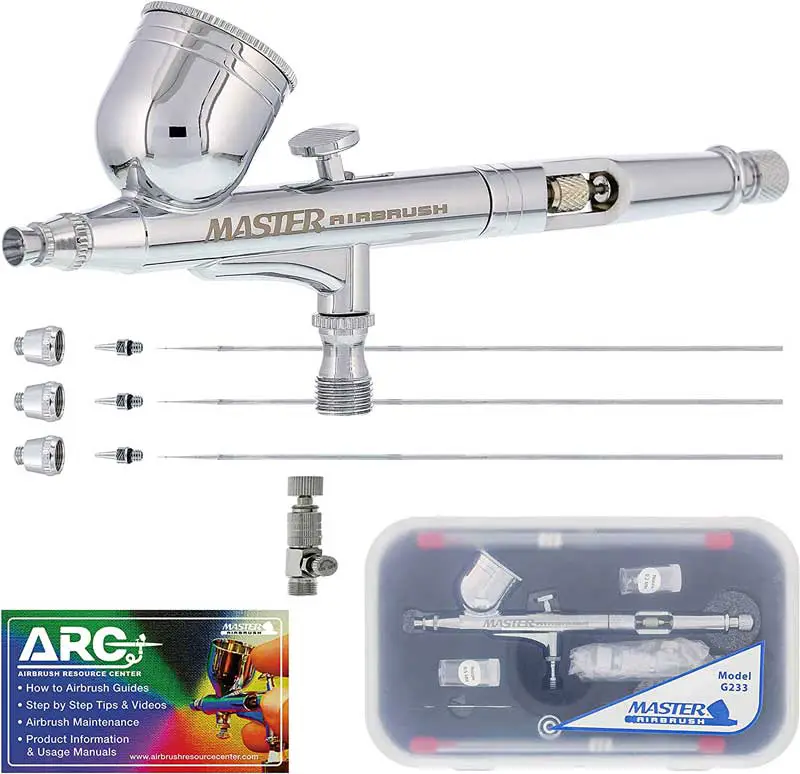 Last on our list is the Harder and Steenbeck's Infinity airbrush. This is another professional airbrush that works well with Tamiya paints.
Its most remarkable feature is the integrable nozzle and paint cup, making the airbrush capable of handling any amount of paint and primer. 
Unlike most airbrushes, it features an open needle design that helps you spray Tamiya paints well, so it doesn't clog or leave paint residues. Yet, this same design exposes it to quick damage. 
Overall, it is a good airbrush worth the money. 
Pros
Solid build
Smooth trigger and handle
A professional-level airbrush
Con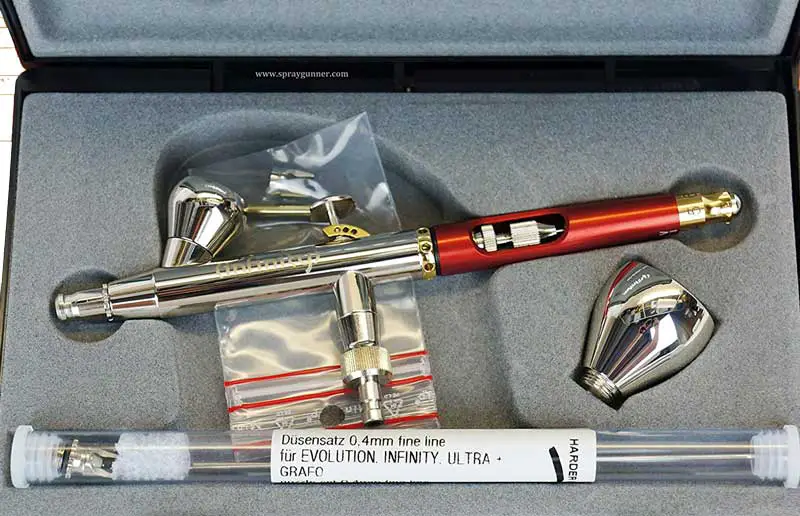 Which Tamiya paints will be best on airbrush?
Tamiya Gloss Acrylic paint range like the 10ml X-26 Gloss-Clear Orange and the X-25 Gloss Clear Green acrylic paints will work perfectly in an airbrush when thinned with Tamiya thinners.  
Can you use Tamiya primer on the airbrush?
Tamiya primers are lacquer based and often come in a spray can, but that doesn't mean they work well in an airbrush. All you need to do is decant them from the spray can. 
If you've used Tamiya spray cans, you know that spray, it lays down heavy coats. For large models and delicate parts, you want the coat to be as light as possible so that details remain sharp and real. 
However, when using these primers, be sure the room is well ventilated, so you don't inhale harmful solvents airborne. 
Tips for airbrushing models with Tamiya paints
Clear the workspace before airbrushing so you won't dirty items that you don't intend to paint. 
Install proper ventilation like an airbrush booth or fan, or get a respirator or dust mask if you plan to avoid indoors to avoid health risks. 
Set up a lamp to avoid shadows being cast on your models, especially when using a gravity-feed dual-action airbrush.
Always masks parts you don't want to paint with masking tape. 
Airbrush corners and edges first before moving to large surfaces. This way, you get precise details. 
Avoid spraying thick layers in a go because it creates unattractive schemes. Instead, try thin coats. 
Place the models on a spray stand so you can paint hidden parts easily. 
Once the painting is complete, be sure to clean the airbrush. Use the airbrush cleaner or water for good cleansing before storing the airbrush. 
Conclusion
Airbrushing paints is a fantastic way to improve paint work n your models. But, it can be difficult to use if you use an airbrush that doesn't work well for your paint. Hopefully, this guide on the best airbrush for Tamiya paints will help you choose well when getting a good airbrush that works for Tamiya paints.