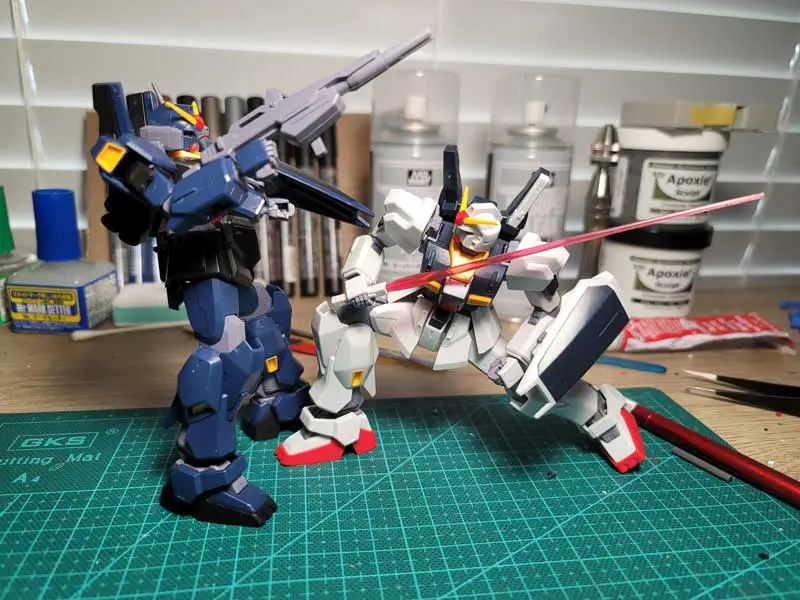 Gundam builders frequently find themselves at a crossroads when deciding which grade of kit to build next; there are so many options that it can become overwhelming.
In this article, I will compare Real Grade (RG) and High Grade (HG), but first, take a look at the table below to see the key differences between the two grades.
| | | |
| --- | --- | --- |
| Feature | High Grade | Real Grade |
| Frame | No Frame or Partial Frame | Full Frame |
| Ease of Building | Easy to Build | Difficult to Build |
| Color Separation | Poor | Excellent |
| Gimmicks | Little to No Gimmicks | Advanced Gimmicks |
| Scale | 1/144 or 1/100 | 1/144 |
| Size | 13cm or 18cm | 13cm |
| Variety | Large Variety | Very Limited |
| Shelf Space Consumption | Economical | Economical |
| Price Range | $20-$40 | $30-$60 |
The Key Differences Between Real Grade And High Grade?
Despite their similar size, RG and HG are two very different grades with little in common. However, the main difference between them that a total novice will notice is their overall qualities.
· HG is the first and most popular of the main grades of Gundam kits. HG kits are easy-to-assemble, with limited features that are ideal for new builders.
· In contrast, RG kits are complex, high-end models with qualities comparable to the best-in-class grade, PG.
Frame – Real Grade Vs High Grade
The inner frame is important in a Gunpla kit because it gives the kit strength and articulation. Kits with inner frames have better and more advanced movement and engineering.
· High Grade (HG) have traditionally lacked inner frames, but modern kits are better engineered with at least a partial frame. Some have full frames and are as strong as low-end MGs.
This is in stark contrast to RG, which is not only a fully-framed, complex line but also employs a unique frame technology known as the "Advanced MS Joint."
· The Real Grade (RG) frame is essentially a prefabricated runner with all of the required systems pre-molded. This frame is quite fragile but offers excellent articulation, poseability, and advanced realism.
Complexity – Which Is Easier To Build?
Building a Real Grade kit is the same as building a Master Grade kit (but harder).
· You begin by constructing the inner frame, which takes time and effort due to the complexity of an RG inner frame.
· Then you gradually add the parts and armor pieces. Because of the small size, the number of pieces, and the advanced RG gimmicks, this can also be quite challenging.
Depending on your experience, this could take anywhere from one to a few days. If you have no prior experience building Gunplas, I strongly advise you to avoid RG, HG is far easier.
· Building an HG is the complete opposite of RG. Aside from recent ones with inner frames, you can assemble an HG kit in a matter of hours. It is ideal for a beginner and can be easily gifted to one.
Which Has Better Details?
· RG has some of Bandai's most realistic works. It is the closest thing to a perfect grade.
When assembled, RG kits have stunning details that make them look exactly like the Gundam characters from the anime.
They can be used right out of the box, but they also come with a large number of warning, text, and metallic sticker decals that can be applied to the kit to achieve the best look.
· Detailing on HG is nice but not exceptional.
Some recent releases have some nice detailing that makes you wonder if they're HGs, but overall in terms of details, Real Grade will look a lot better than the HG line.
HG kits have fewer decals than RG kits, and even so, the effects of decals are more noticeable on RGs. Also, most HG kits require extra work to smooth out seam lines, though this is getting better with newer kits.
Which Has Better Color Separation?
After details, color separation is the most important factor in determining a kit's aesthetics, and Real Grade does it better than all other grades except PG.
· On RG kits, color separation is as good as it gets.
Real Grades use the correct color combination, never miss a color application, and use different shades of color to give each kit the best representation of the anime characters.
· High Grades have decent color separation and variation as well, but they, like all other features, are only basic and not special. Most HG kits require additional painting, and you may need to use color-correcting stickers, which you won't find on an RG kit.
However, I believe this is because we've seen and are now accustomed to better grades, and if we didn't have a choice, we would value HG more because they're nice kits. But that's just my opinion.
Looks – RG is Better Than HG
Your model must look good, not only for the sake of display but also for the satisfaction you will feel after putting in the effort and time. No matter how well-engineered a Gunpla model is, no one will ever fully appreciate it if it isn't physically appealing.
· RG is superior in terms of aesthetics, being more detailed and making better use of colors.
A Gundam model with the qualities of an RG kit will always look better than one with the qualities of an HG kit.
· HG looks good and has improved over time;
some more recent High Grades are stunning and look better than old versions of RG, but it's no RG or even MG.
Discover The Best Gundam Models Of Each Of These Grades

12 Best Real Grade Gundam Models (Gunpla)
12 Best High Grade Gundam Models (Gunpla)

LeisureGuided.com
Gimmicks – Real Grades are much better
Despite their small size, most RG kits have a surprising amount of movement and styling options. 
This is made possible by the RG inner frame, which allows for a variety of gimmicks.
And it's gotten even better over time. Most RGs nowadays have sliding panels, movable parts, and other complex gimmicks that are not found in larger sizes such as Master Grade.
HGs are simple kits with few to no gimmicks, but with new Gunpla engineering, modern kits have gotten some impressive gimmicks. Some are even better than older versions of MGs, but still not on par with RG.
Size and Scale – Real Grade and High Grade are the same size
Real Grade and High Grade kits are the same size and primarily 1/144 scale.
However, in 1993, Bandai decided to change the HG to 1/100 (same size as MG). They returned to default in 1998, but only after five HG series had been released. So today's HGs are 1/144 scale, with five 1/100 scale models.
Both grades are typically small, but the 1/100 models are quite large.
The average height of the 1/144 kits is around 13cm (5 and a half inches), while the 1/100 kits are 18cm (7 inches). In reality, it varies; there are significantly larger and smaller kits for both RG and HG.
Model proportion varies as well; some models have larger parts, armors, and overall proportions in HG kits. The HG Destiny Gundam is an example of this. For others, such as Gundam Freedom, it is the other way around.
Variety – Real Grade Vs High Grade
This is one of the few categories where HG outperforms RG because what RG boasts in quality, it severely lacks in variety.
· HG has the most kits of any grade. There are over 300 lines of regular-release HG kits, not including special kits. That is massive when compared to the only about 20 RG kits on the market.
So, HG is the better choice if you want to collect a variety of specific models. In fact, if you consider all of the Gunpla grades, HG will be the best option.
If you enjoy kitbashing, you should also consider HG. Most HG kits, especially modern ones, use the same or similar construction, making it easier to combine kit parts and build your mega model.
RG and HG take the same Shelf Space
Everyone wants to show off their Gundam collection. The goal is to display them, whether on a table in the office or a dedicated display shelf.
However, not all kits are suitable for shelf display. Perfect Grade, for example, at 1/60 scale, will most likely not fit on most display shelves and should be displayed as the main attraction. This is why, if you have limited shelf space, you should look for the kit size before purchasing one.
Both RG and HG kits are small and ideal for shelf display. They will take the same amount of shelf space because they are the same average size, but an RG kit (which is undoubtedly 1/144) will not take up as much space as any of the five lines of 1/100 HG kits.
Price – HG Is Cheaper Than RG?
HGs are the go-to line of the Gundam universe. They're the least expensive of the five main Gundam grades, but RGs aren't far behind.
It varies depending on the kit and model, but the average HG kit costs between $20 and $40, while the average RG kit costs between $30 and $60.
Most modern High Grade kits, as well as some special ones, whether old or new, can be quite expensive, even costing more than some MGs.
Conclusion
I hope you found this post useful, and that it helped you decide which grade to try out next. If not, you can find more options in my other Gunpla grade comparisons.