8 Gundam marker alternatives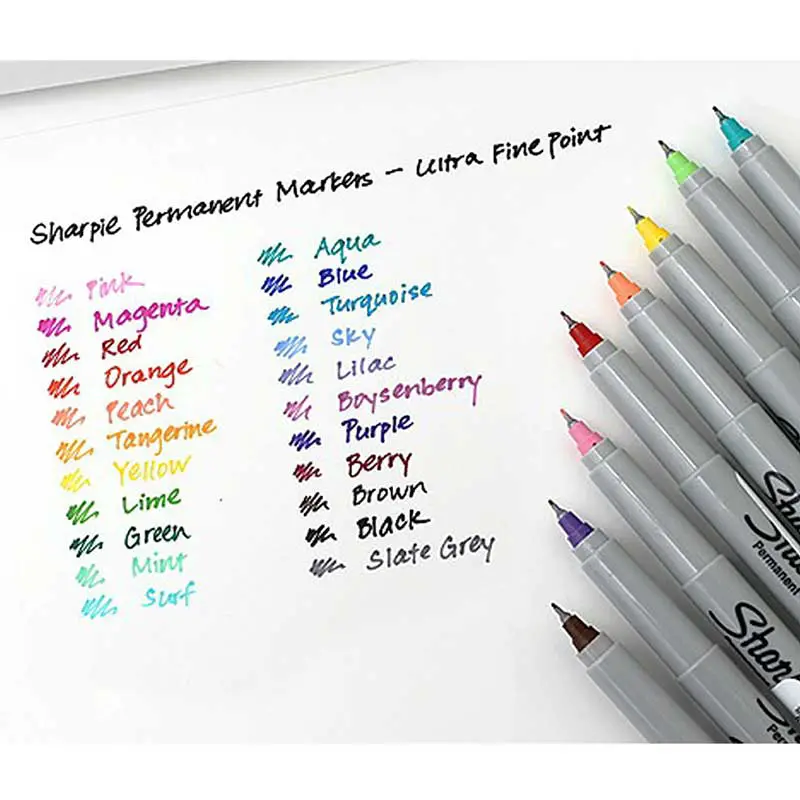 When you're done assembling your model, using Gundam markers is a great way to make the model unique, have a popping effect, and look more exciting.
Gundam markers were created by Bandai for this purpose, however, there are many alternatives for Gundam markers you can use.
Fine tip sharpie
Sakura Pigment Micron
Copic marker
Staedtler Pigment Liner
Prismacolor Premier fine tip marker
Artline Drawing pen
Tamiya panel line accent
Thinned Paint
I've Used many Gundam markers alternatives Over The Years 
Although Gundam markers aren't bad, you might just prefer using something else. Also, they can be pretty difficult to find in certain parts of the world.
If you need to find an alternative to using Gundam markers for your model, then you're at the right place because we'll be breaking down EIGHT of the best alternatives on the market to using Gundam markers.
Fine tip sharpie
The Fine Tip Sharpie is a great Gundam markers replacement if you like vibrant colors or if you want to achieve that popping effect on your gunpla models. 
It usually comes in a set of different 'sharp' and bright colors as the name suggests.
The ink of the Fine Tip Sharpie is permanent. It does not fade and is also abrasion, UV rays, and water resistant. You can be sure that it'll have a long-lasting effect on your Gundam model.
The fine tip sharpie's slim design is also very comfortable to work with. It is easy to grip and has a fine tip which is good for precision detailing.
The ink dries quickly and does not contain xylene or toluene, which means it has less odor. This is a huge plus for most people, especially those that get easily nauseated by the smell of ink.
You can use the Fine Tip Sharpie as a Gundam marker alternative to make your gunpla models stand out on the display stand.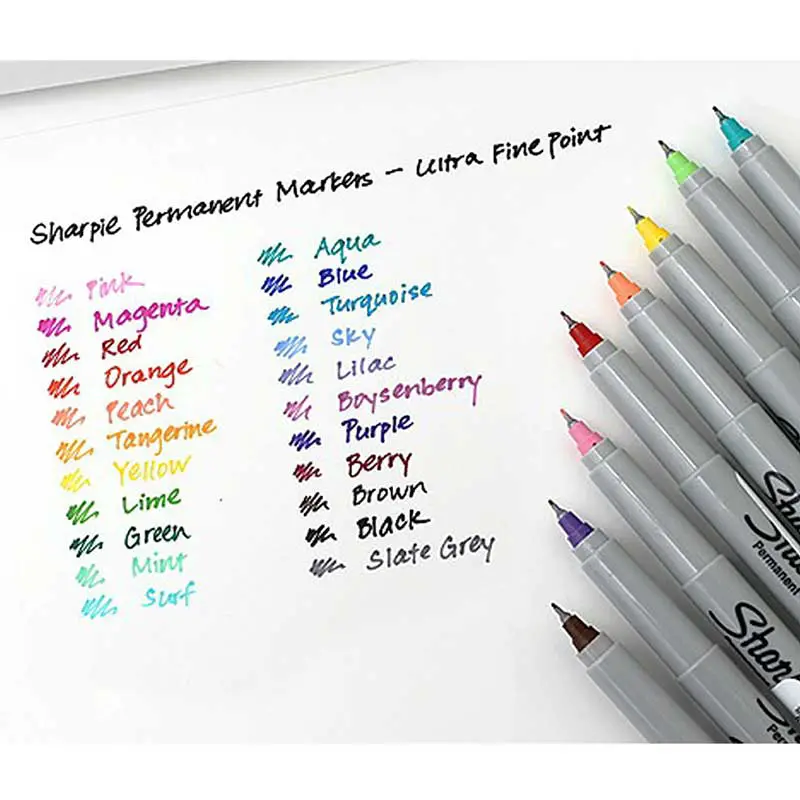 Sakura Pigment Micron
Sakura Pigment Micron (also known as Sakura Pigma micron pens) is one of the best alternatives to Gundam markers. 
They are cheaper than the regular Gundam Markers and they come in different sizes with a fine precision tip.
There are also 17 different colors available for you to choose from. In terms of quality, the Sakura Pigment Micron is as good as the Gundam Markers (if not better).
These micron pens are great for panel lining because of the archival quality of ink used in making them (Pigma). They do not bleed and the ink dries off quickly.
However, The Sakura Pigment Micron Pens are waterproof and also fade-resistant so if you make a mistake when panel-lining, be sure to erase the paint immediately because it will be impossible to clean or erase once the ink dries off. 
This also means that you do not have to worry about the longevity of the ink on your gunpla model.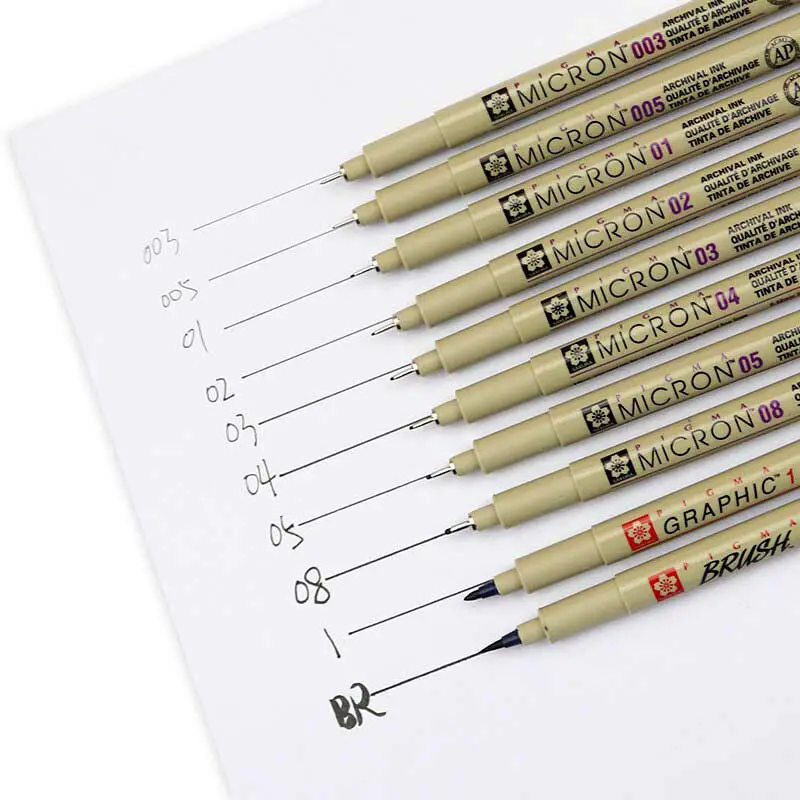 Copic marker
One of the biggest benefits that come with Copic markers is that they are refillable. All you have to do is buy Copic ink of the same color and refill your marker. 
Copic marker is a very economical and environmentally friendly alternative to Gundam markers.
Copic markers come in different types like the Copic sketch, Copic Ciao, and Copic Classic. Each one is suitable for use depending on your experience level and whichever fits your specific need.
If you're a beginner with Copic pens, you should start with the ciao designs. The Copic markers all have two replaceable nibs which are the Super Brush and Medium Broad. 
You can also get other nib sizes like the fine nib for better detailing.
Copic markers allow for incredible detail and a variety of results. The Copic marker is water and alcohol resistant because it utilizes pigment-based ink (like the Sakura Pigma Micron). This kind of ink does not blur or fade.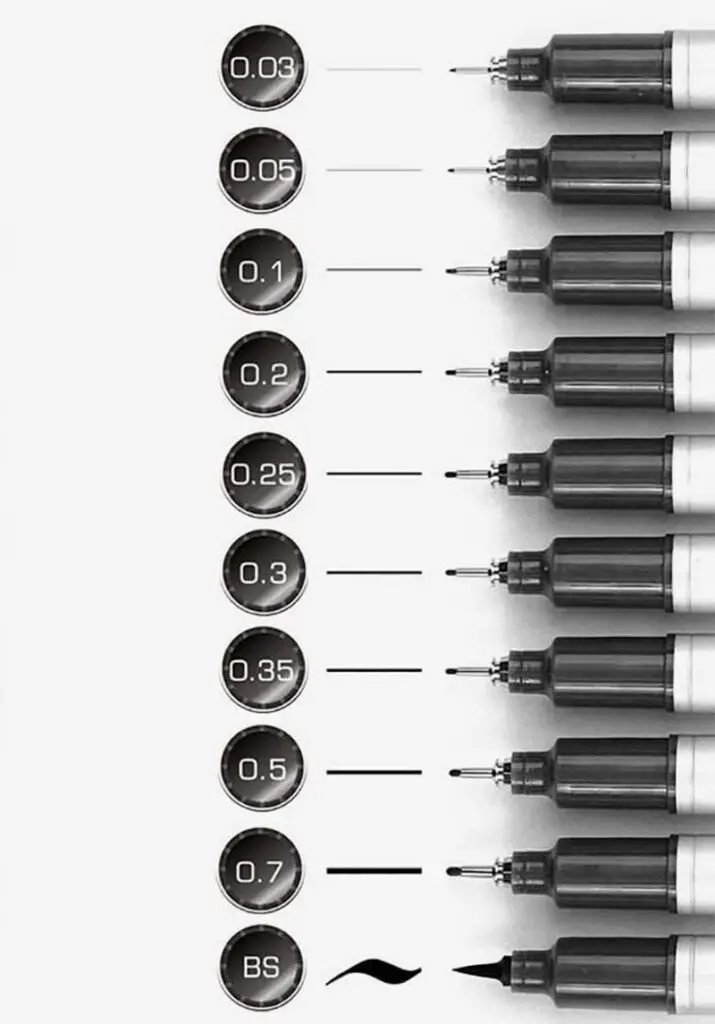 Staedtler Pigment Liner
I've used Staedtler Pigment Liner many times as a replacement for Gundam markers.
It is similar to the Sakura Pigment Micron because of the Pigment ink it contains. The major difference is the manufacturer and the design of the pen. This one can be left uncapped without fear of ink drying.
As stated earlier, this kind of ink is of high quality. It dries fast and becomes permanent once it dries. Also, the ink is waterproof on plastic and so it doesn't rub off when you use it on gunpla.
Staedtler Pigment Liners have different tip sizes and they all are sold together in a pack of 8. That way, it is easy for you to choose which tip you want to use either for panel-lining or for painting your gunpla. 
The Staedtler Box is also very stylish and practical.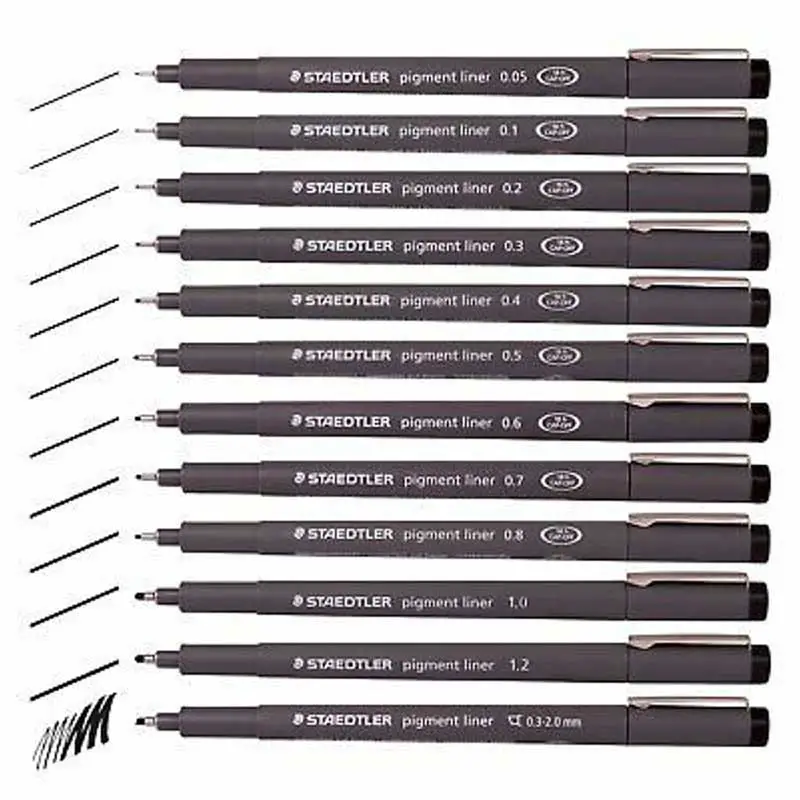 Prismacolor Premier fine tip marker
The Prismacolor marker is very convenient and easy to use on any Gundam model. 
It is also quite similar to the Copic Marker. The ink is pigmented, alcohol-based, and acid-free. It is also water-resistant and smear-resistant when dry. It dries off quickly and has a neat look.
However, the ink isn't archival. So, when it is exposed to the air or direct UV/sunlight, the ink will fade over time.
Also, the ink cannot be replaced, so you'll need to buy a new one or the particular color you use. It's available in individual and color-themed sets, so finding the color you need wouldn't be an issue.
Another great feature of the Prismacolor fine tip marker is that it has different fine point sizes which are: 005, 01, 03, 05, and 08. It's nice to have the variety and this allows for precision detailing your gunpla.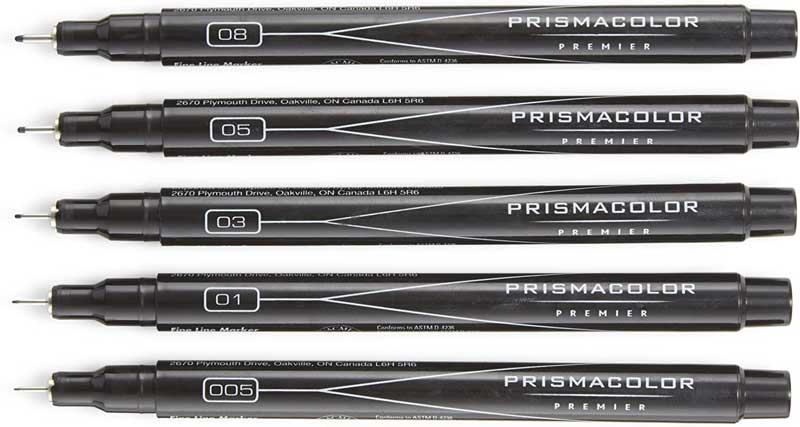 Artline Drawing pen
Artline paint marker is another great alternative to the Gundam Marker. 
I prefer this marker type for painting my Gundam models because it has an Acrylic fiber tip, although it may be messy for detailing.
Artline paint marker also uses xylene-free ink and has less odor. The ink is water and fade-resistant and it dries fast when you apply it to your gunpla model.
The unique thing about the Artline paint marker is the design. It has an aluminum barrel and a bullet-style nib. 
Asides from that, and the fact that it's a different brand, it's just like any other paint marker.
Lastly, the Artline Paint marker has about 12 different colors you can choose from to suit your gunpla model, making it a great alternative.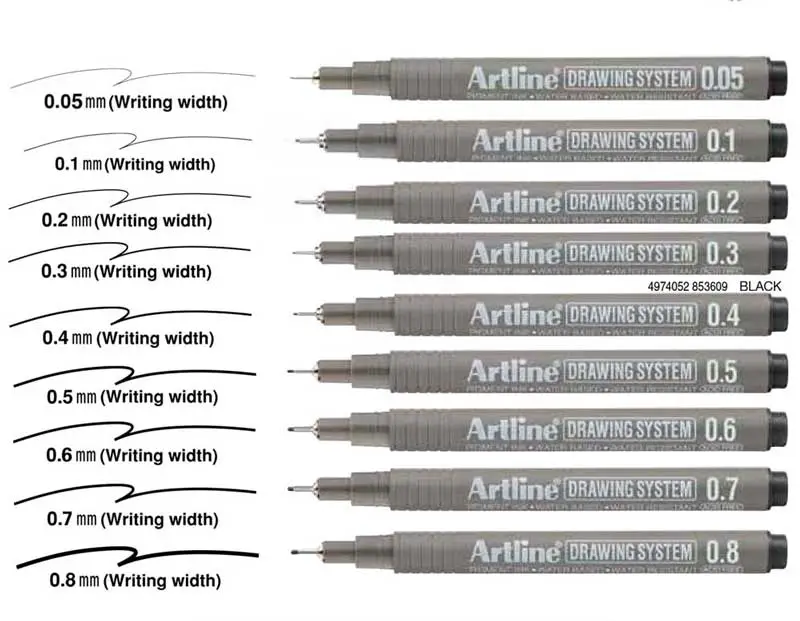 Tamiya panel line accent
Unlike all other alternatives that I have shared with you, the Tamiya Panel line accent is not a pen but a paint; and as the name suggests, it was created specifically for panel lining.
Tamiya Panel line accent paint is made of enamel; it comes pre-diluted and has the ideal texture for panel lining. 
It has a cap brush that can be used to apply the paint to your panel line, although using a cotton swab is another great method of application.
When applying the Tamiya panel line accent, you would need to be careful to avoid over-saturating your model with paint because the paint flows to highlight the crevices of your model once you apply it in the right quantity.
Although if you do overuse it, you can clean the excess paint off using enamel thinner once the paint is dry.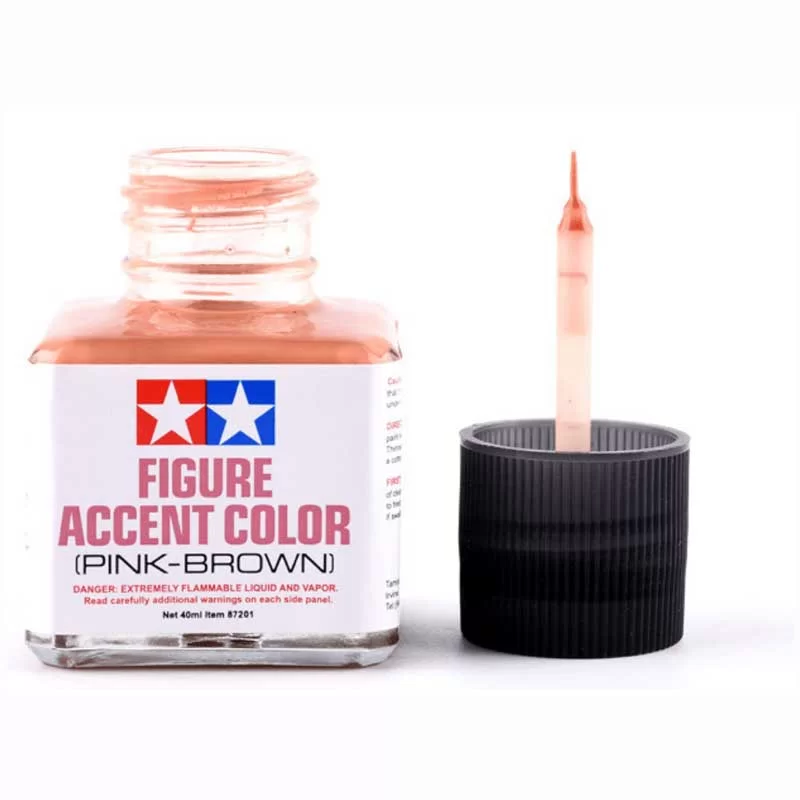 Thinned paint
If you have any regular paint, you can also use it on your Gunpla model instead of the Gundam marker. 
All you have to do is apply a paint thinner to the paint to get the ideal viscosity.
A paint thinner is a type of volatile solvent that is used to thin paint things like Gundam models to the required consistency.
A normal paint will be too thick, however, a paint thinner reduces its thickness and makes it just right for your gunpla.
To thin your paint, scoop it onto a flat pan or art board and apply the solvent in the right quantity depending on the texture you want. 
Although this might not seem like a straightforward process, you would likely learn to enjoy it as part of the Gundam model designing process.
Conclusion
The Gundam marker alternatives listed above can help you in detailing, paneling, touch-ups as well as weathering neatly and efficiently.
Sakura Pigment Micron, Copic marker, and Staedtler pigment liner are good alternatives for beginners because they are readily available in stores and can be applied to your models easily.
Copic markers are also useful particularly for hobbyists with a large collection as you may need multiple cool color effects for different models; and since they are refillable, you don't have to worry about the cost.
Of all Gundam marker alternatives, these three (Sakura Pigment Micron, Copic Marker, and Staedtler Pigment Liner) tend to stand out in terms of quality and convenience.