Airbrush and compressor kit for models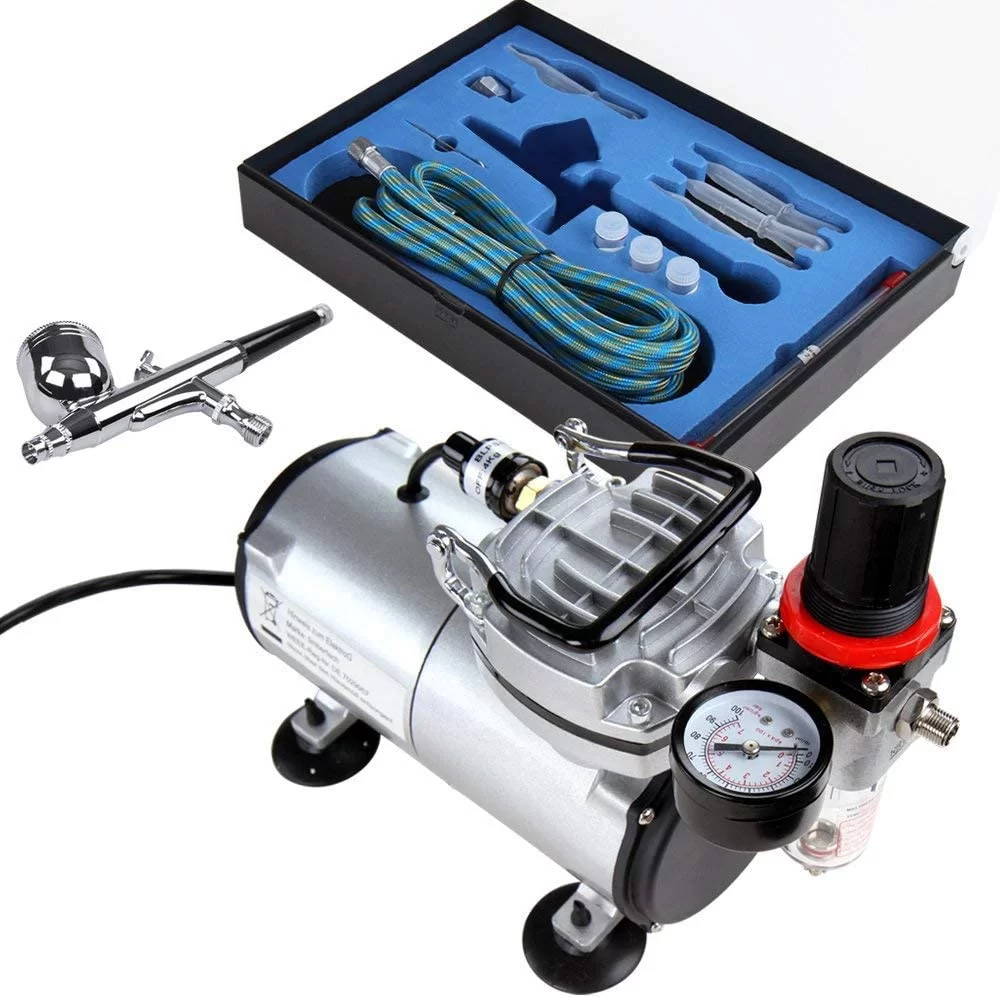 An airbrush is a stress-free kit that helps modelers paint their scale models. 
It may not be a necessity if you don't plan to stick around in the hobby for long. But, if you are an avid builder, then an airbrush with a compressor is essential as it helps you get a nice, smooth surface on your complicated structures. 
If you need a good airbrush and compressor kit for your next painting project, here's all you need to know about the best airbrushes. 
What results and effects can you get with an airbrush?
An airbrush helps you apply a smooth, even coat of paint and allows soft-edged paint schemes. It also allows you to apply a range of subtle weathering effects. Besides this, airbrushing your models delivers top-level gradients, blends, blurs, and highlights that leave superior-quality textures. 
Painting model kits with an airbrush can have several advantages and effects, including:
Smooth and even coverage: An airbrush allows for smooth and even paint application, which can result in a professional-looking finish.
Fine detail work: Airbrushes can be used to create fine lines and details that are difficult to achieve with a brush.
Consistency: Airbrushes allow for consistent paint application, which can be helpful when painting large areas or multiple parts.
Control over paint flow: With an airbrush, you can adjust the amount of paint that is sprayed, which can be helpful when painting intricate details or when using multiple layers of paint.
Versatility: Airbrushes can be used to paint a wide range of surfaces, including plastic, metal, and even fabric.
Reduced paint waste: Airbrushes are efficient and can use less paint than other methods, reducing waste and saving money in the long run.
Faster drying time: Because the paint is applied in a thin layer, it dries faster than when applied with a brush.
Overall, using an airbrush to paint model kits can result in a more professional-looking finish with greater control and efficiency.
Airbrushes explained:
Manufacturers design an airbrush as a dual, single action, gravity, and siphon feed. Don't understand what this means? Here's a short explanation. 
Dual-action vs. single-action 
A double-action airbrush controls air and paint flow independently of one another. It works by pushing the trigger for airflow and pulling it back for paint release. So, you can spray a large amount of paint at a lower air pressure or a small quantity at high pressure. This means that it gives more control over the flow and size of the stream coming out from the airbrush. 
Dual-action airbrushes are easy to take apart, clean, and maintain and are good for beginners. 
However, using a double-action brush can be tricky to learn as it comes with several variables (push and pull trigger functions) you need to learn to control. 
A single-action airbrush, on the other hand, is an airbrush that when you push the trigger, sprays both the paint and releases airflow. It is also a good feature for entry-level painters but can be challenging to master, especially when you want to avoid overspray. 
Gravity feed vs. siphon feed
There are several pros and cons to gravity- and siphon-feed airbrushes, but gravity feeds are easier to use with small compressors. 
Gravity-feed airbrushes are termed gravity because it uses gravity to make the paint move effortlessly through the airbrush and spray at lower air pressures. Unlike gravity feed, a siphon feed airbrush needs the air compressor to do all the work. This means more air pressure is required to spray paint.

What specs do you need for airbrushing models?
When buying an airbrush with a compressor, ensure the compressor is at least 1/8 horsepower and weighs 10 to 12 pounds to sufficiently deliver pressure and air to the airbrush. 
Also, ensure it can generate at over 30 PSI for excellent results regardless of the paint and medium used. 
Airbrushes with 0.5mm nozzle size spray better with heavily pigmented and vicious pants, but if you plan to spray fine, thinner coats, get an airbrush with a 0.2mm or 0.18mm nozzle. 
Best airbrush and compressor kits for models
Pros: 
Good quality, easy to use and assemble, perfect for all modelers 
Con: 
Fragile needle and nozzle
Features:
Good manufacturing tolerances and high-quality
Compressor provides more consistency when spraying paint
Quiet operation
0.3mm nozzle (fragile)
Superior to most spray cans
This airbrush and compressor kit has good manufacturing tolerances and is of great quality. Most people prefer the Master's airbrush kit without the compressor, but an advantage of this model is that the compressor gives a little more consistency when spraying paint. 
The compressor is awesome and produces little to no noise. 
However, the 0.3mm nozzle it comes with is fragile and may break even when you try to be as gentle as possible. Despite this flaw, this airbrush and compressor kit is still better than most spray cans.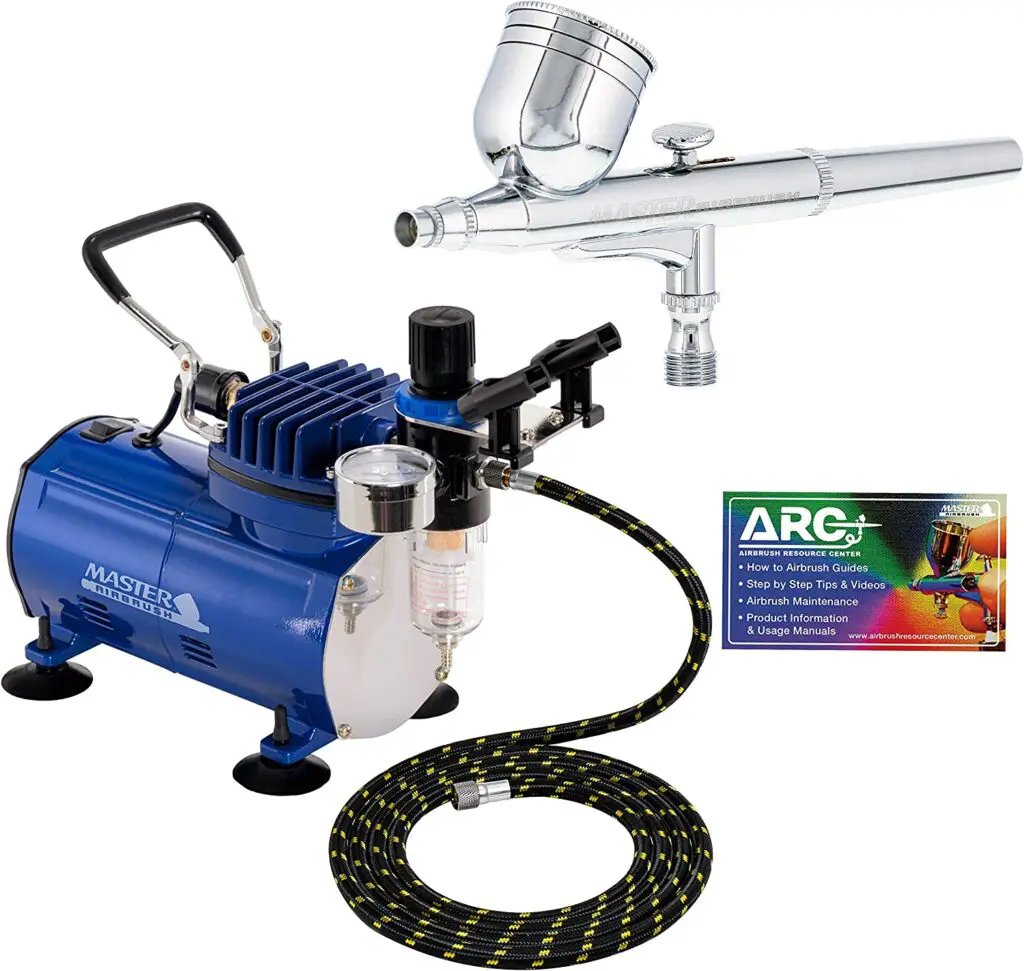 Pros:
Bbeginner-friendly, comfortable grip, easy to operate 
Con: 
Vague instructions, the needle is fragile 
Features:
Includes 3 high-performance airbrushing machines with different fluid tips
Lightweight and compact compressor with handle for easy transport
Affordable price (less than $100)
Suitable for multiple purposes
The Vivohom professional airbrush and compressor kit is multiple purposes, but its biggest advantage is that it comes with 3 high-performance airbrushing machines with different fluid tips.
The compressor is lightweight, compact, and easy to carry around with the handle, and this kit costs less than $100. The only challenge beginners may have with this model is the instructions are complex. 
Regardless, it is a good, cheap set for someone unsure of how long they will stay in the hobby.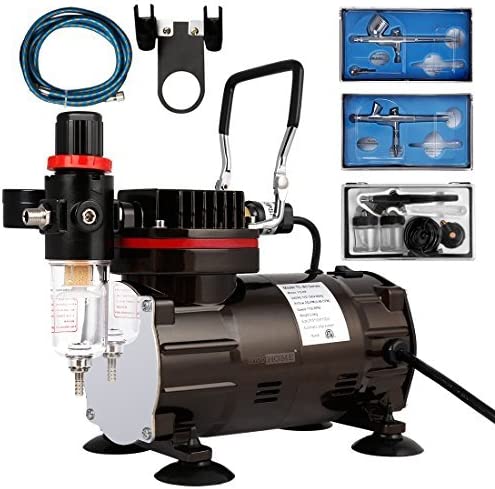 Pros: 
Decent price, well-engineered, versatile, for seasoned hobbyists. 
Con: 
The nozzles may clog 
Features:
Comes with 3 Master Airbrushes: G22 dual-action brush, G25 dual-action airbrush, and E91 single-action siphon feed.
Includes 2 – ¾ oz siphon bottles.
Strong compressor with over 40PSI.
Another professional Master airbrush and compressor kit, this unit comes with 3 of Master Airbrushes best selling and user-friendly airbrush kits, from the G22 dual-action brush with a 1/3 oz gravity-feed fluid cup and 0.3mm tip to the G25 dual-action airbrush with a 1/16 oz gravity-feed fluid cup and 0.2mm tip, and the E91 single-action siphon feed with a 0.8mm tip, and 2 – ¾ oz siphon bottles.
A combination like this with the compressor itself will make professional painters happy because its average cost is the price of a compressor alone. The compressor is strong, makes no sound, and generates over 40PSI. However, the nozzles clog easily.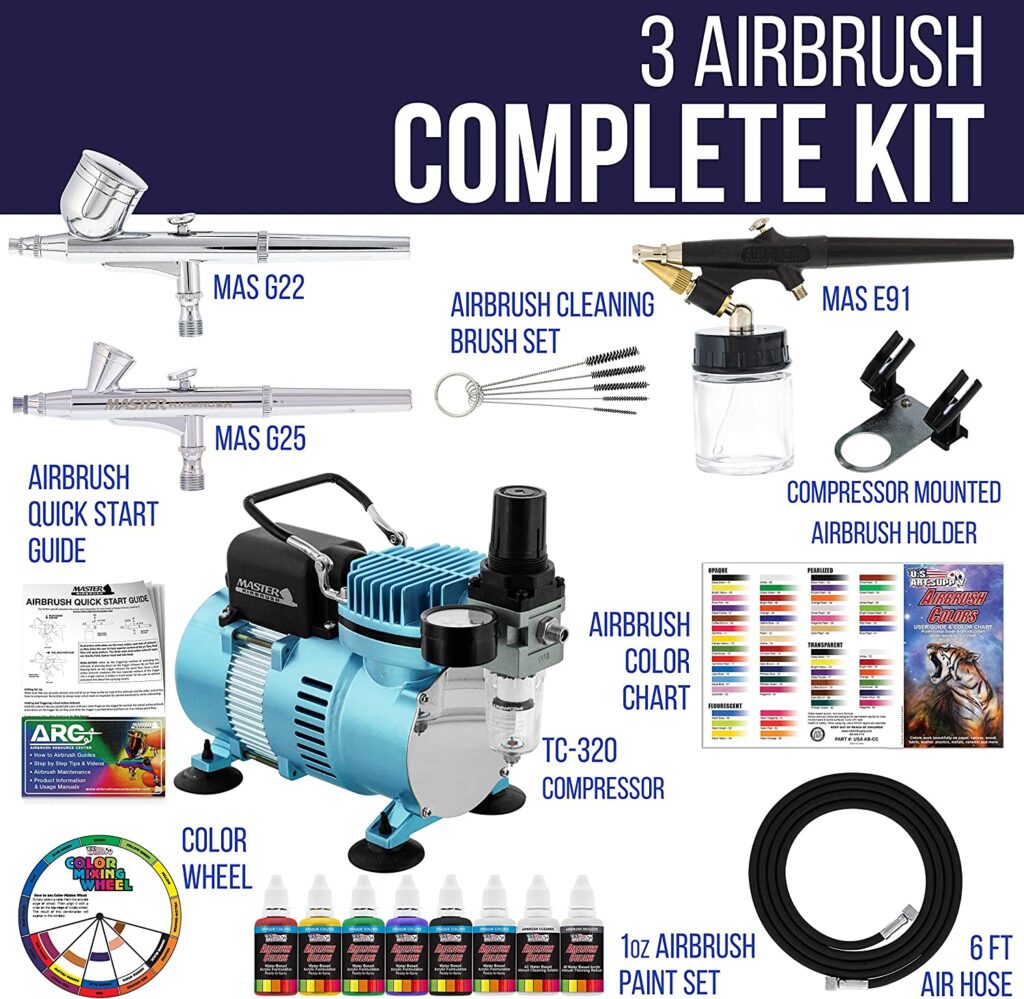 Pros: 
Beginners friendly, cheap, works best at 20psi
Con:
Iit would be much easier to master with instructions 
Features:
Cost-effective airbrush setup that costs less than $150.
The compressor can be noisy but works well when used under 20 psi.
This is a great setup that costs less than $150. While Timbertech is not as popular as Model Airbrushes, this setup is top-of-the-line and works fine if used properly. 
The compressor is somewhat noisy but works great when you keep it under 20 psi. For beginners, it will be a nice little airbrush starter kit to consider.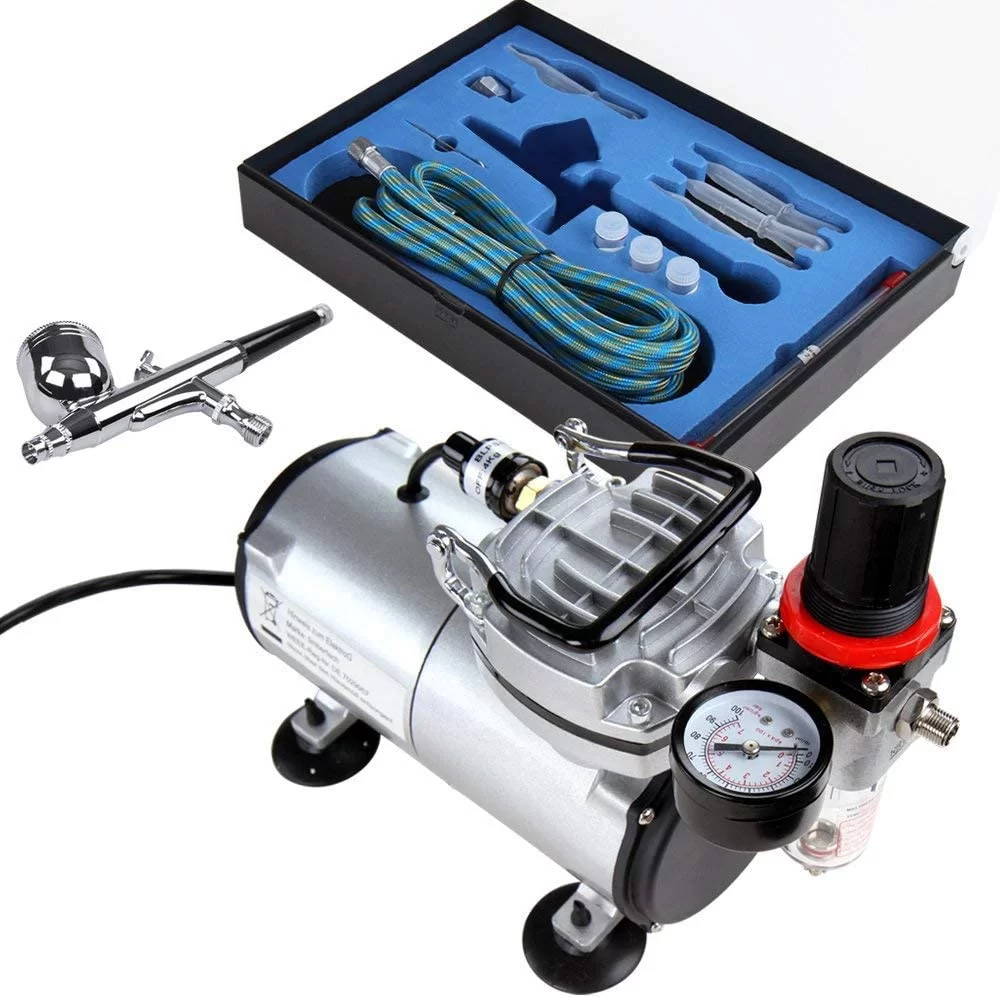 Pros: 
Comes with three different guns, ready right out of the box, clear instructions, decent quality 
Con: 
The .2mm tips clogs easily
Features:
3 airbrushes included in the kit
Suitable for beginners
Decent quality for the price
Compressor functions noiselessly
This is a great kit for beginners. It comes with 3 airbrushes that are decent quality for the price, and the compressor functions noiselessly. Still, the nozzles may clog when the paint is thick. 
The good news is that with proper cleaning and maintenance procedures, you can enjoy a seamless experience.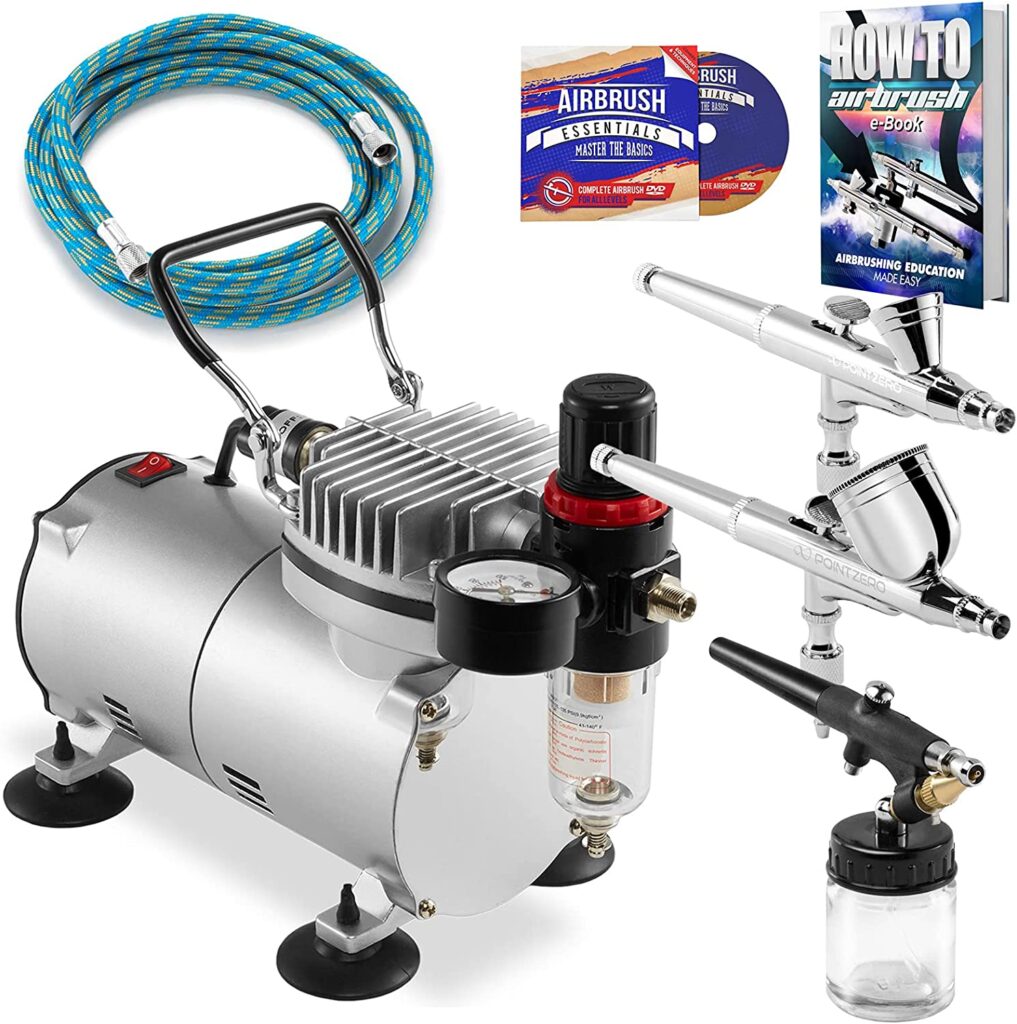 What else do you need when airbrushing models
The airbrush and compressor are the two most important pieces of equipment you need for Airbrushing your models. But, they are not the only essential materials. Some others you should consider include: 
A mask is a good investment. While most acrylics are not toxic, paint gets atomized into a fine mist in the air, and breathing acrylic polymers into your lungs can be harmful. So, instead of spraying acrylic paints without protection, get a respiratory mask to avoid the dangers of taking in toxic substances while you work on your model.
Most people use water to clean their airbrush after use. Of course, water is a safe cleaning agent for an airbrush, but an airbrush cleaner works best. 
It removes dried paint quickly and keeps your airbrushes safe. 
A spray booth, like a respirator mask, reduces the chances of breathing in aerosolized plastics, enamels, and ND solvents that may be present in your airbrush paint. 
This equipment is important for people who often overspray paint on their models. You won't need one if you are spraying paint in a dedicated studio or garage, but if you are airbrushing your models in a room at home, you may need a spray booth. 
Airbrushing model's best practices
Clean the airbrush after every use
You MUST clean your airbrush after use. 
Many scale modelers and miniature painters reveal that dried paint and uncleaned airbrushes often cause their airbrushes to malfunction. So, clean your airbrush after use to avoid dry tipping, spatter, and other issues that may arise when the airbrush gets faulty. 
While nozzles are made from metal, they are small and fragile and easily break when tightened. So, avoid handling them wrongly, especially tightening them excessively.
Painting a model for hours is not exciting, but building thin coats of paint is the building block to a smooth finish. So, when airbrushing, spray in thin layers. 
If you are spraying viscous and highly pigmented paints, you will require a larger nozzle size, but paints that are milk consistent do well with small nozzles. 
Conclusion 
Airbrush kits are a huge investment, so if you want to get into it, the kit you choose should be worth the investment. 
Before getting one, consider your skill level before choosing an airbrush. 
Single-action airbrushes are great for beginners because they are easy to use. A dual-action airbrush will be the better option if you're a professional who wants to perform fine-detail work. 
We hope the best airbrush and compressor kits in this guide will take the guesswork out of your next airbrush project.