6 RC cars with the longest battery life [researched]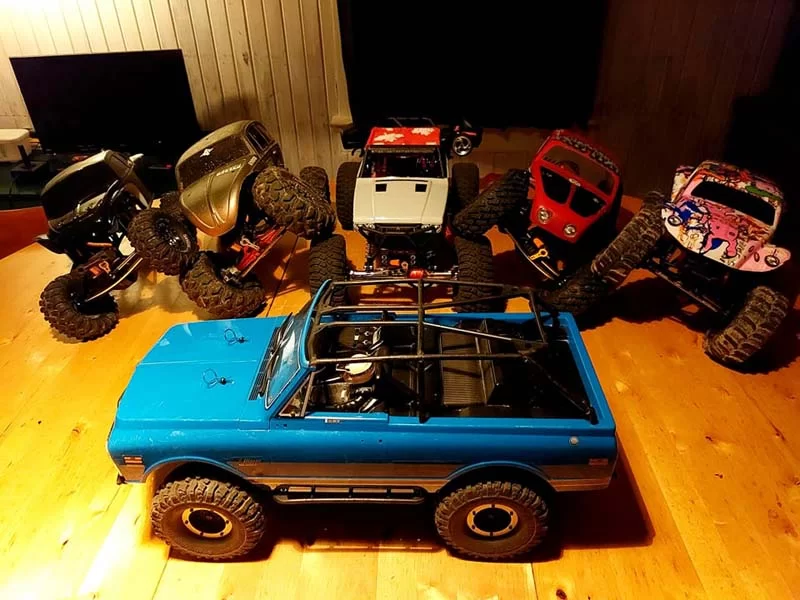 Before purchasing an RC car, you need to know how long their batteries last, especially the charging cycle, runtime, and shelf life. These factors will help you choose the best RC cars with the most extended battery life. 
The RC cars with the Longest Battery Life
6 RC Cars With The Longest Battery Life
Arrma RC car models are engineered for brute power and toughness, and the Arrma Kraton doesn't disappoint.
This Arrma Kraton model has a fantastic speed potential and can reach 55+ MPH speeds in optimum driving conditions using an 8S LiPo (2 x 4S LiPo batteries). 
When it comes to the battery voltage capacity, it has a 14.8V capacity when a 4S LiPo battery is used and an 11.1V with a 3S LiPo battery on 5000mAH. 
The Arrma Kraton RC car can even offer drivetime up to 50mins, especially when run on an 8s Lipo battery.
The 3s and 4s LiPo batteries offer an average runtime between 25 to 40 minutes. Five cars with the longest battery life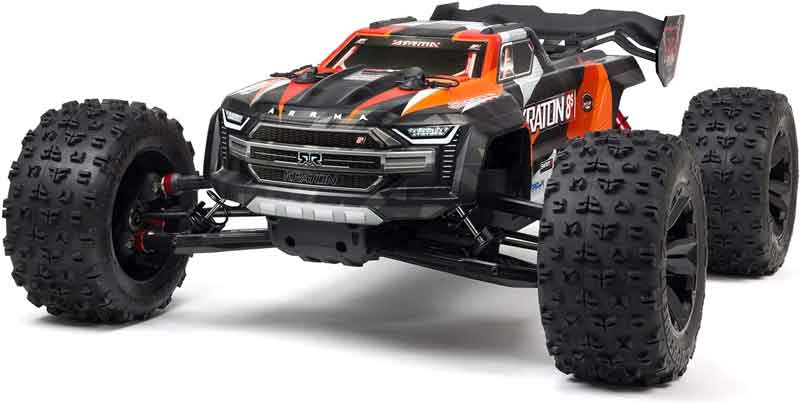 Arrma Typhon 4×4 V3 3S BLX RC Buggy is a 1/8 scale RC car with one of the longest batteries, living up to 30 minutes even when run continuously. It also runs at 50+mph to 80 mph max-Speed on a Powerful Reedy 3300kV brushless motor and 7.4V capacity on a 3300mAh LiPo battery. The good news, you can even use a 2S or 3S LiPo battery on this model. 
The Arrma Typhon's 2s LiPo batteries offer average drivetime ranging 20-30 mins. On the other hand, you can enjoy up to 30-40 mins drivetime when you use the 3s LiPo battery.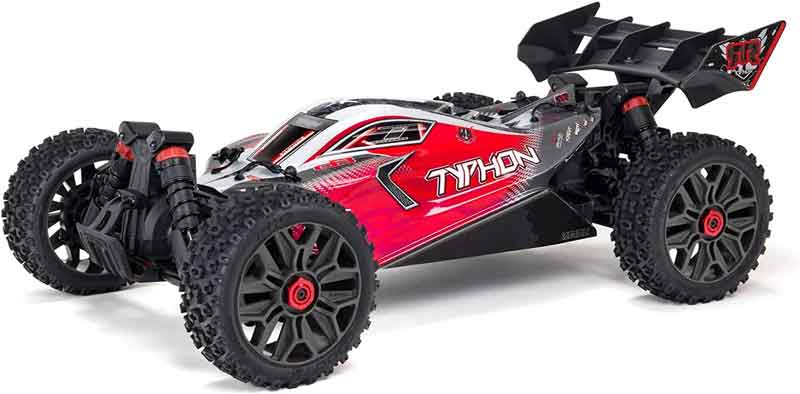 The Traxxas X-Maxx 1/10 monster truck comes with massive size, brutal strength, and unmatched power. Features like its sledgehammer tires and longer chassis make this Traxxas model stand out. However, this Traxxas X-Maxx can reach speeds up to 40mph, has a nominal voltage of 11.1V, and Amp Hour capacity up to 5000mAH, which gives it a longer drive time. 
When you use a 3S LiPo battery on the Traxxas v2 Maxx, it's effortless to drive at full throttle because you're still well within the limits of driveability and handling for the truck. You even enjoy a runtime of up to 15 mins. 
If you switch to a 4S LiPo battery, you have to tone down your throttle response to make the RC car drivable, and you can enjoy up to 20 mins drive times. However, a 7Ah 4S battery will get more runtime, up to 30 minutes.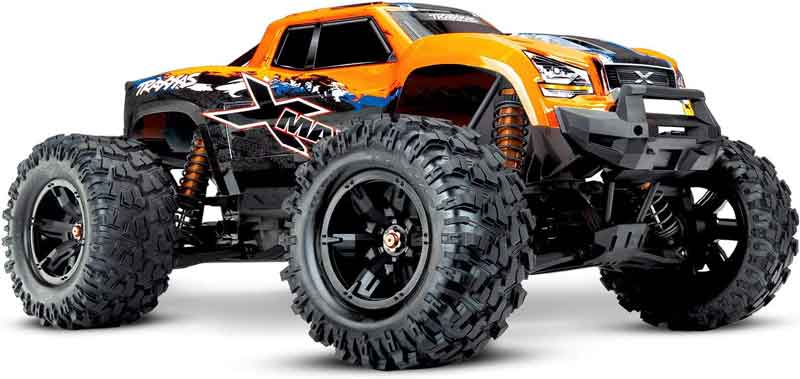 The Maverick Quantum FLUX kit car from HPI Racing comes fully upgraded with functional 4WD driveshafts, 3300KV Brushless Motor, and can take a thrilling 3S of LiPo power. 
This 3s LiPo battery means you get a three-cell (3S) LiPo battery pack of 5000mAH with voltage as high as 11.1V and a speed of about 50mph.
With this battery, you can even enjoy an average runtime of close to 20 mins and 25 mins on average.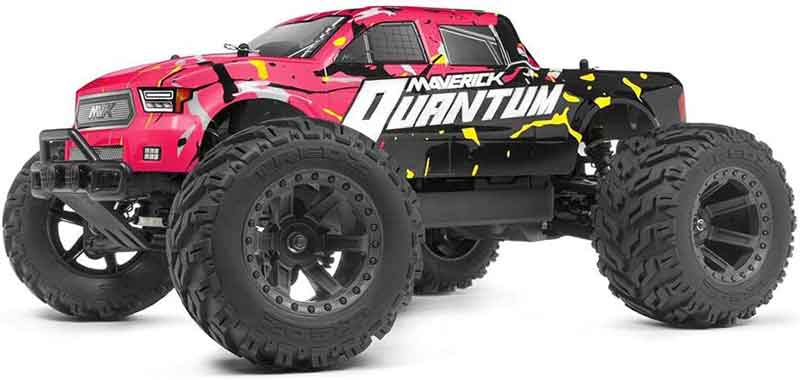 This Traxxas BIGFOOT model comes out of the box fully assembled, runs fast with 30+mph speed, and runs on a Titan 550 motor that offers you full-out excitement and long drivetime. 
The Traxxas bigfoot can even hold a 7-cell 3000mAH power cell NiMH battery at 8.7 Volts and that means it offers a speed limit of close to 25 minutes drivetime.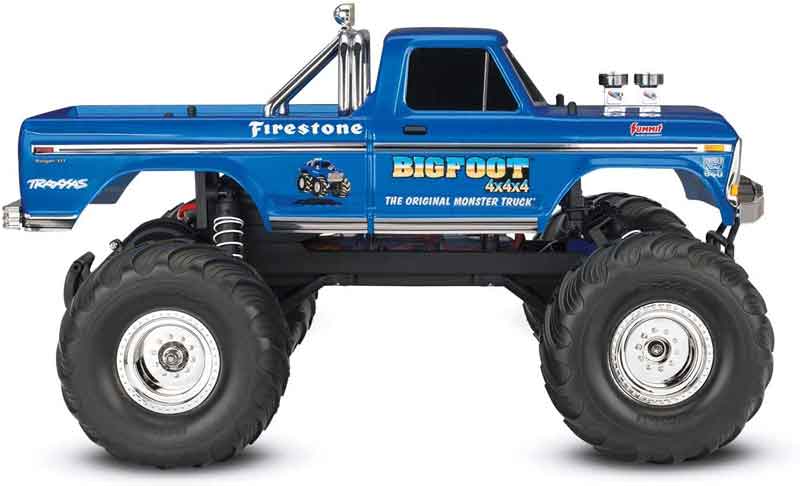 This Losi model runs on an 800Kv brushless power system, can handle a 2s (7.4Volt) LiPo battery, and offers max drivetime of 10mins. 
It can also run on a 3s (11.1Volt) LiPo battery and offers an average runtime between 20 to 30mins at 3400mAH. 
Another RTR RC car with extended battery life on our list today is the Traxxas Slash 4X4 Ultimate. 
The 3000mAH batteries can get you about 20 minutes of runtime, depending on how you drive the car. Plus, 5000mAH LiPo batteries can even get you between 30 to 35mins runs, especially in the 18T pinon option.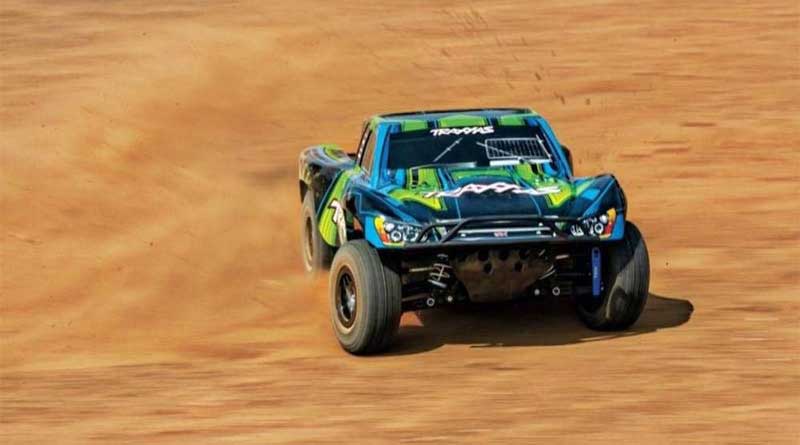 How long should an RC battery last? 
Three things determining how long RC car batteries would last include the RC battery's model, type, and manufacture. When choosing a battery for your RC car, you also need to consider the cell number (S) and mAH level. These factors will help you determine the battery runtime and cycle. 
The three most commonly used RC car batteries are NiMH, LiPo, and NiCD batteries. 
NiMH batteries have average runtime between fifteen to twenty minutes on a single charge. On the other hand, their charge cycle typically ranges between 700 to 1000. 
LiPo batteries can run for about thirty minutes charge once, and they generally have a 300charge cycle. 
NiCD batteries will last for about twelve to fifteen minutes and have a charge cycle between 100 to 300 cycles, after which its performance drastically declines. 
Regardless of this, RC batteries should be able to run up to thirty minutes on a single charge, with a charge cycle between 100 to 1000 charges. After this period, you can dispose of them since their performance and charge decline.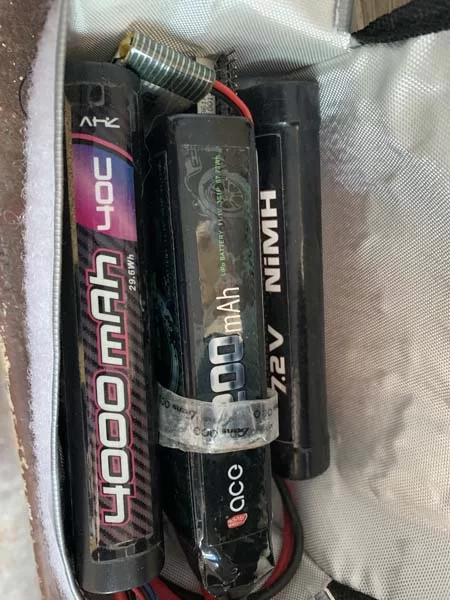 Can you make your RC car batteries last longer?
When RC batteries pass their lifespan, they will no longer charge as they deteriorate. Once this happens, they start to swell and might damage your RC car if not replaced. To avoid this situation, you need to ensure proper care and maintenance as it helps the batteries last longer. 
If you own RC batteries and want to make them last longer, do this:
Don't overcharge your battery.
Don't wait until the battery is dead before charging it. Instead, charge immediately once it gets low.
Learn proper storage techniques to keep the battery safe from environmental conditions.
Always keep the RC battery dry and clean.
In between the charging and discharging period, allow the battery to rest.
If you plan to use the battery in the cold, make sure to preheat it before using it.
Does a bigger battery mean longer drivetime?
Most RC car enthusiasts believe that the bigger the RC battery, the longer they last when run. To answer this question, you need first to determine what is meant by a bigger battery. 
Sometimes, when people say a bigger battery, they mean that battery has larger voltage output or mAh rating. Other times, some may assume that a bigger battery refers to the RC car's battery physical size. 
If the physical size determines the average drive time of the RC car, it means all batteries will have the exact specification. Hence, there will be no advantage of a physically bigger battery. In fact, the smaller size RC batteries will better suit your RC car and offer longer drive time. 
Large batteries may cause uneven weight distribution, thereby making the car move around due to their added weight and the vibration they cause when the car moves. In this situation, the battery will heat and damage quickly, causing the acidic electrolyte particles to leak and damage other electronic parts in the engine compartment. 
On the other hand, if a bigger battery implies a higher voltage rating than the standard 8V, it may also damage the RC car, which means shorter drivetime for you. 
First, a physically bigger battery may not fit the car's battery slot. Still, if you manage to fit this big-size battery in the battery compartment, the higher voltage rating may cause more damage than increasing your RC car's runtime. Why? RC cars are designed to house a high voltage rating at 8V on average.
So, a 10V or 12V battery may cause the RC car to break when driving, meaning short drivetime.
However, if your idea for a bigger battery has different specifications and these specifications have a higher value, you can enjoy a longer drive time. Why? The battery is bigger in terms of specification. 
For RC car batteries, we use the mAH rating. This rating measures the RC car battery's capacity to provide a particular magnitude of current for some amount of time. For instance, when a battery has a 40Ah or 20AH rating, the battery can provide a current of 40A for 1 hour and 20A for 2 hours. 
So, suppose you're wondering whether a bigger battery will mean a longer drivetime. In that case, the simple answer is that the more the mAh rating in the cell's battery pack, the more your RC car runs for more extended hours since a higher mAH means the battery can store more energy. 
Are there differences in drive time for each type of RC car? 
Drivetime mostly depends on the type of RC car model that you use. Nitro-powered RC cars usually come engineered with a 110-125cc fuel tank, lasting between 20-25 minutes, depending on how fuel is consumed.
On the other hand, electric RC cars are powered by RC batteries such as LiPo and NiMH. The runtime can vary with the built-in battery capacity and car endurance capacity.
For instance, a beast truck that uses a battery with a capacity of 1500mAh can last up to 25-30minutes, and a larger capacity battery can run a little longer. 
On the other hand, Rock crawlers can last longer on this same 1500mAH battery capacity since they are usually slow and won't cause the battery energy to deplete rapidly. 
In essence, drivetime differs by the type of car you use. RC cars with higher speed and torque capacity of servos will consume more battery and hence lesser drivetime. 
Does 6s or 4S have a longer life than 2S?
The amount of current a battery produces determines how long it will last.
A 6s battery can run for 50mins while the 4s can offer drivetime between 30 to 40mins on a single charge. On the other hand, a 2s battery can run between 10 to 15mins. 
This means that 6s and 4s batteries last longer than the 2s counterparts. 
RC car batteries shelf life (and which has the longest shelf life)
All RC batteries have a shelf life before they lose their relevance. 
NiCD batteries have an average shelf life of one to three years, 
NiMH batteries' shelf life ranges between three to five years, 
LiPo batteries have a shelf life of two to four years.
Final Thoughts
Every RC owner and enthusiast needs to know that RC car batteries are the source that ensures the RC car performs exceptionally and lasts long on the track. For this reason, you need to learn how to store, charge, and use RC car batteries properly. You do not want to spend an exorbitant sum finding a replacement for your RC car battery. Proper care and maintenance play a vital role in making your RC car batteries last longer. 
Sources used for this article