Best white paint for miniatures (GOOD Results in One Layer)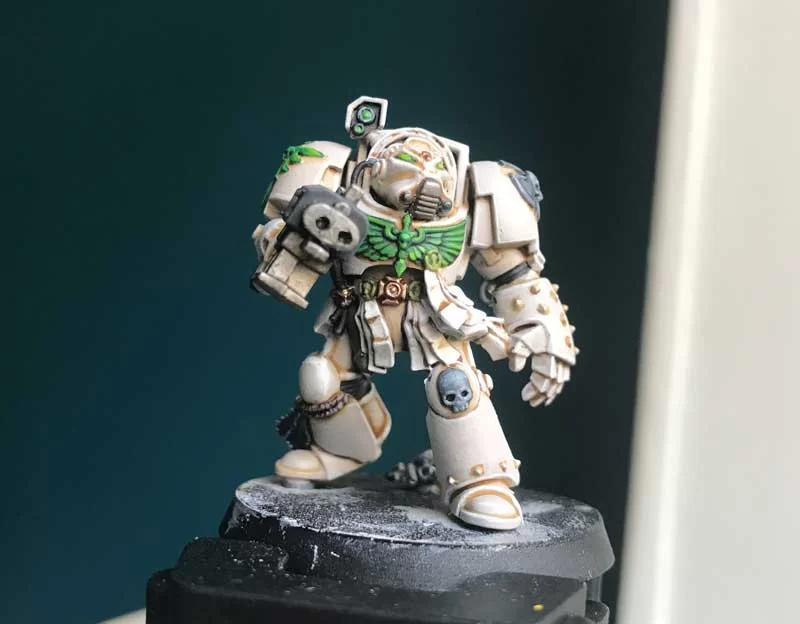 Painting your miniatures is the only way to accentuate the little details on their surface to make them look real. However, very few paints are good straight out of the bottle – white is no exception. 
If I had my way, I'd work without them, but we really can't because white paints help with highlighting and paint mixture to create more relevant colors. 
If you're looking for a good white paint to use for your miniatures, in this guide, we explore everything you need to know about white paint, including the best white for painting minis. 
What is the problem with white for miniatures?
The problem with white paints for miniatures is their high but poor pigment concentration, which makes them dry chunky, and chalky. 
White paints, especially the "pure" whites, tend to be thicker than other colors since they need a higher percentage of solid pigments to maintain the opacity while still keeping the right color and not containing diluting pigments. It makes it easy to mix paint and create a new color. Plus, with the high pigment levels, if you intend to use them as a base coat, you can easily get solid coverage with one thick layer. But, there's a catch!
The excess pigment levels of white paint means sometimes, they come out as a massive chunk of paint that refuses to move and acts more like a dry brush paint. In other cases, they become incredibly watery with chunks, especially if they don't mix well. 
Hence, their tendency to leave chunky results makes it difficult to find a decent white paint that can provide coverage but can also be used to mix with other paints without becoming a giant mess. 
Use titanium white instead
Most people result to thinning the white paint with a bit of water or medium to get it to the right viscosity. But, depending on the brand, white paints won't always thin easily. 
If you need white paint that actually works well, consider using titanium white.
Unlike most white paints made from zinc-oxide pigments, Titanium White is made with titanium dioxide pigment and is the brightest shade of white for painting miniatures. 
Titanium white has a high opacity level and a clean, blue-toned appearance and like basic white, will help you make tints due to its dominating pigments. But, it differs from the traditional white color. With titanium white, the pigment is very high quality and is ground very finely. 
The paint does not dry chalky like most whites tend to, it is very creamy in consistency, dilutes like a dream without any separation, and mixes with other colors great. This means it will provide great coverage right out of the bottle, thin evenly to achieve any level of transparency, and dry to a beautiful finish. Plus, you can also use it in your airbrush as a primer when you do zenithal priming.
Tips for using white Paint On Miniatures
White paint is naturally bad. 
No matter how much you thin or don't thin them or how many layers you put in, they constantly leave brush marks, won't cover well, and often leave a rough chalky finish. You may be doing something wrong or it could just be the paint. Regardless, here are some tips to keep in mind when using white paint for miniatures. 
First, make sure to thin them. White paints often have higher pigment density. So, you need to thin them to get the perfect milky consistency that makes painting miniatures easy. But, while thinning, only thin them in small amounts for things like highlights so you won't continue adding layers upon layers that may cover relevant details on your model. 
Also, consider building colors to get a solid white, especially when using layer paints. Layer paints are semi-transparent. So, to have a good, solid white, you have to build up the color beneath it first. To do this, start with a mid-tone and light grey base coat before finishing with white. 
If you rarely use pure white but want something solid, a good solution is to mix some heavy-body acrylic white paint from brands like Golden or Winsor & Newton and a few custom off-whites. A mixture like this will get you a much smoother finish and better coverage. You can also try adding a drop of gloss varnish to the mix: it reflects white light. So, it will make it even smoother.
The best white paint for miniatures
I have painted many white paints, but the quality of Kimera paints is amazing, especially their titanium white. 
These whites are the most vibrant, saturated, and beautiful paints I have ever worked with. However, I would definitely not recommend them to a beginner since they have a learning curve. 
Regardless, the main selling point of their titanium white paints is their pure pigmentation. The paint is truly an exceptional white to work with and doesn't require much thinning. They cover well and don't leave a chunky mess on your model. 
Their major downside is they are often produced in small batches. So, you can't get them as easily as other white paints. 
Pros
Excellent coverage
Perfect for mixing
Provides exceptional saturated results when mixed
The most vibrant white of all white paints
It does not turn chunky 
Cons
Often out of stock
Requires base of knowledge to use properly
Not suitable for beginners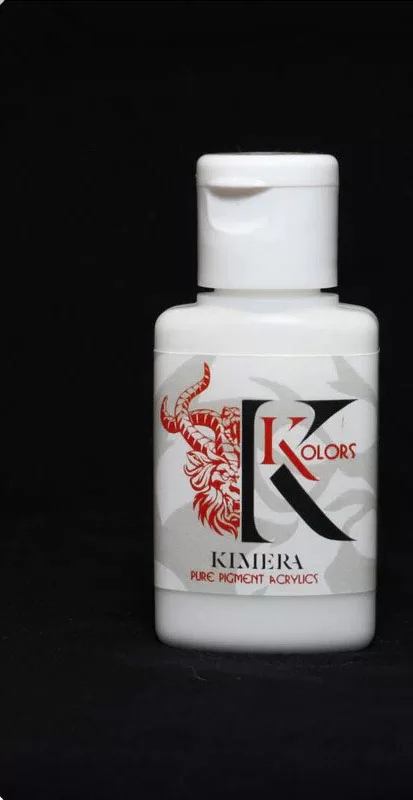 The difference between good and great paints is the quality or amount of pigment in the paint. Like the Kimera titanium white, Winsor and Newton's Galeria white paint is an artist-grade paint with better pigmentation than traditional whites. 
One of the many reasons I love this paint is its good buttery consistency and texture that offers quick and easy coverage while making sure you leave no traces of brush marks. 
But, you may have to thin it a lot, but it is really creamy, and you don't want to cover the small details on your miniatures. 
Pros
The idea for beginner painters
Rich pigment
It is smooth and creamy
The color stays vibrant even after a mixture
Con
The high pigment density means you need to thin the paint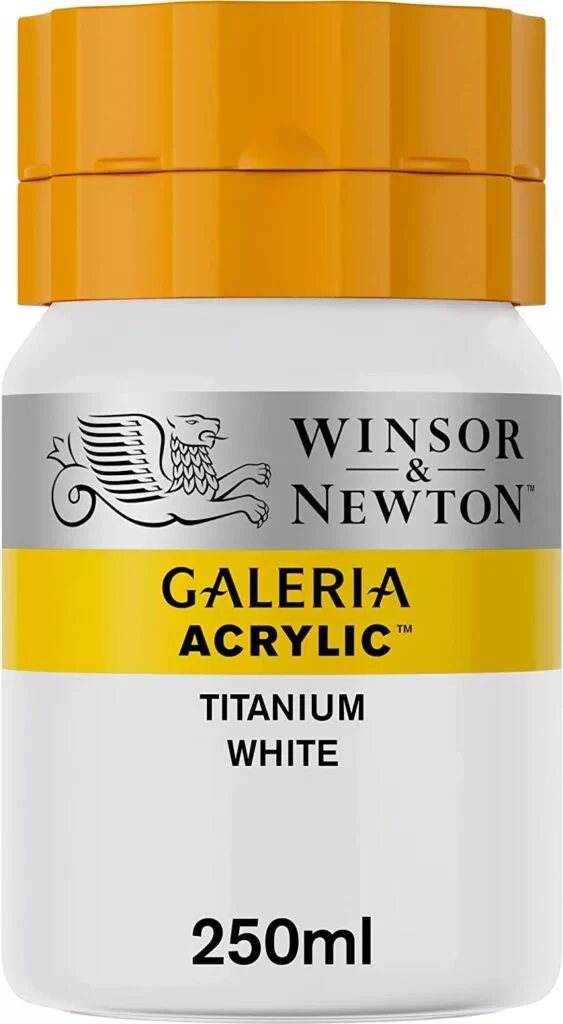 Scale 75 scale color whites are also good white paints for miniatures, but I won't typically recommend them for any beginner or entry-level painter. It's not because they won't work well on their models. In fact, these paints are so good that I often forget about other whites in my collection. 
The biggest challenge for beginners is that they are extremely difficult to work with if you're not already a good painter. It comes from the fact that they use a gel medium and have an extremely high pigment density.
Yet, one of the reasons I often recommend this white paint is that they cover well. They cover VERY well. Even thinned, they cover well, and it is amazing to see white paint cover so well. 
However, you need good knowledge of how to dilute this paint properly, especially since it is a heavy-bodied artist acrylic, and has high pigment density. 
Pros
Exceptional coverage
Thins well
Extra-fine creamy pigment density 
You can use it with an airbrush
Con
They are challenging to work with for beginners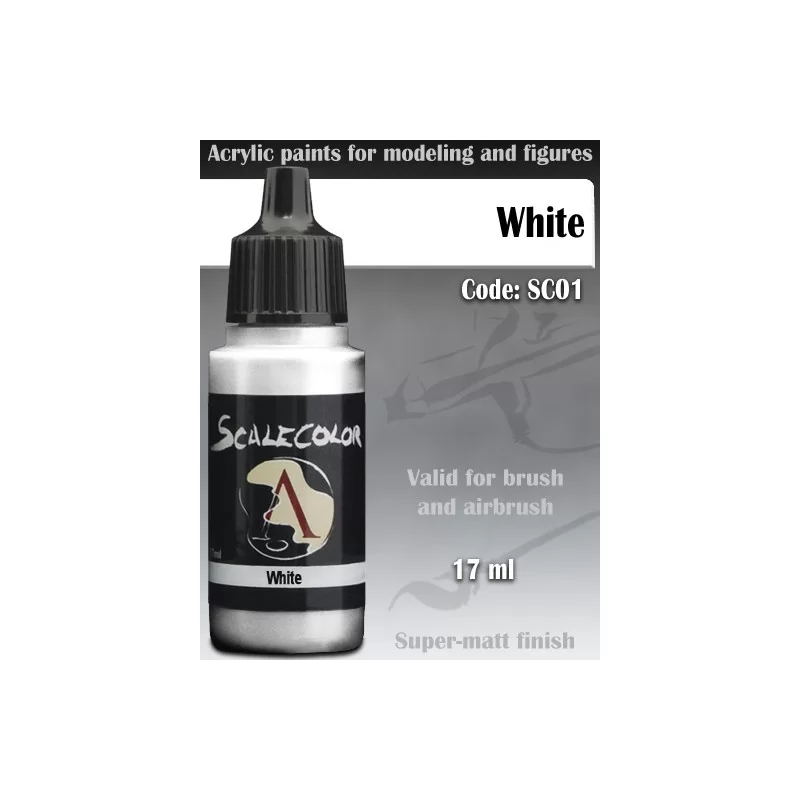 The biggest factor that endears Vallejo's model color white more than other white paints comes down to their coverage. 
The Model Color white is a little more viscous than other model color paint pallets. However, they often offer a smooth finish. They are much more subdued than other white colors. So, they tend to get more reliable coverage across the surface of your model. 
Their only drawback is that they are not as highly pigmented as heavy body paints like titanium white. So, when painting them on your model, you want something underneath to help define their solid texture. 
Pros
Covers well
More muted white but offers an exceptional finish 
Ideal for beginners
Offers consistent results
Cons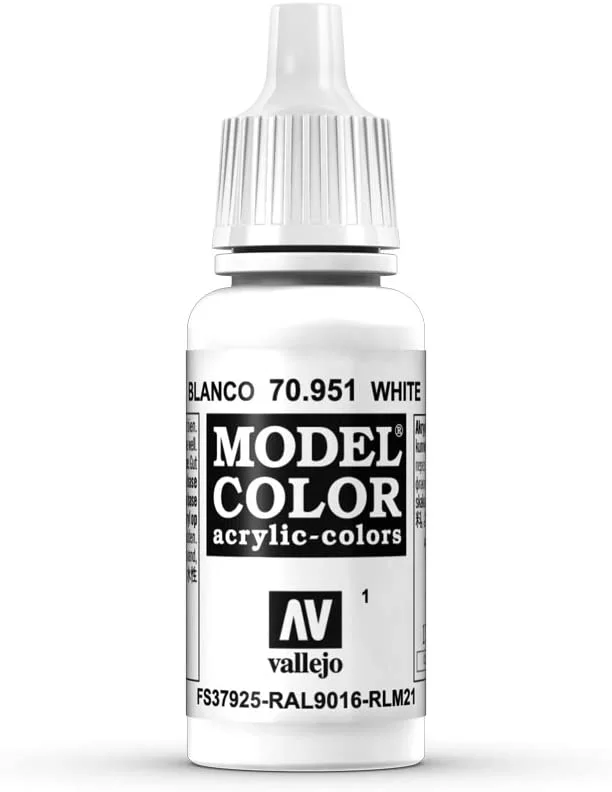 Conclusion
Since white paint from almost every popular miniature paint brand, from Citadel to Army Painter tends to be chunky, it will most certainly be challenging to get a good paint in white. But, white paint is not something we can easily overlook. 
So, if you need a good white paint for your miniatures, consider getting heavy body paints like the Kimera Kolors titanium white or Winsor and Newton's Galeria white. Besides this, Scale 75 scale color white and the Vallejo Model Color white are good alternatives.