11 Best Master Grade Gundam Models (Gunpla) 2023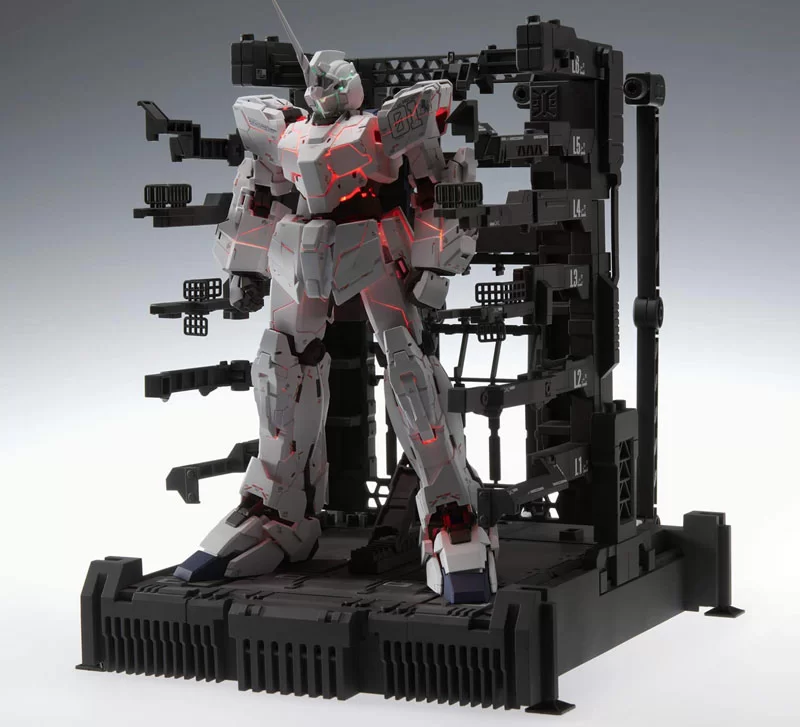 Based on the popularity of Gundam models and the ever-growing demand for Master Grade kits, many different models in this Master Grade series have been released. 
We have gathered some of the best Master Grade Gunpla kits, evaluating their cost, features, pros, and cons just to help streamline your hunt for your first or next Master Grade Gunpla.
Master Grade Gunpla features
Master Grade Kits differ from other Gunpla grades in several ways. Here are some features that can help you easily spot a MG kit.
Most master grade kits have a 1/100 scale.
Some Master grade kits possess an inner skeletal frame with working hydraulics.
Some MGs accommodate light-up gimmicks through the possession of LED lights.
They have a higher level of detail, articulation, and proportion than the regular 1/100 scale kit.
Read Our Reviews Of Other Gundam Model Grades:

12 Best Real Grade Gundam Models (Gunpla)
12 Best High Grade Gundam Models (Gunpla)
11 Best Perfect Grade Gundam Models (Gunpla)

LeisureGuided.com
the best master-grade gunpla kits today
The MG GN-003 Gundam Kyrios is one of the best Master Grade Gunpla kits you can find. This MG kit was produced based on the transforming Gundam anime series – Gundam 00 S1. 
It was released in 2020, but its frame is very much similar to the 2019 MG Dynames frame.
Price range: $55 – $91
Features 
The kit makes use of the MG Dynames frame to a large extent.
Accessories on this kit include a GN beam submachine gun, GN hand missile unit (2), Wireless grip (2), GN beam saber (2), GN shield, Foil seal, Marking seal, PP sheet.
Additional accessories include Gn Shield with unfolding gimmick and spike. 
Pros
The GN frame structure it uses gives the model the same phenomenal stability and range of motion as the MG Dynames.
The wireless grip can be switched between the Gn Beam Submachine Gun and Gn Hand Missile Unit just like on the show.
You can transform the kit to Ma mode by new locking tabs throughout the body and the new Gn Frame Structure .
The kit is well-balanced and sturdy.
It has a very sturdy construction but can also transform into flight form.
The kit is highly poseable and the arms and legs don't show a tendency to come off while trying to pose.
Cons
The model has tiny feet.
The MVF-X08 Eclipse Gundam can also be mentioned among the best master grade gunpla kits. It is a custom-made Mobile Suit based on the Mobile Suit Gundam SEED Eclipse manga series.
Price range: $52 – $89
Features 
Some accessories of this kit include Type 72E4 Beam Rifle "Jinrai, Type 72 Beam Saber, and 2 PS-02 Beam Shields. 
Ultracompact Energy Battery serves as its power source.
It possesses a Phase Shift armour.
Pros
The model has a wide range of motion.
The kit is very easy to assemble.
Cons
There is a lack of forward/ backward shoulder articulation.
There is stiffness around the hip joint.
A list of the Best Master Grade Gunpla kits cannot be complete without including the iconic Mobile Ginn. This unit was inspired by the cosmic era from Mobile Suit Gundam seed.
Price Range: $43 – $84
Features 
The kit weaponry includes Heavy Blade, a 76mm Heavy Assault machine gun, and 2 missile pods.
Other contents of the kits are: a Magazine rack, 4 hand part sets(left/right), 3 hand expression parts, 1 set of foil and marking stickers.
Pros
The kit utilises the sturdy ZAFT ZGMF frame introduced in the MG Zaku Warrior kit.
Cons
The ball and clip joints at the head have limited movement.
There is also limited movement in the torso.
MG Wing Zero Custom is a remodelled version of the MS Wing Gundam Zero. This reproduction offers you cooler features and a wider range of motion than its predecessor.
Price range: $47 – $137
Features 
This kit includes a Buster Rifle, 2 Beam Sabers, a Shield, 1 Pedestal, 1 Foil Sticker, and a  Water Transfer Decal.
Pros
The wings hold themselves up very well.
This new kit has great colour separation.
Cons
Some parts are loose and don't stay together well without the use of glue.
The MG Epyon EW is the revised Katoki version of the Gundam Epyon from Gundam Wing.
Price range: $92 – $124
Features 
This kit is completely poseable.
It possesses a complete inner frame with removable armour and several other gimmicks.
The model is made of ABS and PVC.
The kit includes; Runner x 14, Sticker x 1 and manual x 1, and waterslide decals.
The pieces in the kit to build are; Gundam Epyon, Removable armor, Shield, Heat Rod, Beam Sword.
Pros
The kit is capable of transforming into Flight mode. 
It has a high level of detail in a 1/100 scale. 
Cons
Some parts fall off during the transformation.
The shoulder joints and the connecting joint between the wings and the backpack can be quite stiff.
This was the first MG iteration of the RX-78-02 Gundam unit.
Price range: $65 – $100
Features 
Weapons include wrist and chest-mounted Vulcans, chest-mounted launchers, interchangeable shoulder cannon, bazooka, 2 types of beam rifles, beam sabres, and shields.
Pros
The kit has amazing flexibility in its torso and ankles.
The RX 78-02 kit is loaded with weapons.
The build is excellent for beginners.
Cons
The kit does not come with an action base, so it limits the owners' ability to pose the model.
Bandai's upgraded Master Grade kit of the Ex-S Gundam/S Gundam from "Gundam Sentinel" features some parts inspired by the MG Deep Striker! 
This kit can transform into its G-Cruiser mode, G-Core, G- Attacker, and G-Bomber forms.
Price range: $151 – $220
Features 
This kit has about 30 runners and 27 screws.
The kit includes; a Beam smart gun, Beam saber/beam cannon (x2), Incom 3×3, Foil sticker sheet, Marking sticker sheet, and Lead wire (x3).
Pros
This is a large kit that towers above most Master Grade kits upon completion.
Cons
The kit tends to be quite stiff. The articulation is limited due to its size and design.
The MG Turn A Gundam is an unconventional kit. 
To some people, this is one of the weirdest Gundam kits but we say that it is one of the best Master Grade Gundam kits available. 
Also, The Turn A Gundam was the 100th release in the Gundam Master Grade line.
Price Range: $73 – $119
Features 
The hip is a hinge joint connected to a swivel joint, and again to a hinge joint. It does not have any Polycarps.
Pros
The eyes of the Turn A kit are similar to the design used in PG kits.
It has good neck and abdomen articulation.
Cons
Some parts need a fair amount of glue to stay in place.
Building this kit can be confusing, even for expert builders.
The ASW-G-08 Barbatos is quite special because it is one of the few MG models that has a large number of upgrades done on a single unit.
Price range: $97 – $140
Features 
The moulding of this kit has a clear colour, so you can see the internal frame and build. 
Features a mace, 2 daggers, a smoothbore gun, and a longsword.
Pros
It has 2 Ahab reactors as its power plants.
The kit also features excellent colour separation, improved dynamic movement gimmicks, and many options for its parts.
Cons
This kit is not a great choice for amateur builders.
The MS-09 Gundam Dom remains true to its original form, unlike most kits that have gone through an upgrade. 
Price range: $108 – $146
Features 
The weaponry in this kit includes: Giant Buzz, Heat Saber, Raketen Buzz, 90mm Machine Gun, Sturm Faust.
Pros
Refined proportions.
A wide range of mobility.
It has distinct colour parts that make assembling easy.
Cons
The design of the kit is quite "old-school".
This kit was designed as part of the Bandai Master Grade Extreme Line. 
This line was launched to celebrate the 40th Anniversary of Gunpla and the 25th Anniversary of the Master Grade line. 
The RX-0 was the first kit launched in this line.
Price range: $179 – $238
Features 
This Master Grade kit includes:
A beam Magnum, 
6 Gatling Guns which can also be mounted in Shields, 
3 Shield Funnels that can combine,
Bazooka,
4 Beam Sabers,
Display stands to display both the shields and MS Cage,
Water Decals and metallic stickers.
Pros
It is a cool model kit that has a luminous Psycho Frame system.
The kit has special new flexible colour-changing LEDs, designed to accommodate a wide range of movement of the model kit and during the  transformation between Unicorn and Destroy Mode.
It features an impressive array of motion including a 160-degree bend in the legs.
Cons
The LED strips can complicate the assembly of the kit. 
Are Master Grade Gundam kits the best
If you are ready to step up your Gunpla building game, but you are not ready for a Perfect or Super-deformed grade kit, Master Grade kits are the right choice for you! Master Grade kits have a high level of detail, articulation, and colour separation. 
Building a Master Grade Gundam kit improves your skills and prepares you for building more complex kits that often come with many parts. 
This kit grade is widely ranked second only behind the Perfect Grade line.