6 Best RC Crawlers Under $200 | 2023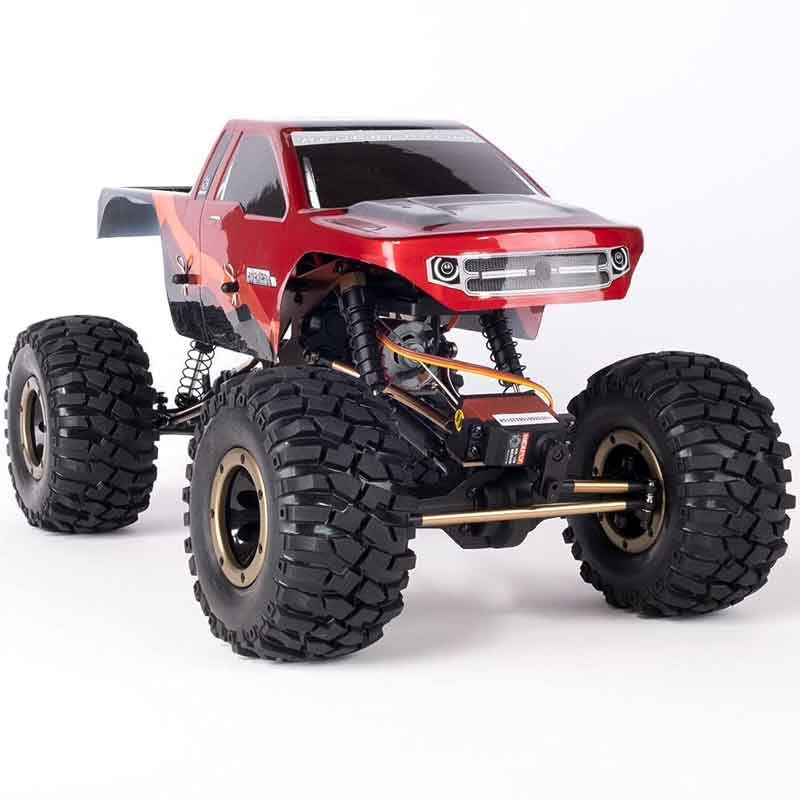 If you enjoy exploring trails and driving your RC vehicle outside, RC rock crawling will be fun. 
Unlike most RC trucks and buggy, RC rock crawlers are not designed fast. They are much slower than other RC vehicles because they need to have the power to effortlessly maneuver through roots, rocks, and rugged terrains. 
Depending on your model, the best RC rock crawlers can even reach prices of $600-$700, and even more, if you go for the high-end, top-of-the-line models.
In this article, we discuss six of the best RC Crawlers under $200 and try to understand what you can get for a rock crawler in this price range.
What should you expect from a sub $200 RC rock crawler
The bulk of fun you enjoy when rock crawling depends on finding the most extreme terrain your crawler can go over. For this reason, you need to make sure that your rock crawler can meet the wheels, suspension, clearance, and torque needs. 
A good RC crawler will have a high clearance to effortlessly pass through rocks and roots. It will also need a functional torque balance (including low-gear ratios and a great motor) to help you move up and over steep terrain. 
You also need to consider the suspension system, especially the oil-filled shocks, to keep your wheels connected to the ground as you move through obstacles.
Threaded tires, especially ones with beads locked on the rim, also make a rock crawler stand out. 
But, while these features are essential when purchasing a rock crawler, the truth is that you won't get as much performance with a $200 RC rock crawler.
Rock crawlers of this price range will offer up to performance power, stability, low maintenance, and speed, unlike the ones you get at higher prices. 
Some of the best RC rock crawlers under $200 that offers good torque, suspension, wheels, and clearance include:
1. ECX Barrage
Two qualities define this RC crawler, rough and rugged! 
Unlike most RC rock crawlers, the ECX Barrage is more capable and with improved features that make them stand out. 
This little machine features awesome molded rock sliders and a rear roll cage that makes its body pleasing to look at. And like most 1/10-scale RC crawlers, it operates a ladder-frame chassis setup and has a four-link suspension arrangement that helps it contort itself over obstacles while remaining stable. 
Although the chances are that you may lose balance and roll, the rock crawler has a wide stance of about 4.0inches (120mm) that comfortably keeps the tires on the trail.
Speaking of the tires, you'll be shocked to discover that they don't contain foams.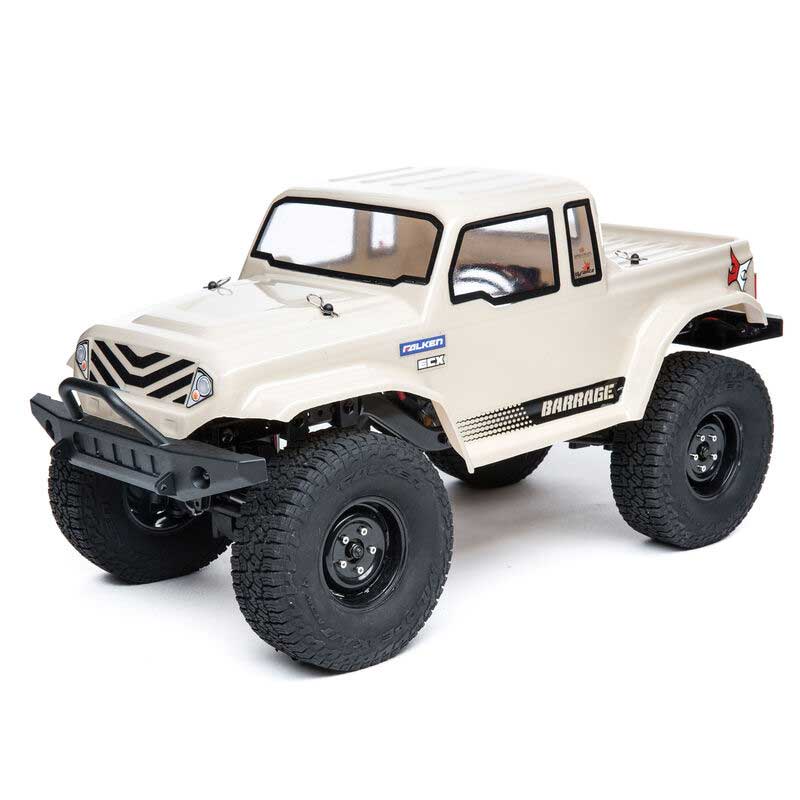 2. Redact Everest 10
Designed by leading RC manufacturers, this Redcat Racing RC crawler combines capability and function to give an unparalleled experience. 
Despite being relatively affordable at $200, this little monster is mainly made of an aluminum frame that makes it durable. 
It comes with a powerful 54T RC540 brushed motor, 14T pinion gear, 40A ESC, and a high torque steering servo. 
For a miniature shaft-driven system, the Everest 10 operates a 2.2 wheel and life-like shocks that give you the power to conquer any terrain without worrying about damage. 
The best part, the Everest 10 is waterproof. Although it is no submarine and is not built to be fully submerged in water, you can run it in snow, water, and even mud without damaging the electronics. 
Talk about maintenance, and you find that the electronics are inexpensive and upgradable.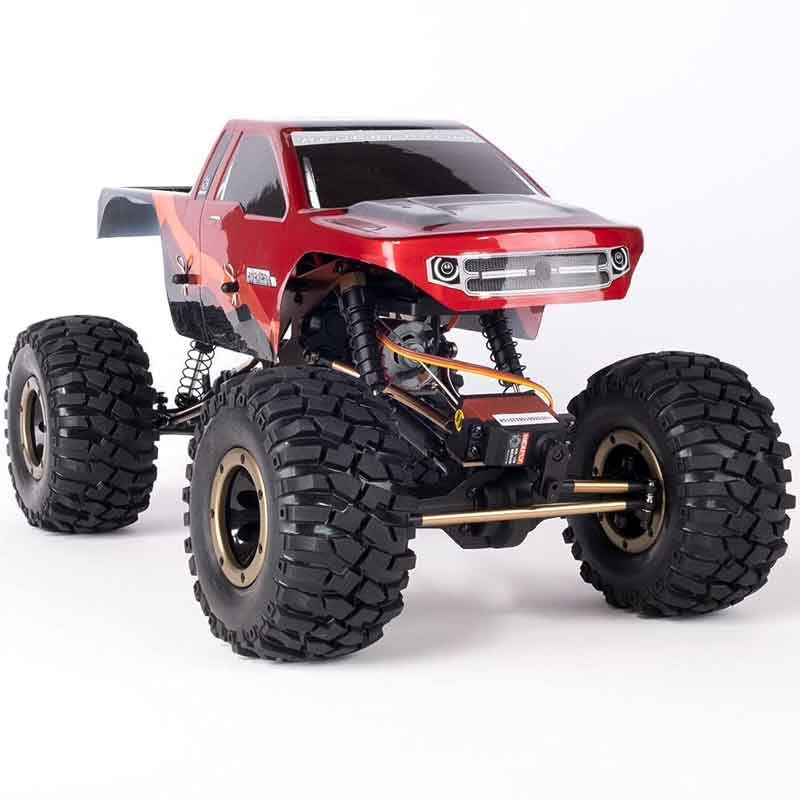 3. The Best 1/10 RC crawler under 200 – Traxxas Stampede
When you see a Traxxas 1/10 scale Stampede, the first thing that might come to mind is that they are pretty undersized than other Traxxas models. But, as small as they are, Traxxas Stampede 1/10 rock crawlers are super rugged. 
With tall ground clearance, the Traxxas stampede can move and power through grass and curbs. Not only is the Stampede capable of pushing out of muddy and water-filled obstacles, it always remains on its four wheels. 
The box reading will often tell you to expect 15mins of playtime, but after a trial test, you'll see that your Stampede rock crawler can do incredible jumps and spin-outs for as long as 25 minutes. Talk about the mobility range, and this rock crawler offers a range between 200 and 300 feet at 30+mph top speed. 
Regardless of these characteristics, the most significant factor that makes this 1\10 crawler model stand out is the excellent shocks & springs the Stampede's suspension system comes with.
It also has deeply treaded tires and extreme traction that enables good balance. 
There is no wonder that the Traxxas Stampede is THE BEST 1\10 scale RC crawler you can get under $200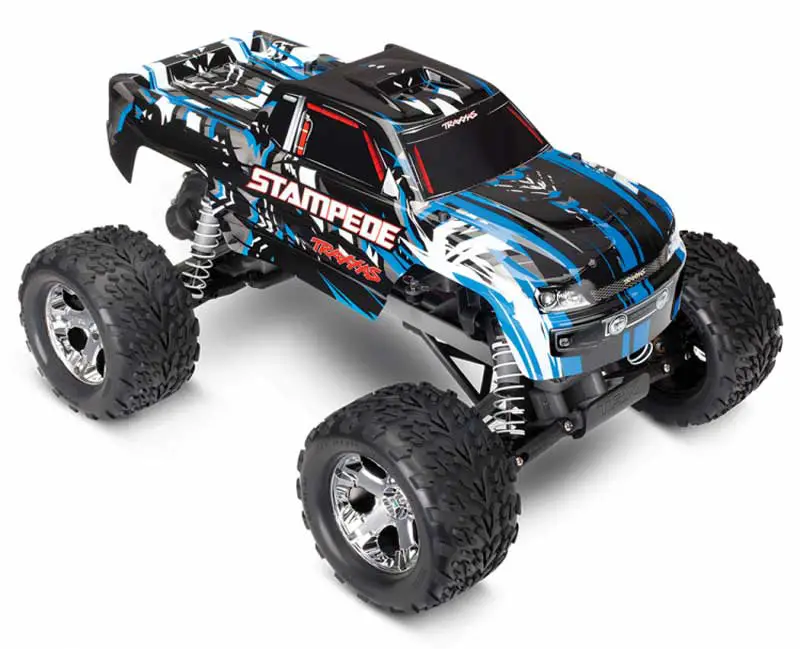 4. Axial Deadbolt SCX24
Like the other rock crawlers in this list, this Axial Deadbolt SCX24 small-scale rock crawler is packed with surprises. 
As it turns out, even with its scaled-down size, this crawler is capable, powerful, precise, and allows tricky maneuvers.
The body features a plastic roll cage, while the chassis comes with a ladder-frame chassis setup with a four-link suspension and steel. The suspension on this is impressive, and so is the ground clearance. It also comes with a tall tire that helps it move through obstacles.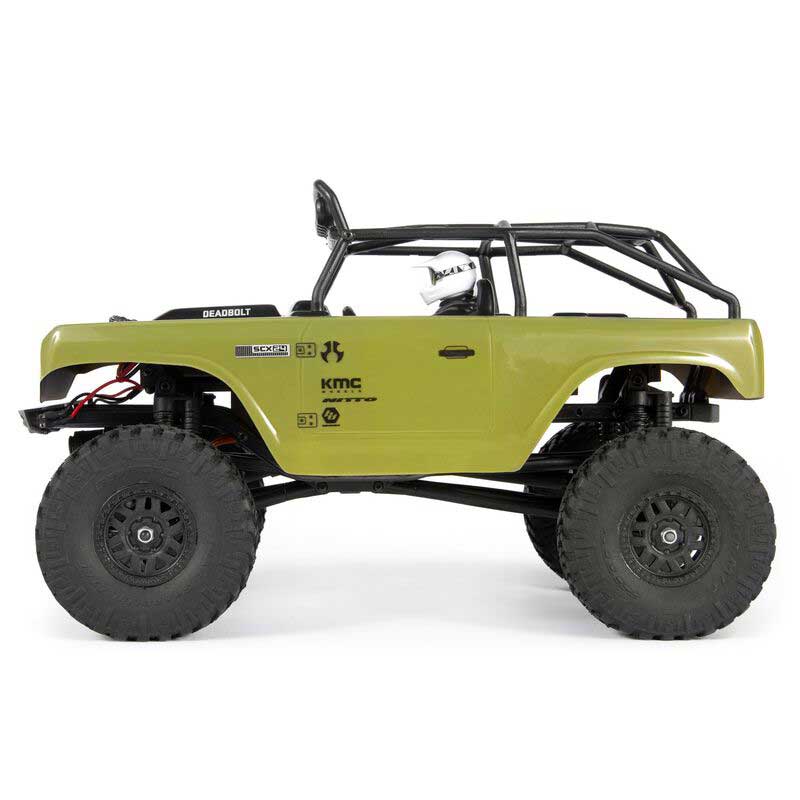 5. 1/18 Atlas 6WD Brushed Crawler RTR
This Atlas 6WD Brushed Crawler combines a modern chassis design and old-school cool to make it stand out. 
Despite its compact size, it has a torque gearbox that delivers the torque of a 55T motor; plus, the spring shocks are expertly tuned to allow the vehicle to move quickly on all rugged terrains.
It also comes with an anodized aluminum chassis rail that maintains chassis stiffness when run. The best part when nit involves mobility is that it has an unusually soft, Beadlock tire that offers maximum traction over rugged terrain.
Fear running your RC rock crawler in a muddy and water-filled environment? This Atlas rock crawler has waterproof electronics that allow them to operate in shallow water without damaging easily. 
The only con of this vehicle is that they do not have ball bearings or plastic gears.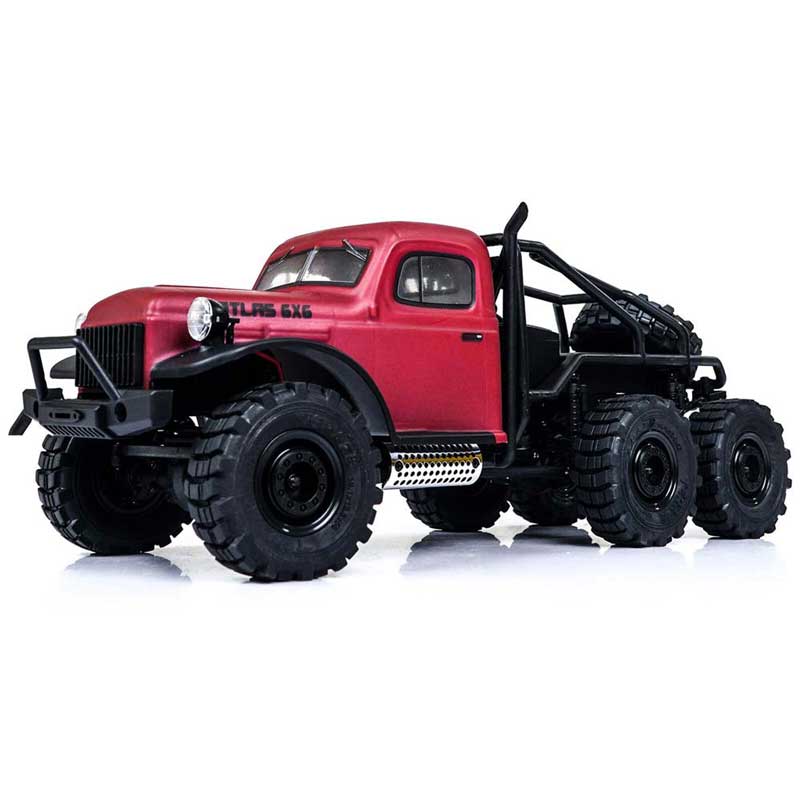 6. Exceed RC Rock Crawler 1\10
Last on our list today is this 1/10 scale rock crawler from Exceed. While it has a truck-like body design, it holds up well than most trucks; it comes equipped with a full-time 4X4 drivetrain with fully locked differentials and a large-scale wheel that gives it more traction and stability on even the roughest terrains. 
 It also comes with oil-filled composite shocks, an anodized C channel ladder chassis frame, a multi-link independent suspension, and a rock slider that upgrades its performance. You won't even have to worry about damages to the electronics, especially in muddy situations, since the electronics are waterproof and can handle all-weather you throw at them.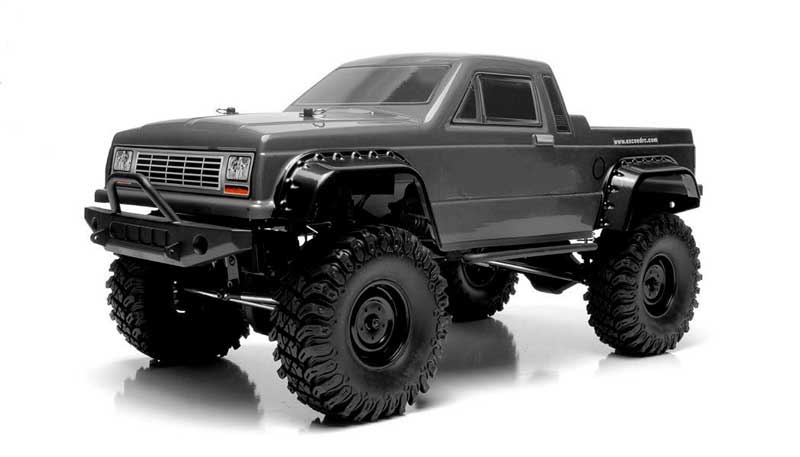 Will doubling your budget promote double the crawler's performance?
Rock crawlers are, no doubt, powerful on rigged terrains and messy situations. Even those you get for as little as $200 will work effectively as rock crawlers sold for $500. 
Yet, the truth is that with a lower budget, variables like the electronics' performance, stability, and durability can be affected and decrease drastically. All rock crawlers are not built with the same high-quality electronics. Manufacturers tend to equip their costliest equipment with the best quality parts and materials money can buy. 
Is it worth buying an RC crawler for less than $200?
Since we established that performance might decrease due to slightly low-quality equipment used to produce $200 RC rock crawlers, many people will think investing in a rock crawler for less than $200 isn't wise. Don't mix it up. 
Whether sold for $200 or $500, rock crawlers are solid, and their electronics are well-thought-out to provide good traction and balance on rough terrains. 
The only difference between a rock crawlers sold at $500 is that they last longer and offer more traction. For their price, rock crawlers at $200 will meet your expectations. They are fun, compact, and solid right out of the box. 
Conclusion
RC rock crawling is a fun hobby that helps you relax, especially as they are not designed for speed.
While every model we listed in this article is an excellent option under $200, if you consider getting a rock crawler, the best 1/10 RC crawler under 200 will be the Traxxas Stampede.
They are designed rugged, with high ground clearance and an excellent torque to handle any rough terrain.