Best Model Ship Kit Manufacturer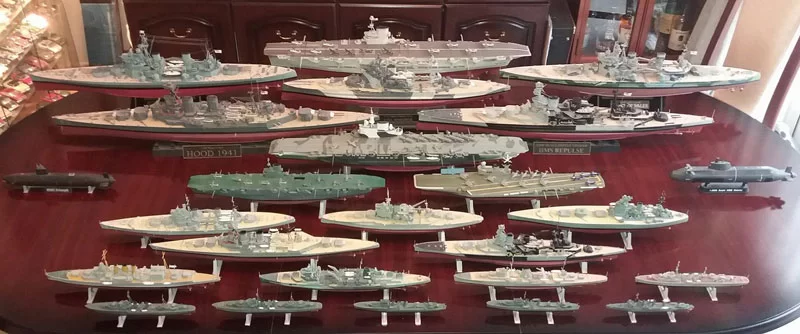 Want to try your hands on expert model shipbuilding but can't decide which one to pick? 
Tamiya, Trumpeter, Airfix, Revell, and many companies make some of the most sought-after model ship kits today. However, each has their unique features, pros, and cons and offers varying levels of experience from ease of use to more challenging model ship kits. 
In this guide, we discuss the best model ship kit manufacturers to help you buy good quality ships that meet your needs. 
Overview of the model ship kit building industry
The model ship kit industry has a long history that spans from antiquity to today's advanced modern world. 
Model ship building dates back to 4,000 years ago when ancient Egyptians build miniature ship models and buried them with their dead to fulfill their religious purposes. Today, model ship kits no longer serve this religious purpose. 
In fact, the intricate craft of model ship building is now popular among collectors and nautical model building enthusiasts who like to relieve history or simply for the fun and relaxation the process offers. 
While model ship kits have been in the industry for years, today's modern ship models are more intricately designed and made with advanced materials than those used in ancient times. Even the details are well represented with precision fit than older ships. 
Understanding Scale in Model Ship Kits
Model kits are scaled-down versions of real-life objects and are often expressed in ratios or fractions (i.e., 1:12 or 1/12). The scale of a model ship indicates the relationship between the size of the model and the size of the real ship. 
For example, a ship with a scale of 1:72 means that the model is 1/72 the size of the actual ship. To determine the actual length of the ship, you would multiply the length of the model by 72.
It's important to note that model ships come in various scales, and each scale has its own characteristics. The most popular ship scale is 1/700, which is suitable for creating smaller models with plain details using photo-etched brass parts, such as railings and radar frames.
Another popular scale is 1/350, which is used for a variety of ship kits, ranging from nuclear-powered aircraft carriers to patrol torpedo boats. These models are larger than those in the 1/700 scale.
For those interested in larger models, the 1/200 scale is another readily accessible option. These models can be up to 9.5 feet long and may pose a challenge for beginners.
Submarines and patrol boats are often made in a 1/72 scale, which provides greater detail but at a smaller size. Additionally, some manufacturers offer ship kits in 1/400 scale, such as those from Heller.
Understanding the scale of a model ship is crucial in determining the size and level of detail of the finished model. It's important to choose the appropriate scale based on your skill level and desired outcome.
Types of Model Ship Kits
If you're looking to buy a model ship kit, it's important to know that these kits come in different types and are made of various materials. The most common materials used to make model ships are wood, plastic, and metal. Wood is often used for the hull and decks, while plastic may be made from cast resins or injected styrene. Metal is used for constructing the hull and small metal details.
Model ships also vary in size depending on their purpose. When building model ships, you'll encounter different types of cargo ships, sailboats, sailships, naval warships, aircraft carriers, submarines, cruise ships, patrol torpedo boats, and airliners.
For example, sailboats are smaller than sailships and are designed to move faster. Naval warships are used by the navy during naval warfare, while aircraft carriers are used for carrying and deploying aircraft during warfare. Submarines are underwater vessels that can operate in secret, and cruise ships are designed for luxurious travel. Patrol torpedo boats are used for fast attack and defense, and airliners are passenger planes used for air travel.
Choosing the right scale model ship kit
When choosing a scale model ship kit to build, it's essential to consider the scale, type of ship, and your skill level. Different scales, such as 1/700, 1/350, and 1/200, will have different levels of detail and complexity, and some may be more suitable for beginners than others.
Understanding the different types of scale model ship kits available will help you choose the right kit for your desired outcome and level of experience.
10 best model ship manufacturers:
For most people, the word BEST depends on their personal preference. But, for our top 10 best model ship manufacturers, we consider the product quality, customers review, and value for money before making our picks. 
Before you choose a particular kit, you need to understand that the plastic and wooden models differ in quality, difficulty level, and assembly process. 
Besides this, they may appeal differently to you. 
The difference between building plastic model ships and wooden model ships is that wooden models don't typically follow the glue together and paint technique of plastic ships. With a wooden model, almost all pieces require shaping, working, and sanding.
Building wooden model ship kits also requires vast experience, skills, and knowledge to get it right. So, you'll likely get so overwhelmed if you don't know the basics of building wood models. 
The bottom line is building plastic and wooden ship models is quite rewarding, and both are reliable quality. However, in the case of wooden ship kits, the process is quite lengthy and suitable for seasoned hobbyists. 
Best PLASTIC model ship manufacturers
Plastic ship model kits are a popular option for scale ship modelers. 
They are often more affordable and easier to assemble than wooden kits, and can come in a wide variety of shapes and sizes. Plastic ship kits are also often more durable and resistant to damage than wooden kits, making them a good choice for beginners or younger modelers.
Here are the best plastic scale model ship manufacturers in the market: 
Tamiya
When it comes to WW2 naval model ship kits, Tamiya is the best kit manufacturer to consider. 
Tamiya kits are decent performers if you aren't  uptight about details and accuracy. They make model ships that are generally well-engineered and easy to build. Their older ship models, like the 1/350 German Battleship are simpler and easier than the newer models, but may not fit as precisely 
Pros
Impressive sizes
Highly detailed
Beginner and pro-friendly
Perfect fit on new kits 
Con
Some of their newer model ships may be a challenge for beginners
Revell
Revell is another brand that makes some of the best and most interesting budget-friendly model ships in 1/72 and 1/144 scales. 
They make some great new-mold cruise ships, from the Cunard Queens (Queen Mary 2 being the newest in their line – 1/400, 1/700, 1/1200) to the German Aida lines ships and the Norwegian coastal cruisers (M/V Color Fantasy, Trollfjord, Midnattsol). 
Like Tamiya ship models, their kits are usually straightforward. However, Revell can be a hit-and-miss, as some kits are better than others. 
Pros
Lots of details
Most of their parts fit well
Revell gives you the option to build your ships in a couple of ways
They make a model ship in different sizes
Con
Revell is hit-and-miss, depending on the age of the kit.
Airfix
Model ship kits from Airfix are also some of the best in the market. They make more accurate models than most model ship manufacturers. Most of their ship models are advanced, and some kits have poor molding with excess plastic to remove. 
Regardless, the ships are nicely detailed and are less expensive than most model ship kits. 
Pros
Decently priced
Suitable for beginners and advanced modelers
Perfect for people who want a challenge
Best known for their 1:72
Con
It takes  a lot of time to build
Trumpeter
In terms of USN or Kriegsmarine ship models, Trumpeter is the go-to brand. However, you need to ensure that you understand how these models work because USN ships from Trumpeter can be a bit suffering for a beginner. Expect to do a lot of detail.
Nonetheless, their biggest advantage is they have a wide selection of ship models in different sizes. Also, Trumpeter has increasingly better-detailed kits though some lack accuracy. 
Their recent kits make building ship models much more fun as they include photo-etch parts that enhance the look of your ships. Besides this, I like their ship models because their price is decent, instructions are great, and quality is topnotch. 
Pros
Decently priced
Wide range of ships in various sizes
Highly detailed
Their models come with advanced parts
Con
Their models  are often challenging and less beginner friendly
Hasewaga
Another plastic ship model kit manufacturer you should consider is this Japanese company, Hasewaga. Their model ship kits, especially their aircraft carriers are very high quality. 
Their only drawback is their ships lack the precision of brands like Tamiya. Still, they offer good value for a ship model and use phot-etched parts like Trumpeter. 
Pros
Excellent kit quality
They make ships in different sizes
Decently priced
Beginner friendly
Con
Best WOOD model ship manufacturers
Wooden ship model kits are perhaps the most traditional and popular choice among modelers. 
They offer a classic look and feel, and are often considered the most authentic way to recreate historical sailing vessels. Wooden kits can be made from a variety of different types of wood, such as balsa, basswood, and hardwoods like cherry, mahogany, and oak. 
Wooden kits typically require more skill and patience to assemble than other materials, but they can also offer the most rewarding and detailed finished product.
When it comes to wooden ship model MANUFACTURERS, it is a whole different world than plastic model ship kits. 
Here are some of the most popular manufacturers you should consider getting your wooden model from:
OcCre
If there's any ship model kit manufacturer known for producing historically accurate models, it is this Spanish company, OcCree. 
Their 16th to 18th-century ships are some of the most beautiful models in the market. However, they are not easy to build. Still, they are not the typical snap'n'slap-glue models you mostly get from most manufacturers. 
Pros
Parts are widely available
Historical accurate models
Perfect for seasoned hobbyists
Cons
Poor building instructions
They are not beginner friendly
Premier Ship Models
Premier ship models, like OcCre, also make some of the best historically accurate models. 
For instance, their HMS Neptune model is perfectly designed to showcase the intricate details of the original ship's legacy and comes with a sturdy hull. 
They also offer an incredible range of model boat kits, from menacing warships to older pirate ships and modern yachts. 
Pros
Their kits vary in level of difficulty
Wide selection of ships
Highly detailed parts
They use sturdy and reliable wooden materials
Con
More of their models are geared mostly toward seasoned builders
The Model Shipyard
One of Australia's best model ship manufacturers, the Model Shipyard makes some good ship models, especially the Stephens and Kenau ship models. 
Their wooden model ships are historically accurate and are fairly easy to build. However, beginners may find them challenging, since their ships often have a high parts count. 
Pros
Unique models
Exceptional design
Sturdy
Highly detailed
Con
Many parts makes assembly a challenge 
Expensive 
Billing boats
One of the best wooden model ship kit manufacturers that became popular in the early 60s, Billing boats are some of the easiest models anyone can use thanks to their precut and die-cut composition. 
However, their after-sales services, price, and instruction are less appealing than most competitors. 
Pros
They make ships in different sizes
Different types of vessels
Precision models
Perfect for beginners
Cons
Weak after-sales service
Pricey
Poor instructions
Bluejacket Shipcrafters
Located in the United States, Bluejack Shipcrafters is another good wooden ship model kit manufacturer. 
They make some of the finest and most historically accurate wooden model ships in the world. However, most of their ship models lack the detailing required to make them historically adequate. 
Plus, their ship models are limited. 
Pros
Comprehensive instructions
Quality after-sales service
Decently priced
Good quality fit
Con
Tips for Beginners: Getting Started with Model Ship Kits
Choose Manufactures that Makes Comprehensive Instructions Book
Go for something with good instructions, or be prepared to do some research and read books on techniques, etc. Many model ship kit manufacturers are notorious for creating vague instructions that make building your ships challenging. You will need to fashion a lot of parts from wood stock. Having a good instruction booklet means you get to see a diagram of the part for reference, and this makes your job easier. 
Start with something that interests you
Ships take long to build (months to years) than other structures. So, you need to maintain interest. I've seen people build a wooden HMS Victory as their first model and spend 3+ years on it. When selecting your model, pick something will be interested in finishing, no matter the duration. 
Starting small is a good way to build skills. Plus, it saves you the risk of buying something expensive you may discard if you lose interest.  
Conclusion
model Ships are among the most tedious kits to build in the model-building hobby. 
I've built my fair share of different ship models, and while each is great, I know how tiring they can be. The best way to enjoy the experience is to pick kits that will interest you from reliable manufacturers. 
If you're looking for something straightforward, Tamiya makes some of the easiest plastic ship models perfect for beginners, while OcCre makes the most historically accurate wooden ships in the world.