RC Racing – Everything You Need To Know About This Sport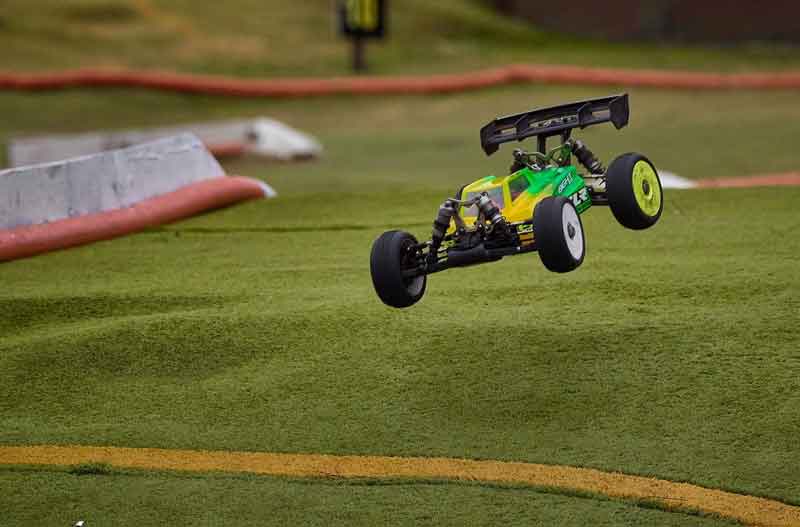 RC racing is taking the hobby of RC cars to the limit. Its not different than any other type of racing since it require dedication, practicing, and physical ability.
RC racing can be in a local level and even in a global level.
The best racers compete with their RC cars all around the world, and they are sponsored by the bigs brands in the industry.
Types Of RC Racing
Short course RC racing – This is a type of RC racing in which competitors compete to complete the most laps in the shortest amount of time.
The race winner is determined by who completes the most laps in the allotted time, not who crosses the finish line first.
On-road RC racing – This is a sort of racing where the goal is to go as fast as possible. That is by far the best option if your primary goal is to obtain a high peak speed.
On road RC racing cars can reach up to 65 mph on a moderately long straightaway.
RC drag racing – works much as it does at your local full-scale drag racing track. The drag race is two lanes long and has a fixed length.
RC drift racing – RC Drifting is among the most prominent and rapidly expanding segments of the hobby. Drifting sideways around the track in your scale drifter is a thrilling experience.
Professional drifters need a car that is extremely configurable; they need to be able to adjust their suspensions, steering, and power to tailor their car to different circuits.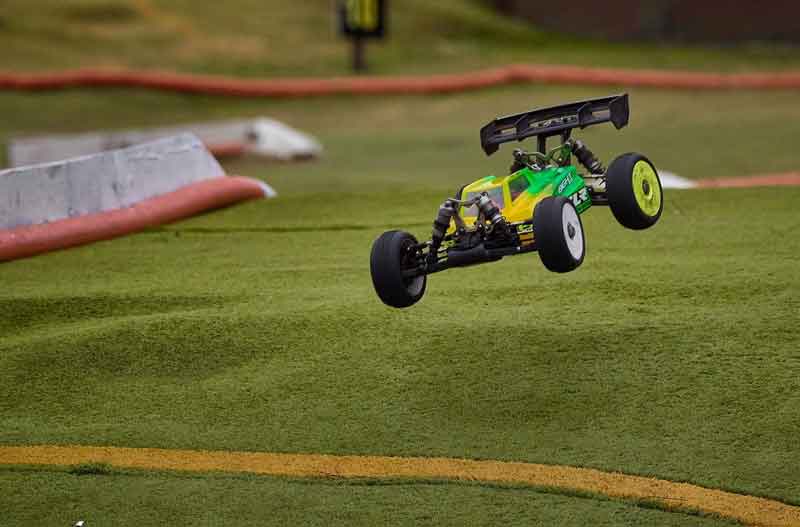 What Is Short Course RC Racing Explained in Details
Short course RC racing is exactly what it sounds like.
Short course is a sort of RC racing in which off-road vehicles compete on a short course.
Depending on the circuit size, the race can last several minutes, with lap times of around 20 seconds.
A short course race includes up hills and down hills, cornering and high jumps. This is the most popular RC race and it is mainly on compact soil or clay, making it kind of an off-road race.
What Is No Prep RC Racing?
No-prep racing is called this way because the track surface is not swept/blow/clean;
The track is 132 feet long (scale 14 miles). no traction additive is used.
Thus power control and driving are the keys to quick, consistent laps.
What Is The Best RC Car For Racing?
RC cars, like real cars, are specialized. Rock crawlers are sluggish and capable of going up just about anything, but on-road radio control tour cars are close to the floor and as fast as they can be. 
The Traxxas Maxx is the best for RC racing because it is in the midst of the two extremes.
This monster truck features wide tires and soft shock absorbers to make off-road driving a thrill, but it also has a lot of power and is lower to the ground than other monster trucks, making it more fun off-road than it should be.
Is RC Racing A Sport?
Many people regard remote control car racing to be a sport, buttThis is more an opinion than a fact.

Sports are athletic activities that demand a high level of skill and athletic ability and are highly competitive. Because RC car racing necessitates a high ability to win, a high level of skill, practicing and physical control then it is we can say it is a sport in the strictest sense.
Racing, baseball, bowling, boxing, hunting, fishing, golf, wrestling, and other sports fall into this category.

How Do You Race RC?
The RC car you bought belongs to a class that includes cars with identical specs to yours. Your class will be called up, and you will need to finish your last preparations, plug in your batteries, and proceed to the starting area.
At this moment, your pit friend will park your car, and the race will begin according to the rules. During an RC car race, race marshals are in charge of retrieving your RC car if it flips over during the race. They will do so only if it is safe to do so.
RC Racing Segmented Into 4 Classes
Rookie – Beginners and first-time racers compete in Rookie. You learn to control your anxiety and drive in a group of other racers. If you race in the rookie class, you are limited to racing in that class. You must get to a sportsman to run in more than one class.
Sportsman – You can get around the track faster and with fewer errors as a sportsman. You should read the race line, look ahead, and follow the rules. There is no limit to how many wins you can have, though we recommend moving up to intermediate if you are far ahead of the competition. Expert Top Qualifying time is usually two laps slower.
Intermediate – Lap times have improved significantly, but consistency is still lacking. Approximately one lap slower than the Expert Top Target time.
Expert – The fastest competitors, with few or no mistakes throughout the race.
How to Get Into RC Racing?
To get started in RC Racing, you'll first have to choose a popular local race class. That's where you can work on your skills and learn to be the best racer. 
After that, you'll have to pick a car with the best features, from the batteries to the suspension to tuning and motors.
Also, learn the track day format so you are aware of the rules and regulations while racing. Make sure you paid the race fee and club membership.
To participate in races, you'll need transponders and radio equipment as it helps you see your lap times. You'll also need RC Racing tools, tyres and spares. 
Is There A League For RC Racing? 
Yes, there are numerous RC car racing leagues, such as championship leagues. 
The International Federation of Model Auto Racing (IFMAR) is the regulatory body for professional radio-controlled automobile racing around the world.
The IFMAR World Championship competition is organised on account of IFMAR by each of the membership blocs. 
A contestant must be a part of a national body in order to participate in an IFMAR Championship event.
Who Are The Best RC Racers Today?
Today's top 12 RC racers are as follows:
Tebo Jared
Bornhorst Joe
Rivkin Spencer
Jones Tyler
Ogden Cole
Heckert Spencer
Brunson Jackson
Wiggins Jared
Hardison Jacob
Maifield Ryan
Vandalen Seth    
Cavalieri Ryan
Is RC Racing Segmented By Motor\Engine Type?
Yes, RC racing is divided into classes based on the engine or motor type. All courses with a specified motor (17.5 & 13.5) are called "Blinky." This indicates that no ESC ramping or timing is permitted. There are no exceptions.
Conclusion
RC car racing is a lot of fun, but it's also a lot of work for new drivers. It is, nevertheless, an experience worth having. You can participate in a variety of RC Car Events worldwide. We've put together a thorough guide to assist you in understanding how you can get into RC car racing to make things easier and less frightening for you.