Why RC Cars Are Good? (13 Great Benefits)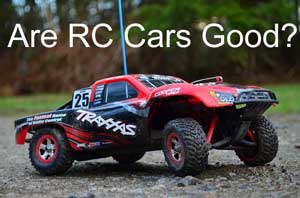 RC cars are a fun and challenging hobby, good for adults, kids, and families. RC cars bring tons of benefits to the people who love this hobby.
It has a lot of benefits such as teaching the participants responsibility and engineering, develops a sense of capability, the agility of thought, gets people together outside, and improves social skills altogether. the benefits are applicable for adults as well as for kids.
Keep reading to see all the advantages that this great hobby has.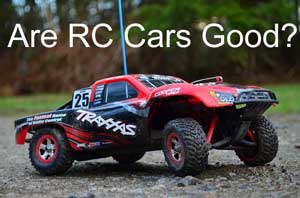 Why RC cars Are Good
– It's a great technical hobby –  RC cars are complex systems of wireless communication, mechanics, and electronics. Managing all of these systems and assembling good RC cars can be a great challenge and also a great opportunity to learn and enhance your technical skills.
– RC racing involves problem-solving, reasoning skills, and improving your physical dexterity and agility of thought. because RC car races are challenging, you need to think about what your opponent is intending to do and how you should respond.
– Sense of capability- RC car racing can boost your self-esteem, develop your sense of capability and enhance your personal psychological health. they are really good for helping people become more confident and positive about themselves by succeeding at something they have been working hard on.
The Benefits Of RC Cars For Kids
– RC car racing will be a fun way to spend time and help them develop their outside interests. It gets the kids off the screen or phone and engages in a social and active hobby.
– RC cars can be a great educational outlet for kids by building problem-solving skills, getting them involved in technology, and making connections with other people or places that further their interests.
– RC car racing is not only good for the physical benefits but also helps develop empathy as they learn how to work with others, communicate and socialize with each other and feel responsible for their actions.
– RC racing is expected to be a very effective way of teaching kids the importance of safety and how to maintain good habits that will promote their development through RC car racing.
– RC cars require practice, so your kid can build up his/her persistence as a life skill.
– Educational value of RC cars is great, you can take it as a great opportunity to teach your kids about physics, chemistry, and engineering by explaining how RC cars work and what are the powers that make them go, turn, spin, Etc.
Why RC cars are great for kids
The Benefits Of RC Cars For Families
RC cars can be a great way for families to spend time together and involve the whole family.
RC car racing is a fun activity that can build a common interest and be a starting point for you to get to know each other better.
It can help build trust among family members. Families can work together to build RC cars or race RC cars against each other, this teamwork allows you to teach your kids about working as a team and learning from mistakes.
RC cars can also be a great way for families to develop their sense of responsibility.
Your family members will gain the ability to work as a team under pressure and take on responsibilities at an early age.
The Benefits Of RC Cars For Parents And Adults
RC car racing is a great way to meet new people and have fun with them. RC cars can be a brilliant opportunity for adults to socialize and make friends while having fun together.
RC cars are a good outlet to help you relieve stress. RC car racing can be a great way for adults to expect the weekend and unwind from a stressful week at work.
And, all of the advantages for children are also applicable to adults.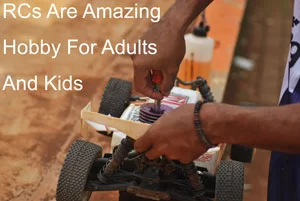 OK, So How Can You Start RC Car As A Hobby?
You can start with an RTR (ready-to-run) RC car if you are not familiar with RC cars.
It's much easier for beginners to start RC car racing with RTR cars because they are completely built and ready to use.
you don't need to spend time and effort on building RC cars like kits if it is your first car and you can invest your time in getting better at driving the car.
As your experience and skills get better, you can start RC car racing with kits or upgrade your RC cars with stronger parts and tune them to race better.
Is RC Cars An Expensive Hobby?
RC cars are cheaper for beginners because you don't need to invest in a lot of tools and equipment at the beginning to get started.
RTR RC cars usually come with all you need to get started such as batteries and chargers, therefore you don't have to worry about spending money on extra equipment until you are sure you are committed to this hobby.
You can also upgrade your RC car gradually as an investment instead of buying a new RC car each time or having multiple RC cars.
Like every hobby, if you want to be at the top you need to invest more to upgrade RC cars with better parts and accessories but for RC racing beginners, you don't need to break your bank.