Most Valuable Energy Pokemon Cards (2023)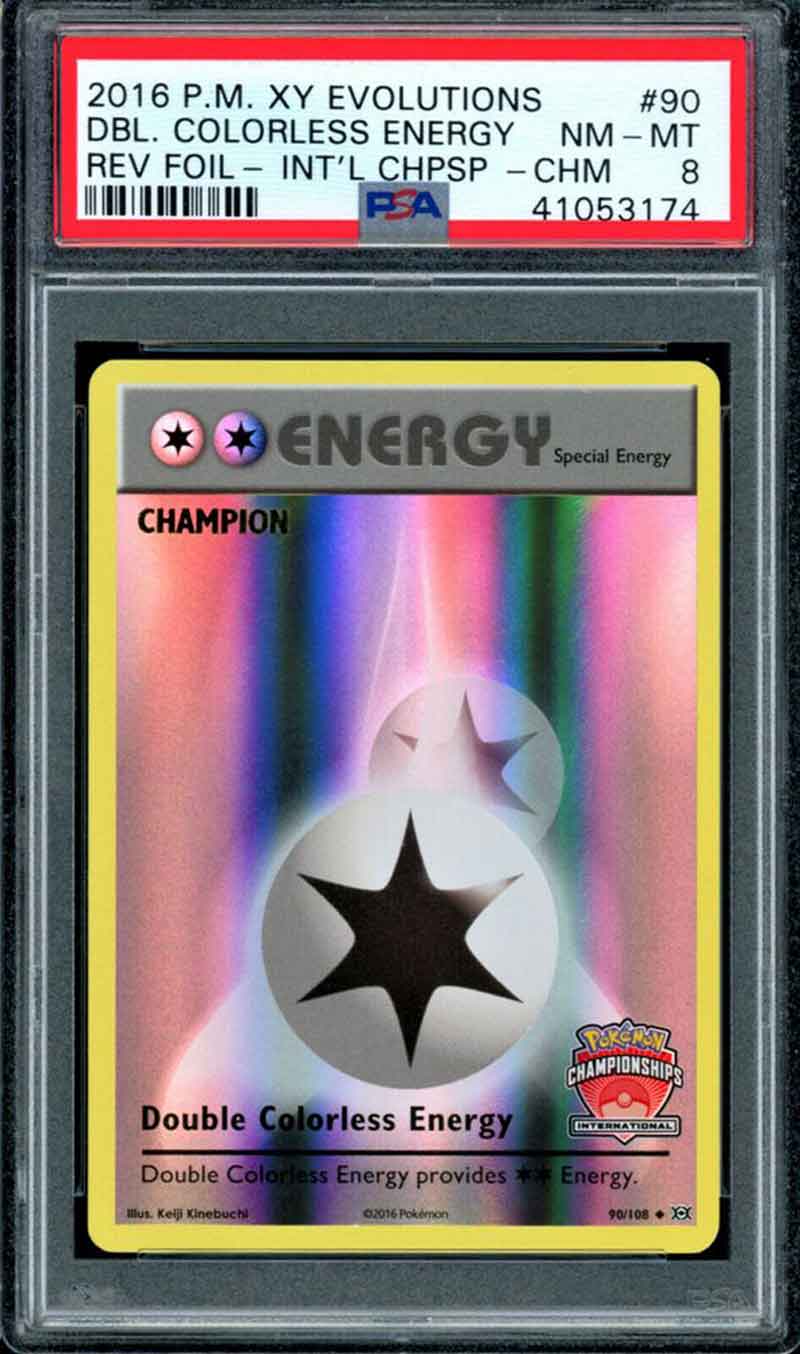 As fans of the Pokémon trading card game know, Energy cards are an essential part of the game, allowing players to power up their Pokémon and use their special abilities. There are many different types of Energy cards, each corresponding to a specific Pokémon type. 
In this post, I will take a look at the top ten most valuable Energy cards in the Pokémon TCG. These rare and powerful cards are highly sought after by collectors and competitive players alike. 
What Are Pokemon Energy Cards?
Pokémon Energy cards are a type of card in the Pokémon trading card game that represent the energy needed to perform attacks. Every attack in the Pokémon TCG requires a specific type of energy, and Pokémon Energy cards provide the necessary energy to use these attacks.
Each Pokémon has its unique abilities and strengths, and players must strategize and use these abilities effectively to defeat their opponents. Energy cards provide the necessary energy for Pokémon to use these abilities.
Each Pokémon card has a type, such as water, fire, or grass, and energy cards come in different types as well. To use a Pokémon's abilities, players must attach energy cards of the corresponding type to the Pokémon card. 
For example, a fire-type Pokémon can only use its abilities if it has fire-type energy cards attached to it. This means that players must carefully consider which energy cards they use to maximize their Pokémon's abilities and outmaneuver their opponents.
What Types Of Energy Cards Are There?
There are several different types of Pokémon Energy cards, each with its unique effect. Some energy cards can be used to heal your Pokémon, while others can increase their attack power or reduce the damage they take from attacks. Some can even provide your Pokémon with temporary immunity to certain types of attacks.
There are nine different types of basic Pokémon Energy cards: Grass, Fire, Water, Lightning, Psychic, Fighting, Darkness, Metal, and Fairy. Each type corresponds to a specific element and is associated with a specific group of Pokémon. 
For example, Grass Energy is associated with Grass-type Pokémon, such as Bulbasaur and Tangela, while Water Energy is associated with Water-type Pokémon, such as Squirtle and Blastoise.
In addition to the nine standard energy types, there are also special energy cards that provide additional benefits. For example, some special energy cards allow players to search their deck for specific cards, while others provide extra damage or protection to the Pokémon. 
Are There Special Energy Pokemon Card Value?
There are special energy cards in the Pokémon trading card game that are more valuable than others. The value of a special energy card depends on its rarity and usefulness in the game. For example, a rare special energy card that allows players to power up their attacks will be more expensive than a regular one.
Two examples of valuable special energy cards are the Rainbow Energy card and the Full Heal Energy card. The Rainbow Energy card provides every type of energy to a Pokémon in a single card, making it incredibly useful in the game. The Full Heal Energy card, on the other hand, can remove any special conditions from a Pokémon and fully restore its health, making it valuable for its ability to keep a Pokémon in the game.
Overall, special energy cards are rare and more valuable than basic cards, but their value can vary depending on factors such as their condition and demand from collectors. 
It's always best to do your research and consult with a professional if you're looking to determine the value of a specific Pokémon card.
Are There Expensive Pokemon Energy Cards?
Some Pokémon energy cards can be quite expensive. This is especially true for rare and hard-to-find cards, which can sell for hundreds or even thousands of dollars. 
A card's value can be affected by its condition and popularity. For example, an energy card that is in mint condition and highly sought-after by collectors is likely to be more expensive than one that is in poor condition and not very popular.
In addition, energy cards are also an important part of the Pokémon TCG. Without them, you won't be able to power up your Pokémon and use attacks, making it difficult to compete against other players. 
As a result, many Pokémon trainers are willing to pay a premium for the right energy cards.
The Ten Most Valuable Energy Pokemon Cards
In general, energy cards are relatively cheap but valuable. While you might struggle to get much for a regular, basic energy card, you will still get something for it. 
However, some rare special cards are really valuable and cost significantly more than regular ones. 
These energy cards are mostly first-edition cards and shadowless cards. This is because first edition cards were printed in smaller quantities and are therefore rarer, and shadowless cards were produced for a short period before the production process was changed to include a shadowed border. 
Here are the ten most valuable Energy cards in the Pokemon trading card game.
This is a special energy card released as part of the Pokémon trading card game's Base Set in 2000. It features an image of a Psychic-type Pokémon, which are known for their strong mental abilities and powers of telekinesis.
The art on the card shows a stylized sketch of an eyeball surrounded by swirling purple energy. It is not as rare as some other cards in the game, as it is part of the Unlimited Edition of the Base Set, which had a larger print run.
Each card provides one energy and can be used with a move that requires either psychic energy or Colorless Energy. While the Psychic card is relatively inexpensive, high-rated CGC-graded versions can cost north of $100.
A special energy card that was released as part of the Neo Genesis set in 2000. It provides one metal energy and reduces damage by 10 when applied to a Pokémon. 
The card has a holofoil finish and the artwork depicts a metallic energy symbol.
The Neo Genesis set was the first expansion set for the Pokémon Trading Card Game and was released in Japan in 1999 and the United States in 2000. It introduced many new Pokémon from the Pokémon Gold and Pokémon Silver video games, as well as new gameplay mechanics such as baby Pokémon and Pokémon with evolution lines.
This card is fairly valuable. While regular versions can be found at a lower price, first edition versions are much more expensive, with a minimum price of $295. The most expensive recorded sale of a First Edition 2000 Neo Genesis Metal Energy Holo card was for $8,100 in 2016, according to the Pokémon TCG database.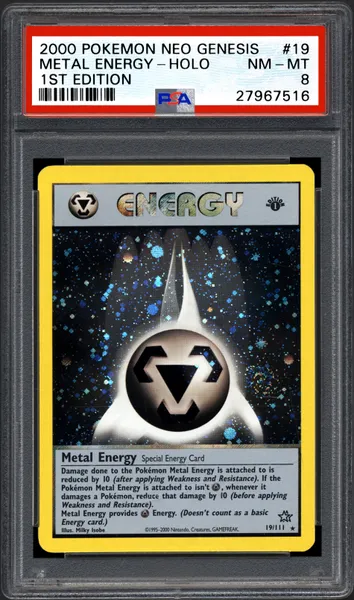 The first promotional offer card on this list. This Boost Energy card features an image of three colorless energy symbols overlaid on one another and provides three colorless energy when attached to an Evolved Pokémon. 
It is part of the Japanese Promo set and can be quite expensive, especially when graded as a PSA 10 GEM MINT, the highest grade a card can receive from the Professional Sports Authenticator (PSA)
In addition to its rarity and value, the Pokémon Boost Energy Japanese Promo card is also holo, meaning it has a holographic finish that gives it a distinctive shimmering effect when viewed at different angles. This adds to its visual appeal and desirability among collectors and investors. Currently, the card is being sold for approximately $400 on eBay, a significant price for a single Pokémon card.
A Rare card from the Team Rocket set released in 2000. It is a first edition card, making it highly valuable and limited in availability. 
The card has a holofoil finish and the artwork depicts the colorless energy symbol surrounded by various rainbow-colored rings.
When played, the First Edition 2000 Team Rocket Rainbow Energy card can provide every type of energy, but only one at a time. This card is said to be valued at $200, but the cheapest available one is currently listed at $495, which shows its rarity.
The Pokémon Crystal Energy promotional card was not released as part of a specific set but rather was given out as a promotional offer in the Battle Road Summer promotion in Japan. 
It is a special Crystal Energy card that provides 1 energy of all basic energy cards attached to the Pokémon it is applied to. The artwork on the card features a glowing crystal with the Pokémon's name written in Japanese. 
Like the Boost Energy Japanese Promo and the Team Rocket Rainbow Energy cards, it is also holo. 
Currently, a normal condition PSA 9 version of the Pokémon Crystal Energy card sells for an average of $550, while the PSA 10 version sells for approximately $1500. 
This card has also been known to sell for higher prices on online marketplaces such as eBay and other specialty collectibles sites.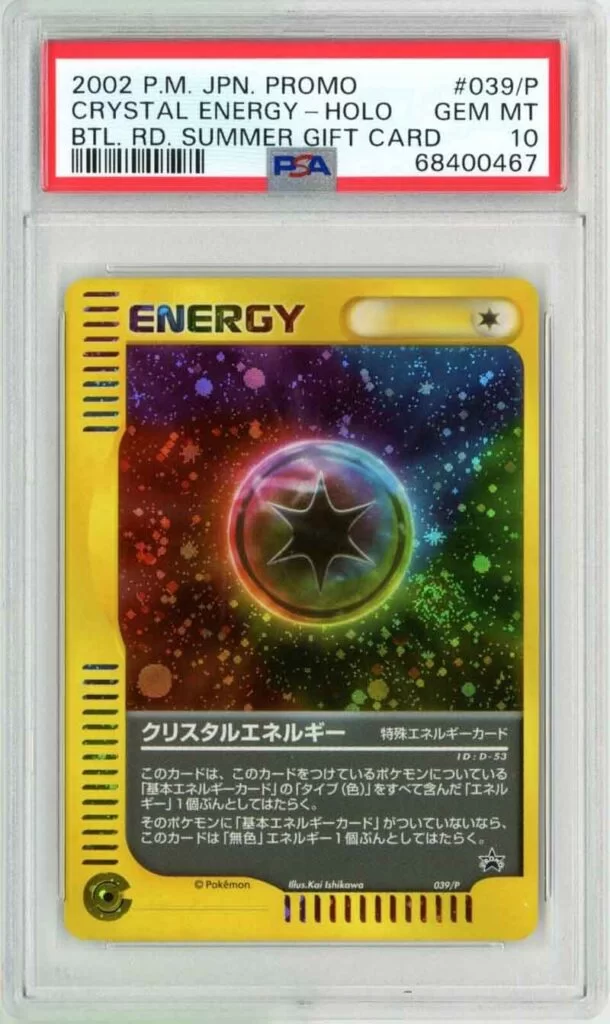 This card was test released in 1999 as part of the original Base Set of Pokémon trading cards. It features a vibrant illustration of two colorless swirling stars, which means it can be used to power up any type of Pokémon.
The First Edition Base Set Double Colorless Energy card is a special card that allows players to perform extra powerful attacks. Currently, it costs around $599, but it can be more expensive depending on the conditions of its sale. A card can cost thousands of dollars, even as much as $6,000 in near-mint condition.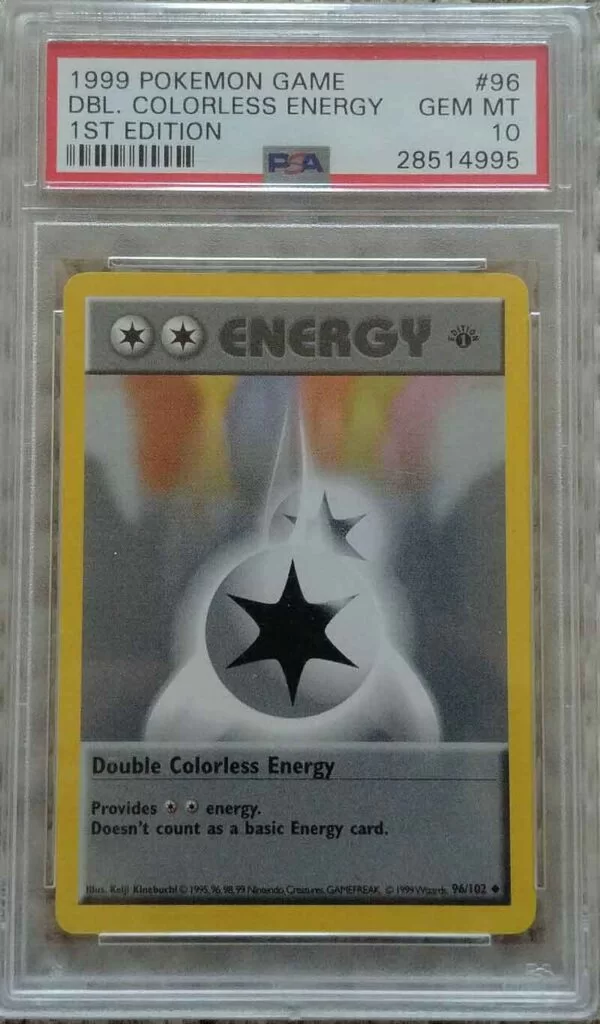 A rare and valuable card that was released as part of the Team Rocket Returns expansion set in 2004. 
It is highly prized by collectors for its scarcity and striking visual design, which includes a reverse holofoil finish and an illustration of a shadowy figure holding a lightning bolt in a dark and foreboding background. 
It can however only be used to power up certain types of Pokémon.
The Reverse R Energy card is considered to be one of the most valuable Energy cards in the game, particularly when rated PSA 10. 
In near-mint condition, one of these cards can sell for as much as $616.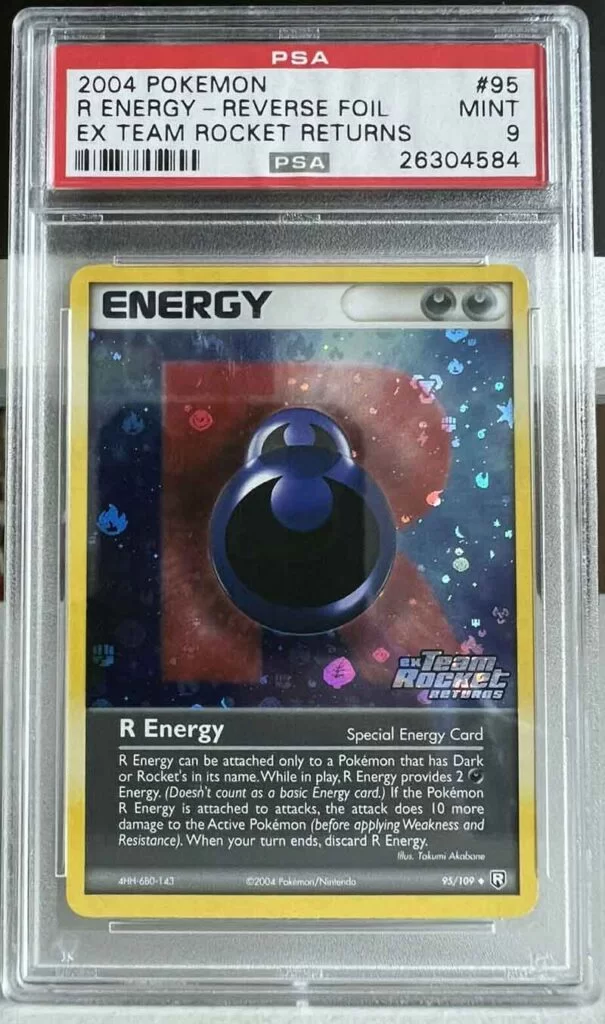 The only Full Heal on this list, this card was released in the Legendary Collection set in 2002. It features an airspray connected to the colorless energy symbol on the artwork. 
It is a reverse holo foil, meaning that every part of the card is holographic except for the artwork.
This card can be used to restore a Pokémon's health during a game, providing colorless energy and curing sleep, paralysis, confusion, and poison, but only for one Pokémon at a time. 
The average price of this card on online marketplaces is around $800, while a GEM MT version sells for at least $1200.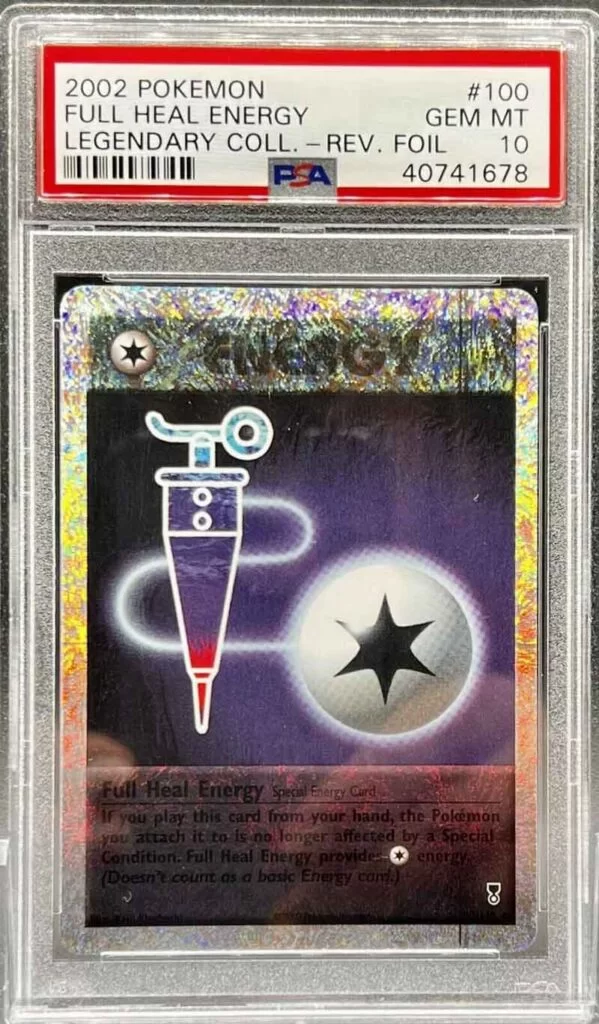 This is a set of three Energy cards that was released in 2002 as part of a promotion for the Battle Road video game. 
The set includes a Fire Energy card featuring an illustration of Charizard, a Water Energy card featuring an illustration of Blastoise, and a Grass Energy card featuring an illustration of Venusaur.
These cards are extremely rare and are highly rated by collectors and players primarily due to the fact that they are a set of three. 
A complete set of these cards in near mint condition has been known to sell for upwards of $800, and in 2015, one set was sold at auction for a record-breaking $10,000.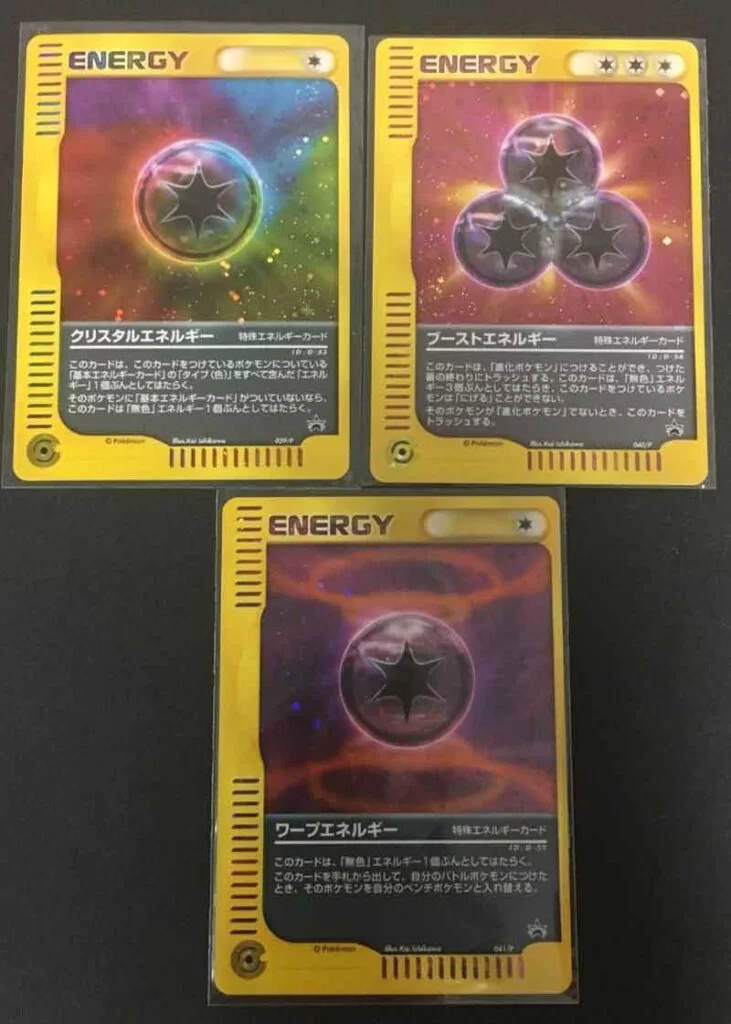 Top of the list of the Most Valuable Energy Pokemon Cards is the Double Colorless Energy Trophy card, a Special Energy card that was awarded to the winners of the 2016 Pokemon Evolutions International Championship. It is a very valuable card because it is one-of-a-kind and is not part of any set.
The card features a holofoil double colorless Energy symbol and an illustration of two swirling stars, and it can be used to power up any type of Pokemon. 
Due to its association with the world championships, it is one of the most expensive Energy cards in existence, with one currently for sale on eBay for $50,000.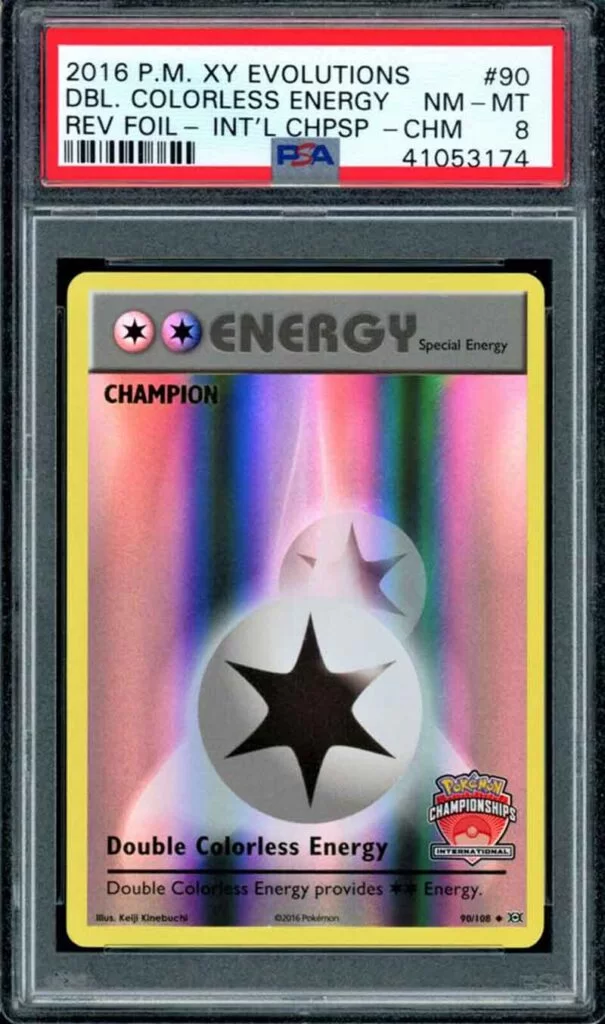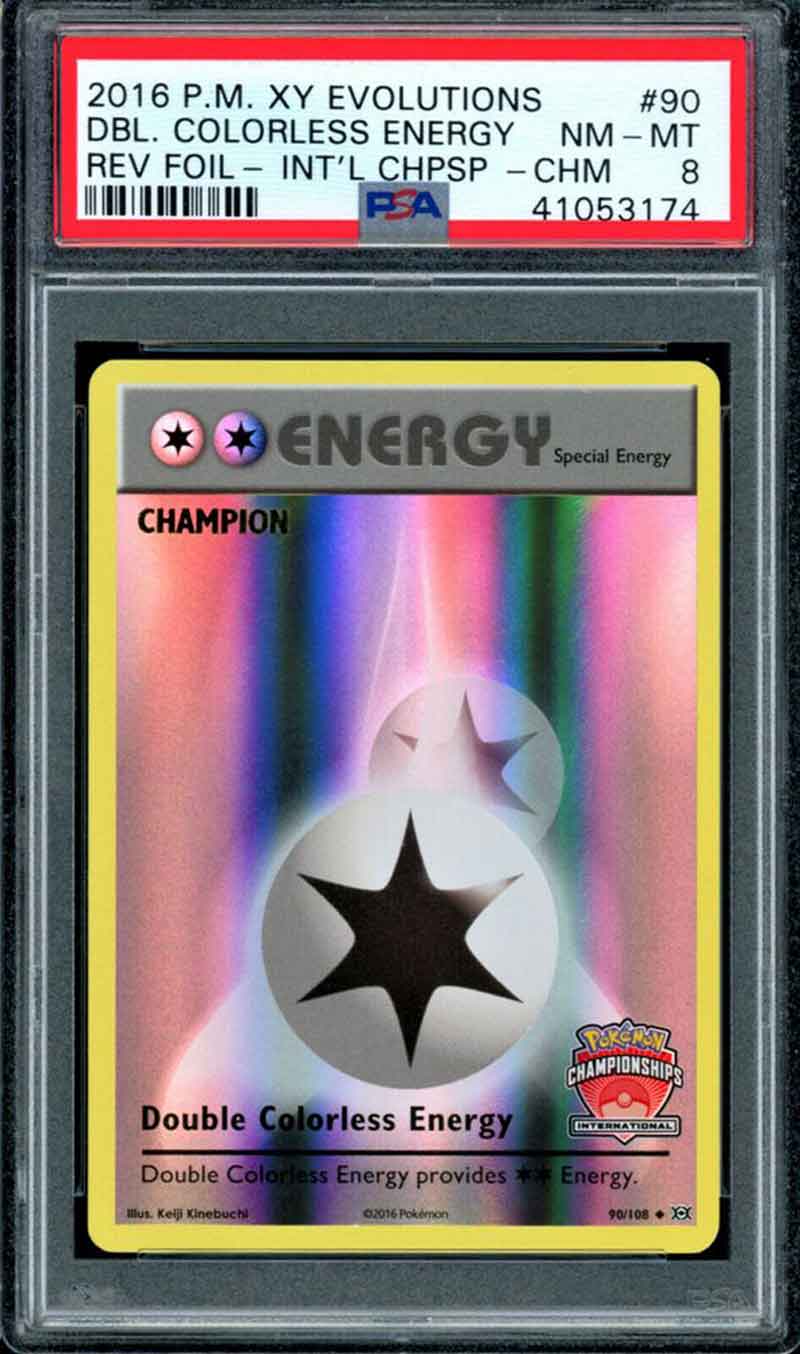 Conclusion
Pokémon energy cards are a vital part of the Pokémon Trading Card Game and can vary in rarity and value. They are used to power up Pokémon in the game, and different types of energy cards can be used to provide specific types of energy to certain Pokémon. 
Special energy cards, such as the Double Colorless Energy Trophy card, are highly prized by collectors and can be very valuable due to their rarity and association with events like the Pokémon World Championships. 
Whether you are a player looking to improve your deck or a collector looking to add rare and valuable cards to your collection, there is a wide range of energy cards available to suit your needs.