Best place to buy miniatures paint and miniatures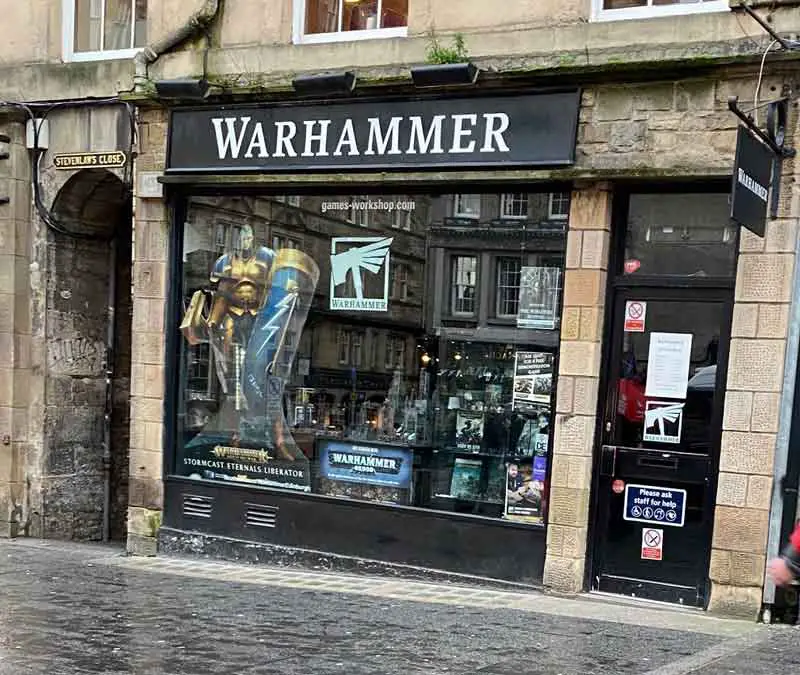 Do you want to buy a miniature kit, paint set, or painting tools as a gift for a loved one or yourself? Locating a good store offering high-quality stuff you can trust is challenging. 
You'll probably visit forums like Reddit, Finescale, or Quora, where miniature painting experts can point you in the right direction to popular local and online stores that sell miniature kits and accessories. However, finding information might be time-tasking. 
We designed this guide to help you with this task. 
Best place to buy miniature 
Your local hobby shops
The local hobby store is one of the first places entry-level painters will always consider. Why? They are the easiest route to get miniature kits and accessories from Citadel (Games Workshop) to Army Painter, Reaper, Tamiya, and Vallejo paint. 
However, many local stores won't carry miniatures, especially from brands like Scale75, so you need to get them online. 
Regardless, you can get your acrylic paints, basing materials, and other miniature accessories from local game stores. 
Local art store
Local art supply stores like ArtMart can be a great place to find miniature paints and painting tools. For instance, at ArtMart, you can get different-sized painter's brushes, paints, and even glue. You can also get pocket hobby knives like X-Acto, perfect for removing mold lines.
Directly from the brand's website
If you can't find a local hobby store near you or an art store, getting miniature kits directly from the brand is also possible. 
Since the painting accessories are typically designed by the brand, you will find multiple choices in your preference. For instance, Army Painter offers not just Warpaints but also color primers, SpeedPaint, airbrush paints, and brushes. 
Army Painter's website currently offers free shipping for over $100/€100. However, between European countries like Germany, Poland, Sweden, Netherlands, Italy, and France and within the US, shipping cost range from $7.50 to $25.99.
Besides the brand's website, I've also shopped on Amazon for miniatures and have gotten most of what I want. 
Most people don't like this option because of low-quality reviews about some kits. Initially, I did hesitate to buy sets from Amazon as I've read some quality issues about an old stock that's gone solid or separated, I got some Vallejo paints on Amazon, and the individual bottles have been great. 
Shipping
The best part of using Amazon is you pay a zero import fee deposit. However, shipping costs may range from $18.70 to $33.78, depending on the product and country. 
Amazon also has a one to two weeks shipping delivery date. So, whether you are in the UK, Canada, or other European countries like Germany, Italy, France, Netherlands, Poland, and Sweden, shipping time won't vary unless you live within the US.
Best place to buy miniatures in North America (Canada and the US)
If you stay in parts of North America like the US and Canada, some of the best online stores to consider getting your DnD miniatures, Warhammer tabletop, and fantasy kits are:
For miniatures and gaming stuff MiniatureMarket.com is one online store I prefer. Miniature Market carries popular brands like Vallejo, Army Painter, and Reaper. If you need paint, you'll find plenty of bases and brushes. 
They offer the best price for painted DnD and Pathfinder miniatures, as well as other miniature kits. However, they don't always have what you'll need in stock. 
Shipping
Miniature market uses United Parcel Service as their shipping carrier service. Plus, there's also a flat shipping rate for orders above $99+ to the 48 US states or the United States Military APOs and FPOs addresses. 
However, shipping outside the United States to places like Canada isn't free. Market miniature also offers economy shipping options at $17.76.
Like miniature market, miniaturepainting.com is another good online store in the US where you can buy your miniature paints and kits. 
They offer painting tools like hobby knives, brushes, glue, paint cup, airbrush cup, hand drill, wet palates, and painting handles. 
Shipping
Their shipping price and terms differ from miniaturemarket.com. Miniaturepainting.com utilize United States Postal Service (USPS) as its carrier service. 
Unlike miniature market's economy shipping and flat rate, they operate a first-class shipping policy at $4.98 within the US.
If you need board games, roleplay games, and Warhammer games from Infinity and Pathfinder RPG in US and Canada, GameKastle is a good store. 
Shipping
GameKastle's shipping terms differ. While their local pickup is free, the standard shipping rate in states like Utah is $6.95 with FedEx or USPs services, and the delivery timeframe usually ranges between 3 to 8 business days after processing the order. Priority shipping cost $10.95 with USPS, and delivery takes between 2 to 3 business days. They also utilize FedEx Ground shipping which takes between 3 to 4 business days with a shipping cost of $9.95.
MTechCave also offers similar miniature products, but with the advantage of Games Workshop kits and Dungeon and Dragon minis. 
Shipping
The most alluring feature of the MTechCave online store is that they offer same-day shipping if you place orders before 11 am CST time. Like miniaturemarket.com, they utilize USPS First Class carrier services with a shipping rate of $4.98. 
Best place to buy miniatures in the UK
A large percentage of UK residents engage in building miniatures. So, if you're in the UK and need a good place to buy minis, here are some to consider. 
Goblin Gaming is one of the UK's top online hobby distributors of Warhammer 40K, Warhammer Age of Sigmar, and basically Game Workshop's miniature accessories. They also sell tabletop games from Sci-fi to fantasy, historical, and Gothic. 
Shipping
Goblingaminhg.com sends shipments through Royal Mail or a UK-based tracked courier service. They also offer a next-day delivery service, so long as you place your order before 1 pm.GMT Monday to Thursday. 
Shipping rates for next-day deliveries usually cost £6.99. Orders placed after 1 pm Friday often get delivered on Tuesday, while before 1 pm gets delivered on Saturday, and the shipping cost is £9.99. Goblin Gaming also makes Sunday deliveries at £14.99. 
They also have a standard shipping rate of £3.99. With Royal Mail 24 carrier services, shipping cost range from £4.99. Still, you can enjoy free shipping when you buy miniature kits and accessories worth £75.00.
When it comes to getting paints for your miniature painting project, the Model Paint Shop is the best place to look. They have various paint colors from brands like Vallejo, Humbrol, Tamiya, and Revell. The model Paint Ship has a standard flat rate shipping charge of £3.50
Element Games are quite possibly the best online hobby store in the UK that sells all sorts of minis, from Games Workshop, with a 15% discount on all GW products, including paints. 
The best part is that you get different options of paint brands as their paint collection is diverse. From Vallejo to Citadel, P3, Scale75, and Army Painter, Element Games sells almost any brand, so you can get any paint color you want. 
Mighty Lancer is an online site that retails Reaper products. But that doesn't mean they don't sell stuff from other brand products. Mighty Lancer Games has a huge range of kits, and offer fantastic prices.
No other store has various miniatures in stock, from the Warhammer 40,000k to Warhammer Age of Sigmar and many Game Workshop kits. 
They send deliveries via Royal Mail Tracked 48 and sometimes with other carriers. Sometimes, orders are free on purchases of over £20. 
Best place to buy miniature paint in Australia and NZ
Live in Australia or New Zealand? Some of the best online stores that retail miniature kits and hobby accessories include:
Miniature Hub is quite a jewel, thanks to its cheap pricing. They sell unpainted and pre-painted miniatures. They also retail paints, roleplay games, DnD miniatures, and several base colors. 
Shipping
The best part is that you won't pay more than a $10 flat shipping rate when you buy miniature kits and accessories from their store. 
If you need board games, roleplay games, Games Workshop kits, fantasy, historical and Sci-Fi miniatures, 3D printed minis, and hobby supplies, Tabletop Empires is a good online that ships to Australia and New Zealand. 
Shipping
Tabletop Empires ships on Monday, Wednesday, and Friday through Australias Post at 1 pm and with a shipping cost between $1 to $13.00. Pickup from the store won't have any fee attached to it. 
Are you looking for a DnD starter set, Warhammer 40,000 kit, or roleplay games, Good Games retails them all. 
Shipping
When you buy from their store, you enjoy next-day dispatch, free shipping for orders over $75, and express shipping at $17.50. In Australia, standard shipping has a 1 to 7 days delivery timeframe, while express shipping takes around 1 to 3 days. 
New Zealand shipments will take between 3 to 14 days. 
Best place to buy miniature paint in Germany
Miniature fans in Germany will find tabletop and miniature kits, and also several Games Workshop miniature accessories from Taschengelddieb. 
Shipping
Taschengelddieb ships with DHL or Deutsche Post and DPD, and shipment within Germany usually cost €3.99, including VAT. A surcharge of €2.99 is often charged for partial shipping while you enjoy free shipment for a purchase value of €90.00. 
If you request partial shipment with a purchase over €200.00, you will get free shipment. 
Conclusion
Finding a reliable hobby store near you that sells miniature paints and miniatures is easy. Yet, most local hobby stores won't have what you need. Hopefully, this guide will help you locate a good online store in the US, Canada, or the UK to help with your task.