5 Best glue for Plastic Miniatures (Warhammer, DnD, Etc.)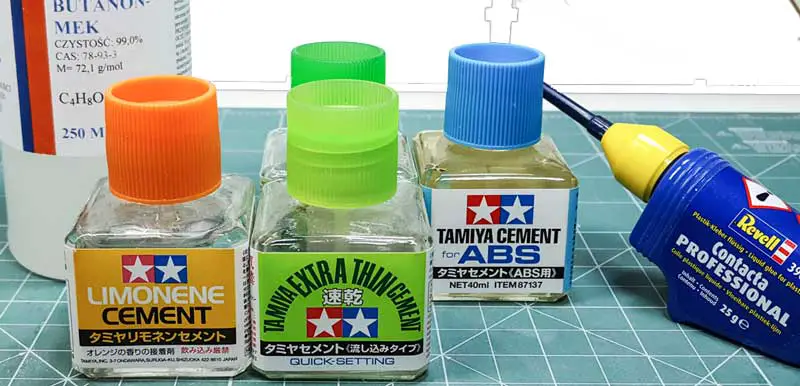 Miniatures – whether Warhammer or DnD mins, no matter how detailed or small, require you to assemble them straight out of the box. 
However, finding the best glue to piece them together can be challenging since most glues won't well on plastic minis. Plus, some are quite toxic. 
Then again, while glues are pretty selective of materials, there are some good glues out there that actually work on plastic Warhammer or DnD miniatures.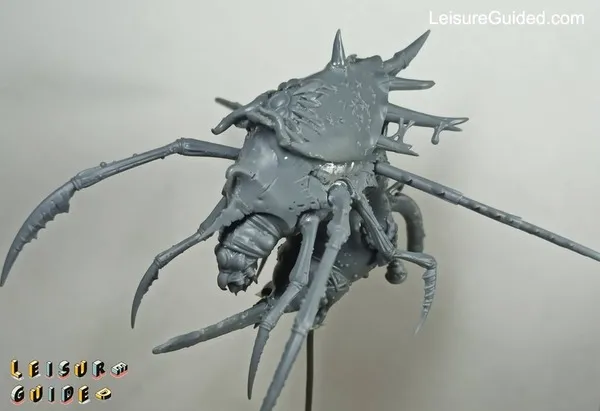 What kinds of glue can you use for Warhammer minis?
There are a few options when it involves getting glues for your Warhammer minis. 
As the name suggests, polystyrene cement will work well on polystyrene plastic, the basic material used to make injection molded plastic kits. 
When applied on plastic, it dissolves the plastic surface, then after a while, re-hardens so the two pieces join together at their previously melted joint. 
However, its major drawback is that the fumes from polystyrene cement are quite toxic. Ensure your environment is well-ventilated before using polystyrene cement. Besides this, when you pour it excessively on your plastic models, you risk dissolving more than intended. Apply in small amounts only to avoid damage to your plastic minis. 
Miniature hobbyists know this glue as super glue. It is a more versatile option than polystyrene cement and bonds hard plastic surfaces well. Unlike polystyrene cement, Cyanoacrylate, super glue, cures in seconds. But, there's a catch!
Although cyanoacrylate dries strong, it easily bonds to the skin and can cause permanent damage, especially if it gets into the glues. Its fumes also make clear plastic parts appear cloudy. So, avoid using them on your clear plastics.
Also Read

Best glue for resin miniatures (And What Glue NOT To Use)
Best glue for metal miniatures (Don't mess about)

LeisureGuided.com
This glue is quite different from polystyrene cement and super glue as it consists of two parts – the hardener and adhesive – which require a proper mixture to bond well on the plastic kit. 
When epoxy resin is applied to your plastic kits, they offer excellent adhesion, but you may have to wash your miniatures first to get the glue to stick. Right out of the box, plastics often feel greasy due to the remnant mold release during production. If you glue without washing off this grease, the plastic won't bond no matter how high-quality the glue is. 
Epoxy glues are great when a really strong bond is needed, especially if your plastic materials also have some metal accompaniment.  
Liquid solvents are water-like glues that hold plastic pieces together. They sometimes appear lighter or thinner than water. However, when used on plastic Warhammer or DnD minis, they offer supreme and long-lasting adhesion. 
PVA (Polyvinyl acetate) glue is more commonly known as wood glue, white glue, carpenter's glue, or Elmer's Glue. It is basically an emulsion glue with a mixture of polyvinyl acetate and water and often appears milky white. 
One of the reasons this glue comes last here is that it dries to a rubbery consistency and does not form a very strong bond with plastic materials. Plus, you can easily peel it off when dry.  
However, I like that the glue is non-toxic, and while it may not adhere well to plastic, many miniature hobbyists have used it to secure their basing materials on their Warhammer or DnD figures. Plus, it also works effectively for bonding clear plastic parts. 
THE BEST glue for Warhammer miniatures 
The best glue for Warhammer miniatures is polystyrene cement AKA white glue. 
Polystyrene glue works best since it offers permanent adhesion for your plastic Warhammer minis. 
Unlike superglue, you get a temporary fix for your plastic parts. This means that when they fall, they may break. Polystyrene cement offers a permanent bond for plastic miniatures by dissolving the plastic points and fusing them, so they look like they come together right out of the box. This way, they won't break easily. 
These are good brands that sell plastic glue for Warhammer miniatures:
If you've ever used the Tamiya extra thin glue, you will agree with me on how exceptionally they work. This glue practically flows into corners you need to glue without any hassle. However, it can quickly leave a mess if applied excessively, and because it melts your plastic models to form a strong bond, it will scar your Warhammer figures. The good news is that when applied thinly, this glue ensures your fine details stay clean and intact. 
Pros
It keeps your fine details clean if used thinly
Flows well
Excellent adhesion
Con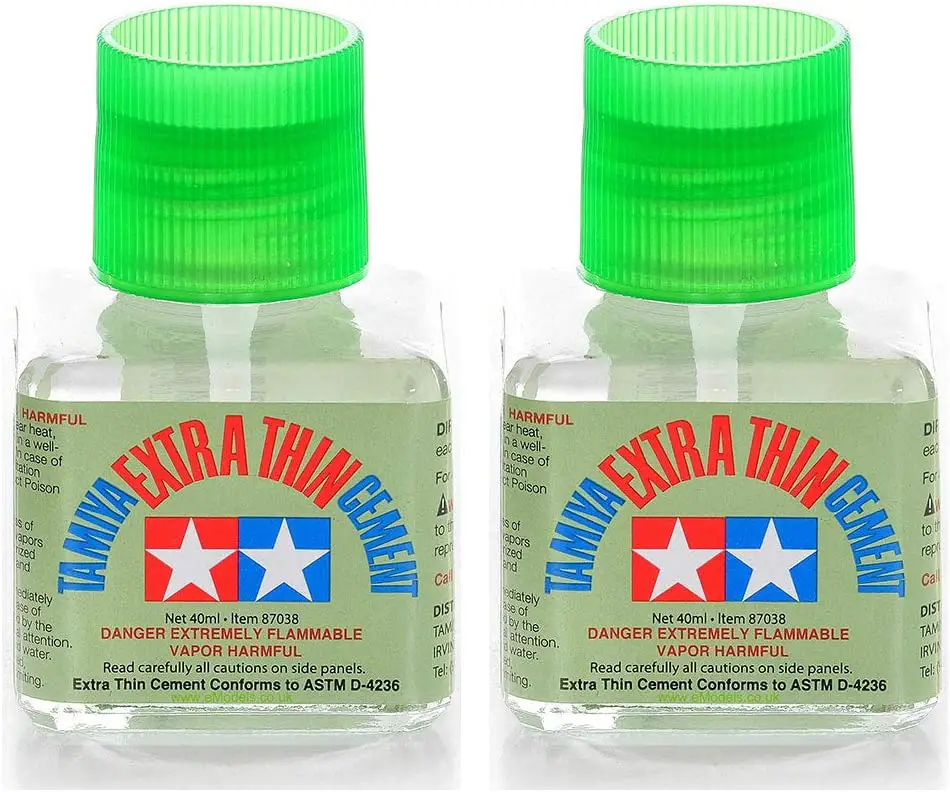 This plastic glue is from the popular Citadel line of games Workshop. I particularly love this plastic glue for its thin form. All you need do is apply a small amount on your mini, and they melt instantly. Plus, it comes in a bottle with a narrow nozzle that allows you to apply the plastic glue thinly so you won't scar more surface than you intended.  
Pros
It dries quickly and permanently
The narrow nozzle head makes it easy to apply the glue thinly
Medium viscosity
Con
Applied in excessive amounts, it may damage your plastic figures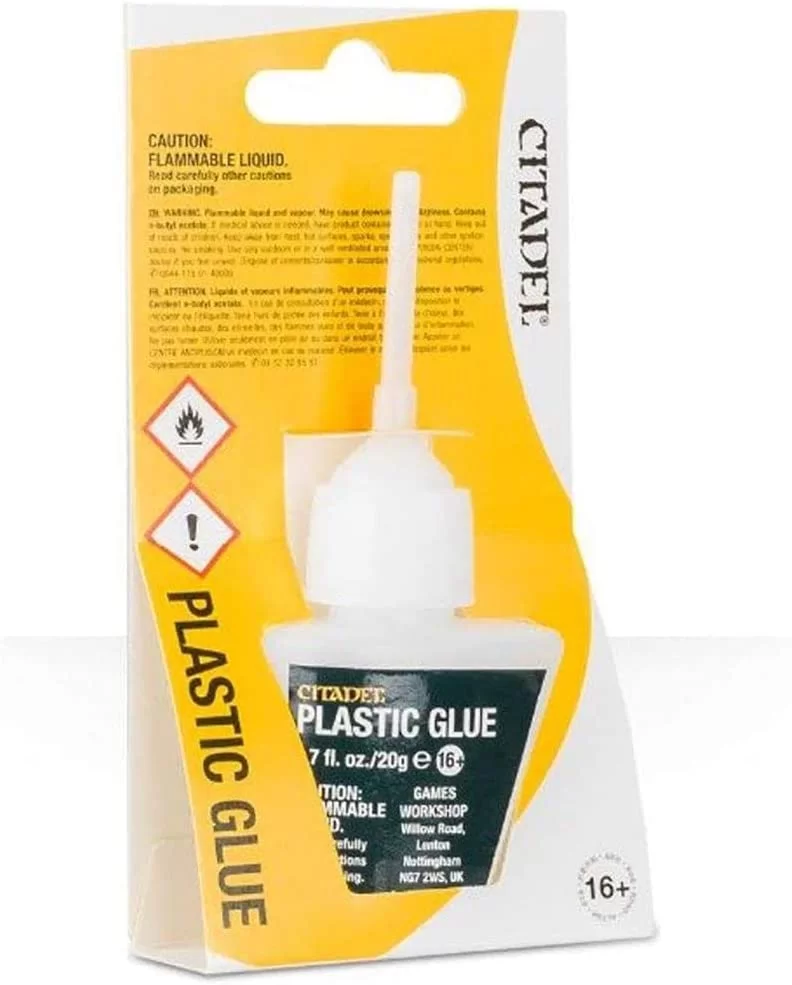 Like other best plastic glues in this list, Revels Contacta also bonds Dungeons and Dragon minis by melting the plastic to create a strong bond. Still, the difference between this glue and others is that the bottle has smaller nozzles. The small nozzle means you will be much more exact when I apply the glue. This, in turn, means you waste glue less and have the glue flow to its precise spot. 
Nonetheless, the small nozzle may block if used constantly and when you fail to cover it after use. Just remove dried glue from the tip of the nozzle to get it working again. 
Pros
Small nozzle size means glue applies well
High strength
Excellent adhesion
Con
The small nozzle may clog easily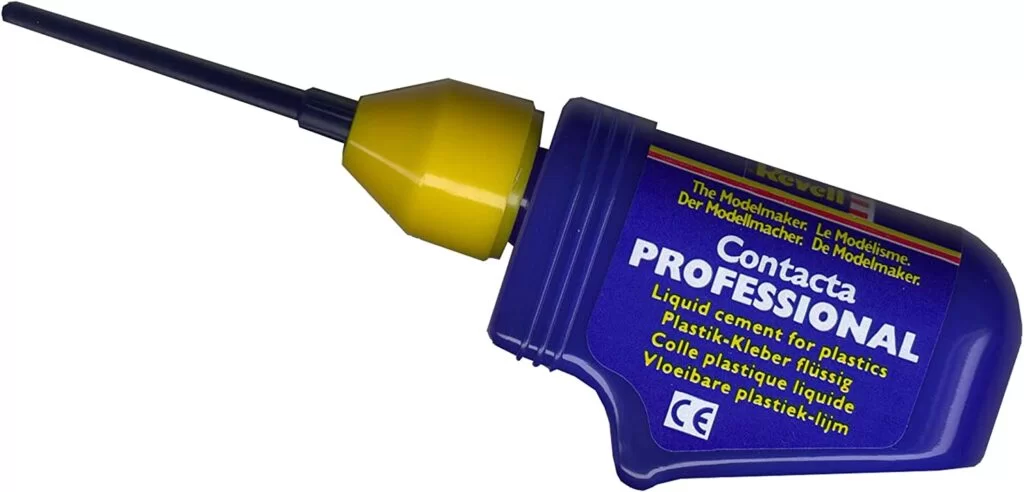 Testor's makes some high-quality products for miniature hobbyists, and their liquid cement is no exception. I love this glue because it is thick and lasts a long time. So, investing in one could mean saving up on cash for years. 
Still, you may want to get a toothpick to help the glue flow well. While it does have a liquid form, it is more gel-like and won't move around easily. Besides this, its fumes smell and can be toxic health-wise. 
Pros
It lasts a long time
High-quality
Adheres well
Con
It can get stringy, leaving melted glue all over your model
Smelly fumes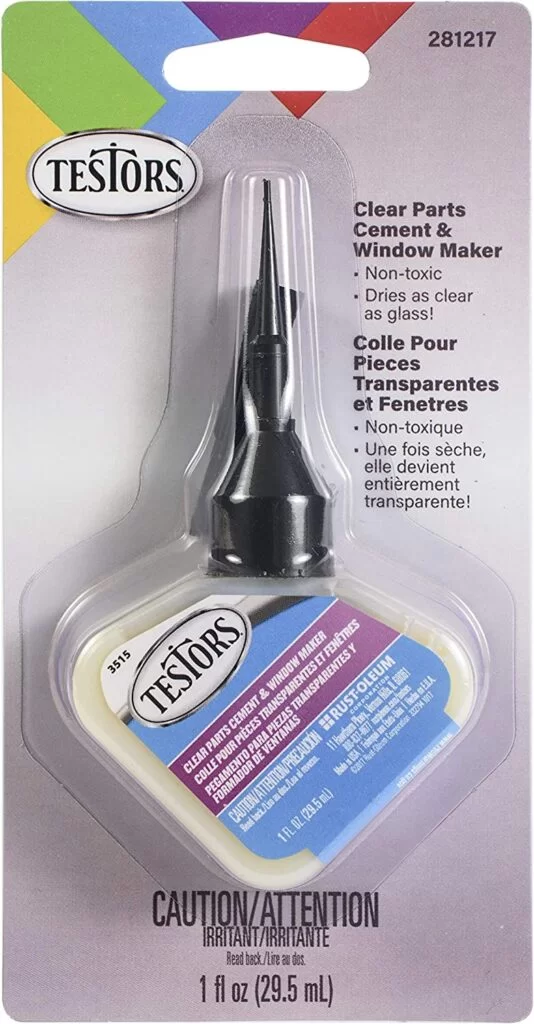 Another good option to glue Warhammer or DnD miniatures is Loctite gel
If you prefer using super glue for your plastic minis, whether Warhammer, DnD, or any other miniature than Loctite Gel will be a great choice.
Loctite gel is a professional glue. So, investing in it means you get quite a strong bond on your mini. The best part is that the Loctite will hold the pieces together after just a few seconds. 
More than this, you don't have to hold pieces together like most plastic glues. Just apply glue, and it will cure on its own.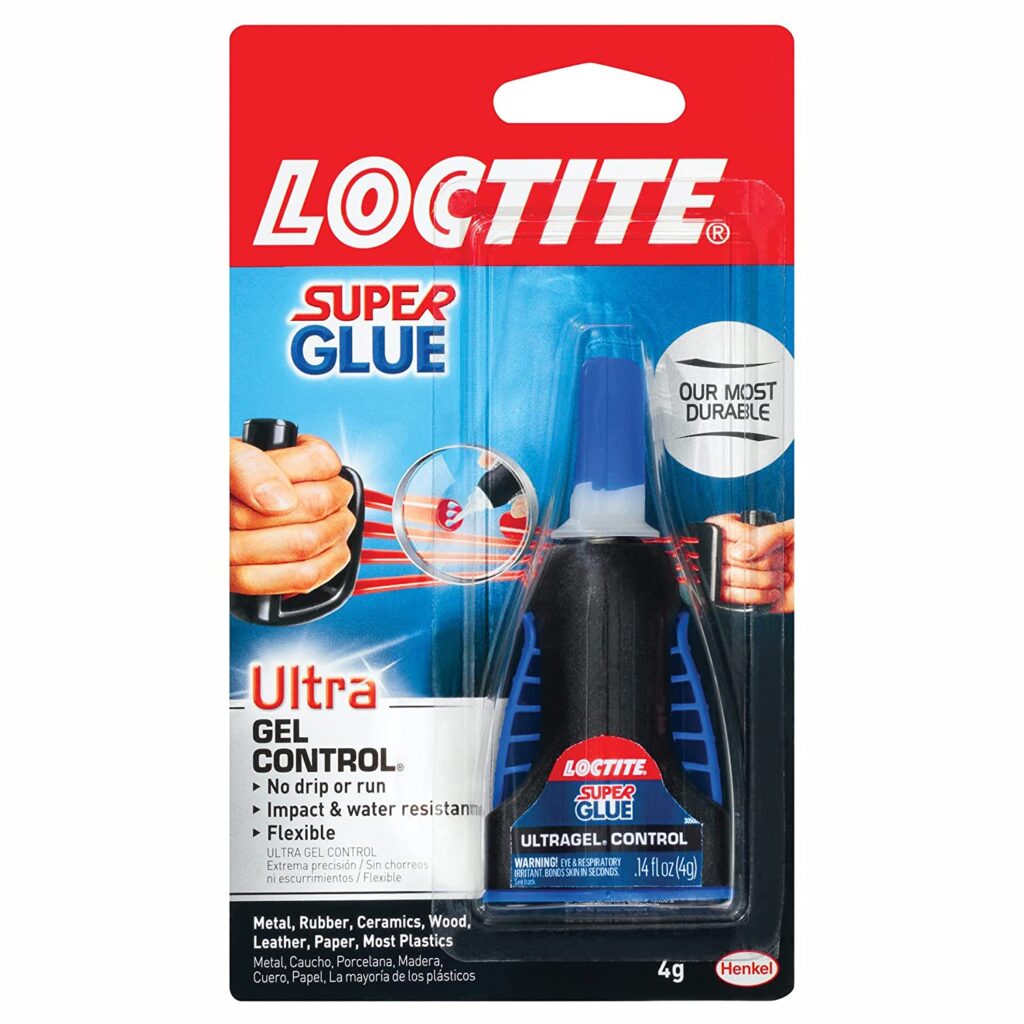 Do's & don'ts, tips, and other important information about gluing miniatures
Here are a few tips to keep in mind when using glue on your Warhammer or DnD minis.  
Most plastic glues have large nozzles. So, when applied largely, they can melt more plastic than intended. Be sure to use them in small quantities. 
Before applying glue, make sure the part fits well. Plastic glue binds in seconds, and you don't want inaccuracies when assembling your model. 
Plastic glue will often have mold release on its surface. Make sure to wash them before applying glue. 
These glues are also best for any plastic miniatures and models, including:
As mentioned earlier, choosing an appropriate glue to hold your plastic minis together is challenging. But, if you have a Warhammer 40k, Age of Sigmar, Dungeon and Dragons, RPG miniature, or Wizkids minis, these glues listed here will definitely bond your miniatures well because they typically work well on most scale model kits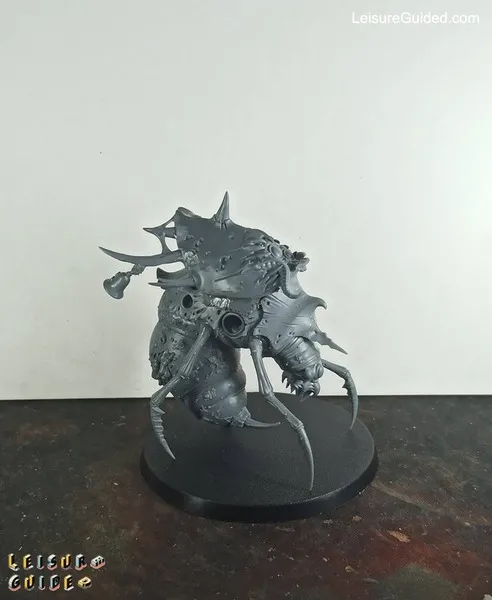 Conclusion
When it comes to getting glues for assembling miniatures and model kits, there are a lot of options. But, no matter how unsure I am, I know Tamiya's extra thin glue, GW plastic glue, Revel Contacta, and Testor's liquid cement will always work well on my plastic miniature project.
Sources
http://www.scalemodelguide.com/construction/materials/learn-glue/
https://xuron.com/blog/2017/06/plastic-model-building-adhesives/