Can you convert a nitro RC car to electric? (Learn How)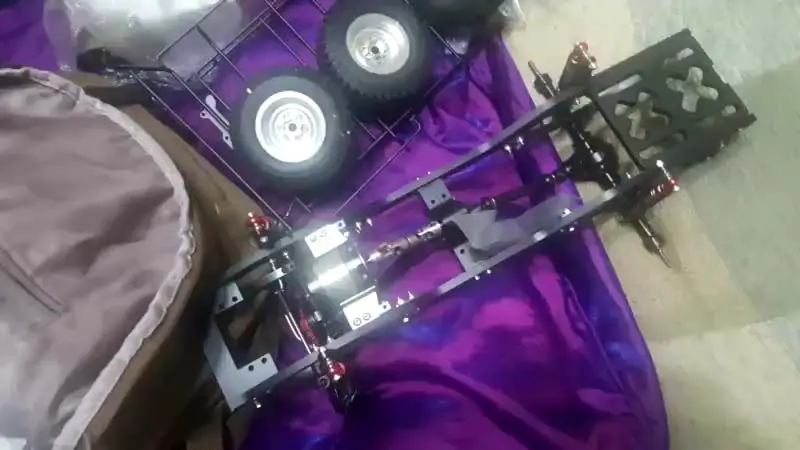 One of the best things we hobbyists get out of RCing is improving our technical skills.
Building, maintaining and upgrading those RC cars takes the technical skills to a different level, and one of the greatest challenges an RC car hobbyist can take is converting the drive train from nitro to electric.
If you take yourself as a serious hobbyist and RC builder, and you want to convert nitro RC to electric, the good news is that you can do it, although it will take a lot of ingenuity and skills. 
So, Can you convert a nitro RC truck to electric?
You can convert a nitro RC car to electric.
Converting your nitro to electric will mean taking out all the nitro components from the car and finding a way to squeeze in the electronics of an electric RC car such as batteries, ESC, electric motor, ETC. 
Most of the times, converting nitro to electric will mean, almost building a new RC car on the chassis of the old one. Since so many components need to be added. Some builds will require changing all of the components, even the receiver and servo making you build a new car on a chassis with wheels.
Things to take into consideration when converting to electric
Before converting your nitro RC car to electric, the first thing you need to consider is that you'll have little to no space to fit in every electric component you want, especially if the electronics you want are large. For this reason, you need to choose electronic parts that would fit into the available space. 
When it comes to converting your nitro RC car into an electric one, some other things you need to consider are the type and size of the motor that will fit into the car, the controller, voltage range and battery technology to use. 
If you're converting your nitro RC car into an electric one, you need to first decide on the voltage you want your RC car to run. Typically, for a 1/8 buggy, people will consider voltage between 96 and 200 volts. However, how high your voltage will depend on the batteries you use for the car.
Electric RC diehard fans can either use a LiPo or NiMH battery. LiPo batteries offer more runtime, charge cycle and high-energy-saving capacity. 
The motor type and size also play an integral role in determining the maximum speed and performance you enjoy from running the car. Typically, the maximum speed brushed motors offer is 20,000 RPM. But, most brushed motors tend to run below this range at 10,000RPm. On the other hand, brushless motors run at maximum speeds of around 30,000RPM. But, like their brushed counterparts, they tend to run below this range at 14,000RPM. 
What is needed to convert nitro RC to electric? 
To convert your nitro RC to an electric one, you'll need several basic supplies like the soldering tin and welder. However, you want to think more about electronic components wise. So, some electronic components you'll need include:
Electric motor, 
ESC (brushed or brushless),
A battery (LiPo or NiMH), 
A pinion gear,
Transmitter (in some cases),
Servo (in some cases).
Do you need to convert the transmitter and receiver?
Nitro and electric RC cars use the same transmitter and receiver. So, you won't have to change them. However, if your nitro RC car transmitter can not transmit signals with the receiver at a higher and wider range, you want to consider converting it. 
Do you need to convert the steering servo?
The steering servo of your nitro RC will respond the same way as the transmitter for your electric RC car. So, you don't need to convert it;
however, if you are planning to convert a bigger and heavier model, you want to make sure that the servo you are using can provide higher torque.
What tools are needed to convert nitro to electric
Finding the right parts for your electric RC car conversion may be a big hurdle, but without the right tools, you might make the whole process more challenging.
Some basic tools you'll need for the conversion includes: 
Lug nuts
Screwdrivers
Soldering tin
Welder
Glue
How to convert your nitro to an electric RC car 
To convert your nitro to an electric RC car, 
Make sure that the RC car chassis is bare. Start by removing the engine, the plate braking system, radio gear, brake lever, servo, and carburetor. 
Find the correct position to place the motor. You can modify the motor mount if it wouldn't place your motor close to the main gear. 
After you mount the motor, connect the electronic speed controller to the motor. 
Mount the receiver on top of the ESC
Install the battery. This stage could be tricky because you might have little to no room for the battery. 
Build a plate using 3mm plywood to ensure the battery is well-positioned and sits close to well away from the gear. Make sure to glue the plate to the servo tray. 
Find a pinion gear with a gear ratio that matches electric RC cars. Once you're done, your electric RC is ready!
Is it worth converting your nitro to electric?
Due to their high-performance capacity, Nitro RC cars offer seasoned RC enthusiasts an exciting, fun time. However, converting to an electric RC car will offer more benefits, especially when you plan to convert to a brushless electric RC. 
Changing your nitro RC to electric would mean better performance in varying climate conditions, better acceleration, extraordinary throttle response, lower center of gravity for increased agile and nimble handling, less maintenance, less noise, and oil-free electronic parts. 
Is there nitro to brushless conversion kits?
If you're planning to convert your buggy nitro vehicle into a brushless electric RC car, one good conversion kit you want to consider is the Novak 1/8 Buggy Brushless Conversion Kit. 
The Novak 1/8 buggy brushless Conversion Kit offers a nine brushless conversion kit:
Associated RC8 TM (#5010) would help convert Team Associated RC-8 Buggy.
CEN Matrix (#5011) converts the CEN Matrix C-1 Buggy.
Hot Bodies Lightning (#5012) alters the Hot Bodies Lightning 2 Evo Pro Buggy.
Kyosho Inferno (#5013), used to convert the Kyosho Inferno 777, 777 SP-1, SP-2 and SP-2WC Buggies.
Mugen MBX5 (#5014) is used for converting the Mugen MBX5 and MBX5R Buggies.
OFNA 9.5TM/Ultra (#5015), used to convert the OFNA Ultra Series Buggies (MBXTM, CompTM and LX1TM) and the OFNA 9.5 Series Buggies (ViolatorTM, RavengerTM and Jammin X1TM).
OFNA Hyper 8TM (#5016) helps you convert the OFNA Hyper 8 and Hyper 8.5 Buggies.
OFNA Hyper 7TM (#5017) helps you convert the OFNA Hyper 7 Buggies.
X-Ray XB8TM (#5018), used to convert the X-Ray XB8 TQ and XB8 EC Buggies.
Is it difficult to convert nitro to electric?
Building a custom car from scratch can be difficult. Modifying and converting your RC car from nitro to electric can be more challenging when it comes to the RC hobby. 
In fact, it's not going to be simple. Why? There's no straightforward method or conversion kit that would help you remove the nitro engine and install an electric motor. 
To convert your nitro RC car to electric, you'll need to get the right tools and electronic components that would fit the available space in the nitro car, and you'll also need to know the right steps to use. 
The good news is it's not that tough when you know your way around the conversion process, from the type of mount to use, to the motor, the voltage you need, battery technology that would work right for you and properly adjusting the motor to mesh the gears appropriately. 
Conclusion
Converting nitro RC cars to electric is difficult, no doubt. Still, it can be a simple task if you know the right electronics that would fit into the available space of your nitro RC car while offering maximum performance levels.