Reverse Option in RC Cars And Trucks (Everything to Know)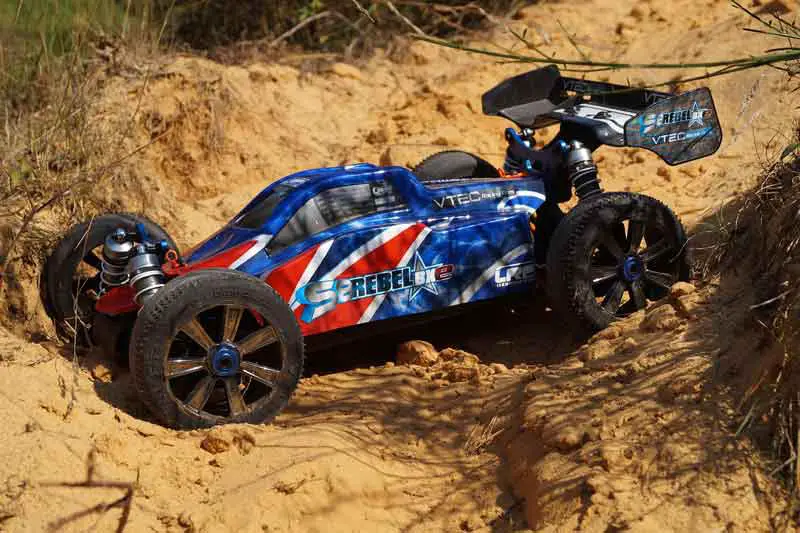 An RC car is controlled through a transmitter that can control the car in almost every direction. The only exception is reverse.
Usually, RC cars cannot reverse because they do not come with a reverse option due to the durability issues that can arise from having a reverse gear.
However, some specific types of RC cars have the reverse option and can reverse really smoothly.
Can RC Cars Go In Reverse?
As said earlier, usually RC cars do not come with a reverse option.
However, there are some RC cars that can go in reverse.
Off-road models of RC cars such as the Traxxas Revo, or models like the Kyosho Nitro Tracker come with a reverse option.
Some really cool models that come with a reverse option include: 
The newest models of the Exceed RC Mad Beast
The older Traxxas T-Maxx Classic models
The older models of the HPI Savage
The Kyosho 1/10 Scale QRC Series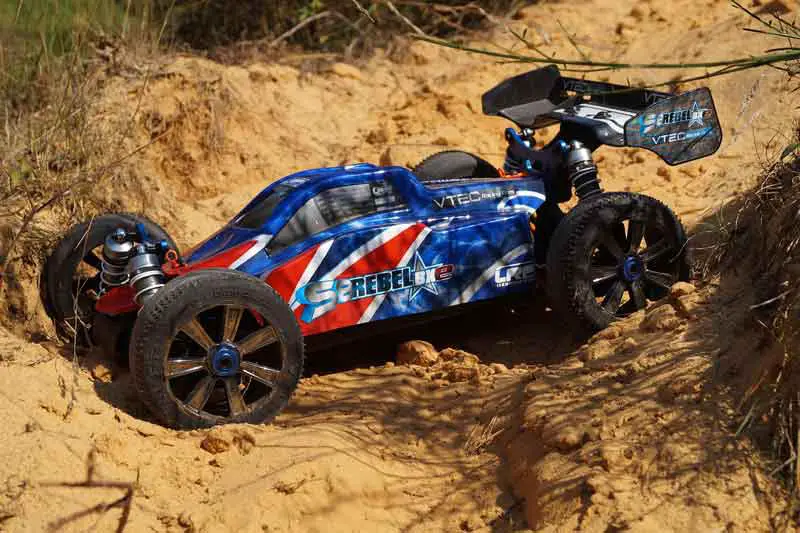 Does RC Trucks And Cars Have Reverse?
Nitro RC cars use engines that use fuel that contains nitro methane to operate themselves.
Nitro RC cars are basically miniature vehicles and so contain everything you would see in the engine of an actual car.
Things such as a carburetor, clutches, pistons, air filters, and the likes.
Because of all these, they are far more customizable than electric RC cars. They feel more like 'your car' than just something you bought.
The only way a nitro powered RC car is not like a real vehicle is in terms of the reverse function.
Only a few nitro RC trucks are built with a reverse function. This is due to concerns with the durability of the gears or the ESC.
There are some models of nitro RC cars that are built with a reverse capability though, but they are mostly off-road models.
5 Nitro RC Cars That Can Reverse Straight Out of The Box
Most on-road nitro RC cars cannot reverse because they are mostly used for races and reverse is not allowed for races.
But some off-road models have the reverse functionality.
5 Nitro RC cars that have a reverse functionality include:
Exceed RC Mad Beast- only the newest models have the reverse gear.
HPI Savage- the reverse option is only found in the older model. 
Kyosho 1/10 Scale QRC (Quick Reverse Clutch) Series.
Traxxas T-Maxx Classic- reverse option present only on the classic models.
The newer T-Maxx models cannot go in reverse. 
Traxxas Revo.
Reverse Function On Electric RC Cars
Electric models of RC cars are controlled by a small but powerful electric motor.They are some of the most popular RC cars because they are generally easier to take care of and use than other types of RCs.
Electric RC cars usually do not have reverse gear due to durability issues, hence an electric RC car don't have a reverse option.
Yet, it is possible to reverse an electric RC car. 
Reverse drives on the electric RC cars that have it works by using the electronic speed control (ESC) to send a reverse polarity to the motor, which acts as brakes.
So to reverse, simply push forward on the throttle trigger and you should reverse smoothly.
To be sure though, read the manual of the car to know exactly what to do to reverse.
How To Reverse an RC Car
As said, RC cars are not built with reverse gear, and usually, most of them do not even have a reverse functionality at all.
But for those RC cars that you can reverse with, reversing is usually done with the transmitter that you hold.
To reverse an RC car, it depends on the throttle switch of your controls. Simply flip the switch while you pull on the trigger. This ensures that your car reverses, going backwards instead of forwards*.
*Remember that not all models of RC cars reverse in this manner so our advice is to do research on your particular model to find out how to reverse. 
You could also look at the user's manual when in doubt. They usually have a guide when it comes to operating the model you own, including how to reverse (if the car can reverse).
Does Any ESC Support Reverse?
An ESC is a controller that operates your RC car.
ESCs were originally built to regulate the speed to the motor being controlled, and by extension, the entire car.
These days, ESCs can do more than just regulate speed as they provide a dynamic brake function and even enable reverse sometimes.
not many ESC devices support the reverse function. One ESC that supports reverse is:
4 EMAX MT2204 2300KV Brushless Motor with EMAX Multirotor 4IN1 ESC(4 X 30A). However, this ESC has different wiring set up from that of a single motor ESC. 
Generally, some ESCs support reverse. To reverse with an ESC, pull the stick back, then pull it back again to reverse.
The first pull activates the brake, then the second pull activates the reverse.
Does RC Transmission Have Reverse Gear?
As much as possible, RC cars of all types are built to closely resemble real-life cars.
However, not everything can be manufactured into an RC car. An example is the reverse gear.
RC cars are not built with a reverse gear. They are only made to move forward at whatever speeds you choose.
Even for the cool models of RC cars that have a reverse functionality, reversing is not done by reverse gear because RC cars are not built with reverse gear.
Reverse On A Brushless Motor
An RC car's brushless motor can be reversed, but the method of reversing depends on the kind of brushless motor.
For sensored motors, just change the rotation to 'REV', and then properly set the timing.
For unsensored RC motors, just swap the position of any two wires and then reset the timing. 
Reverse In an RC Car Race
There are different models of RC cars that are used in races. Some of these cars may have the reverse functionality.
You probably won't see a professional race RC car go in reverse because in racing, reversing is prohibited for safety reasons, no matter what kind of car you use.
Reversing usually puts stress on the transmission of the RC car and can damage it, and allowing reverse for racing will mean that there will be more collisions. Therefore, reversing is not allowed while racing.
Conclusion
Some RC cars do come with a reverse functionality, and some can be somewhat modified to be able to reverse, but that requires specific components.
Generally, RC cars do not have the capacity to reverse due to the fact that it can affect their transmissions and their overall durability.
However, check the user's manual of any RC car you buy to learn about the full range of actions that the RC can do before trying to reverse with it so as not to damage anything. 
Sources:
https://www.researchgate.net/post/Is-it-possible-for-Electronic-Speed-Controller-ESC-to-turn-brushless-motor-clockwise-and-anti-clockwise.